Featured
There's always time for tea
Just had lunch and dinner feels like a lifetime away? Make like a true British gent or lady, and sup some afternoon tea.r
As a Brit in Japan, you are sometimes asked, 'does everyone really have afternoon tea in England?' Well, most Brits have a cup of tea any time of day, but yes, to take 'afternoon tea' is indeed a long-standing tradition of the genteel folk. The tradition started in England in the mid-19th century, where Anna Maria, the seventh Duchess of Bedford, is thought to have enjoyed tea and light snacks to bridge the long gap between lunch (usually noon) and dinner (around 7-8pm). Cream tea is simply tea, scones and (preferably clotted) cream, while high tea is more of a full meal than an afternoon snack and was originally a substantial after-work meal. Here are some of the best Kansai venues to enjoy:
Delight Tea Room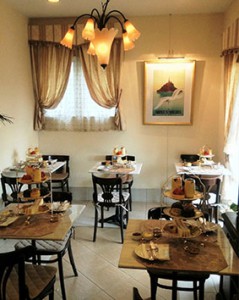 Kobe
Any higher up the Rokko slopes and it would be on the mountain itself! Delight Tea Room offers the English country tea room experience, i.e. flowery décor, pastel colours, flowers, fine china and freshly-baked scones and cakes. But it's all done superbly well here by the hardworking mother and son (chef) combo, with around 25 teas, the house special soufflé made to order and even jam and cream freshly homemade. Weather permitting, the outside seats are perfect for a view over Kobe.
• What you'll get: For around ¥2,500, the afternoon tea set offers a choice of quiche/curry, tea and cakes or scones.
• Price: Tea around ¥700-800 a pot, scones around ¥400, soufflé ¥600.
• Go for: Homemade heart-shaped scones and ginger chai tea.
• Open: Wednesday to Sunday, 11am to 8pm, closed Mondays and Tuesdays.
• Address: 6-16 Rokkodaichou, Nada ward, Kobe city, Hyogo 657-0013
Broadhurst's
Osaka
British-run Broadhurst's has a very deliberate "modern British" feel to it, reflected in the tea (served in mugs, builder-style!) and the target logo on the web site and shop, borrowed from rock group The Who. This is also one of the very few places in Japan serving authentic banoffee pie, bakewell tart and over 50 other special British cakes, puddings and biscuits and thus comes highly recommended.
• What you'll get: Very much mix and match, typically a choice of hot/iced tea/coffee and a cream cake to match for a little over ¥1,000.
• Price: Drinks around ¥500-600 a mug, cakes around ¥400-500 each.
• Go for: A weekend cuppa and cake, maybe at 4-5pm after a walk in nearby Osaka castle.
• Open: Tuesday to Sunday, 10am to 8pm, if Monday holiday, closed Tuesday instead.
• Web: broadhursts.com
Mariage Frères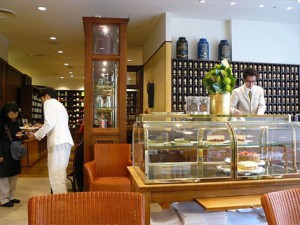 Kobe / Kyoto
For lovers of tea, this French shop is paradise. There really is nowhere better in Kansai to enjoy the world's favourite drink, and with at least 400 varieties in stock, whether green, oolong, white or fruit, there's one to suit you. Osaka sadly lost its branch but Kyoto and Kobe have thriving stores and it goes without saying that freshly baked cakes and snacks are the perfect accompaniment.
• What you'll get: Depending on your choice of tea and cake, you can enjoy a light lunch including croque monsieur made with salmon, a fresh cake and tea from ¥2205-2890.
• Price: croque monsieur around ¥1,200, teas around ¥800-1,000 (per pot, also available iced). Generous cakes around ¥700-800.
• Go for: The classic favourite is Marco Polo fruit tea and the cakes are to die for!
• Open: daily 11am to 8pm (Kobe and Kyoto)
• Kobe Address: BAL 2nd floor, 3-6-1 Sannomiya-cho, Chuo ward, Kobe city, Hyogo 650-0021
• Kyoto Address: BAL 1st floor, Kawaramachi-dori Sanjo-sagaru 2-chome, Yamazaki-cho 251, Nakagyo ward, Kyoto 604-8032
Elmers Green Café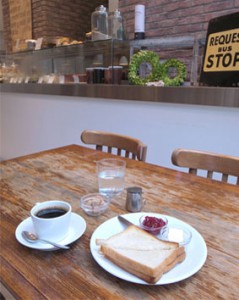 Osaka
Kitahama may be famous as the home of Osaka securities exchange, but it earns a very deserving place on the tea-lovers map thanks to Elmers Green café, just a short walk from the station. With a sunny open feel, this ground-level eatery is a hot favourite for the many office workers nearby and it's easy to see why. There are cakes of every description (lemon, banana, carrot and more, chocolate scones, cheesecake…you get the picture) as well as plenty of savouries for the less sweet-toothed among you. Open daily, this is particularly highly recommended.
• What you'll get: Weekdays 3-5pm, cake set with tea for ¥900 or scone set for ¥800.
• Price: curry ¥800, soup ¥700, scones ¥200-250 each, cakes ¥400-500, coffee ¥400-500, tea ¥600-700.
• Go for: Croque madame (variation on croque monsieur), carrot cake with cream cheese and wash it down with some fine tea or coffee
• Open: Monday to Saturday, 10am to 8pm, Sunday 10am to 6pm.
• Web: elmersgreen.com
Kitayama Kochakan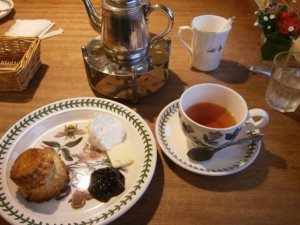 Kyoto
Literally meaning "north mountain tea house", this wonderful venue is nestled at the foot of northern Kyoto's hills. With a busy kitchen and a pleasing wooden "at home" feeling, the experience is made even more special with the British Portmeirion china and home-made oven baking for that "Mum made it" taste.
• What you'll get: A number of sets available, afternoon tea (3-6pm) includes scones, small cream bun, two cakes, ginger biscuits and finger sandwiches plus tea for ¥1,500.
• Price: scone/muffin ¥250, cakes around ¥400-500, tea around ¥650-700
• Go for: The apple crumble is superb and authentic, the pick of many good cakes.
• Open: daily 10am to 8pm, closed Wednesdays
• Web: kitayamakochakan.com
[box]
Kansai Tea Dining
A club for all those who love meeting people, enjoying good food (especially new places, rare cuisines, local secrets) and afternoon tea in the best cafes and hotels. We've done Greek, Russian, Thai and more in the last few months and just enjoyed Osaka's newest hotel (Intercontinental). We also try to keep it reasonable and affordable and give the members the best experience possible, often in a private room or with a customised menu. Originally, I did this group for afternoon tea only but since I also love food and sharing with you all, I decided to open it out to "tea and dining all over Kansai". I live in Kobe but I am happy to organise events in Osaka, Kyoto and Nara as well.
• More info: meetup.com/kansaiteaanddining
• FB: facebook.com/groups/kansaiteaanddining
[/box]