Food & Drink
Garden of Eden
Tasty, veg-friendly dishes starring locally-sourced ingredients equals heavenly food you can feel good about.
One of the things I miss about living in London is the food of the Middle East: hummus, falafels, baba ghanoush, kebabs, lahmacun. I lived nearby a predominantly Turkish neighbourhood and if you threw a stone it would land in a kebab. You could eat hummus for breakfast, dinner and tea. Cut to the present and Japan, for all its foreign food worship (I am thinking especially of French and Italian), has yet to fully engage with the delights of the Middle East. And more is the pity because cuisine from this region is overflowing with some of the most healthy and delicious food the other side of washoku.
In a cheerful space in Kyoto's Demachiyanagi, flanked by the Kamo river and Daimonji, Amir Trojbicz has been introducing and converting happy diners to the food of his native Israel for the past 10 years. Falafel Garden is located in a two-storey renovated machiya on the doorstep of Kyoto University. Inside, it has that college vibe: relaxed, friendly, unhurried and even a little curious. Like the artwork on the wall the music too is eclectic. There is even a cozy garden out back with additional seating, which is delightful on warm spring days.
Trojbicz's food philosophy, without putting too grandiose a point on it, is to only serve what he would eat. That means he's just as good at knowing his way around the veggie patch as the kitchen. In the age of globalization there has been push back through localization; while this sometimes comes off as marketing or branding (think "100 percent organic") Falafel Garden tries where and when possible to source ingredients, especially vegetables, locally and to operate to organic principles. Much of the menu is a mix between vegan and vegetarian, but not all: chicken kebabs and schnitzel, a German staple, both feature. But then again, one doesn't go to Napoli for a hamburger.
For me, the falafels here are the winner. Trojbicz makes bite-sized balls out of a mix of ground chickpeas, aka garbanzo beans, spices and parsley, deep-fries them and serves the burnished morsels with pita, salad and a sauce, such as tahini or chili. The result is a simple and delicious sandwich offered in three different sizes and prices, with the largest size advisable for falafel lovers or those with big appetites. There is also the option of adding a side of hummus or baba ghanoush, made from aubergines, olive oil and seasonings, for an additional ¥250. However, these portions are a little on the small side.
With a well-priced menu and an owner/chef who is knowledgeable and passionate about his food and its origins, Falafel Garden is well worth the visit. It's a great introduction to Middle Eastern cuisine and especially worth considering if you are vegetarian or if you have vegetarian visitors. Also worth noting is that Felafel Garden opened a sister-shop located near to Imadegawa subway station and Doshisha University.
[box]
Falafel Garden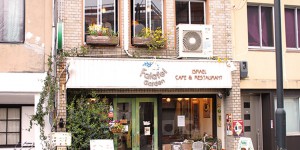 • Address: 3-16 Shimoyanagi-cyo, Tanaka, Sakyo-ku, KYOTO
• Access: Take the Keihan line to Demachiyanagi. Falafel Garden is a short walk east of the main gates.
• Open: 11am–9:30pm Monday to Sunday
• Web: falafelgarden.com
[/box]