Art
Forget Picasso, here's Pet-casso
This month's cover artist Ryan Parker is no wizard, but he sure works magic on a dull pet portrait.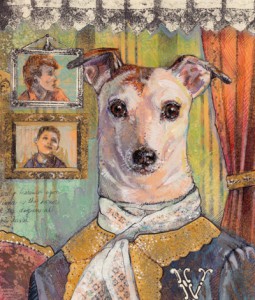 Toto, we're not in Kansai any more. Just as Dorothy's world was turned upsidedown and into technicolour in Oz, so Ryan Parker takes a traditional nicelypencilled pet portrait and spins it into something… quite extraordinary.
A stern-looking black cat clad in a kimono holds its paws on its knees regally against a shrine backdrop. In another picture, a slightly startled looking small black dog is wearing F1 driver laurel leaves with his winning red sporty number parked in the background. Then – is this for real? – a dog appears among fluffy clouds in a Christ-like pose, with its owners playing cherubic harps on either side of its head.
It's for real. It was a recent commission for Ryan's Pet Portraits series, something he's been spending a lot of time on recently. "I absolutely love making interesting, sometimes bordering on absurd, compositions with the furry loves of people's lives," Ryan says. "I've always been into art history, so I've experimented with a lot of styles and themes over the years, delving into things like surrealism and cubism to try to understand them. The animal illustrations take me a few days… plus around 30 years of experience."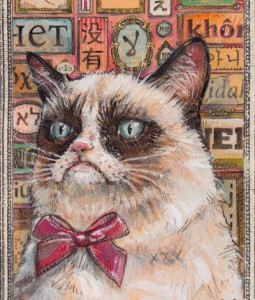 If you've ever dreamed of turning your pet into a Christ-like figure, or indeed anything else, you'll have to commission the artist online now as he's recently left Japan to return to his U.S. hometown.
"I grew up in Arizona, but didn't fully appreciate the desert until after I left. I was always the kid with drawing pads and Legos in my hands instead of TV remotes. I knew I wanted to be an artist since I was a wee lad," he says. After getting a degree in illustration in design, and working as a designer and art director, Ryan needed a change of scene. An opportunity to teach popped up thanks to the Phoenix Sister Cities programme – an ALT job in Himeji. He lived, worked and studied there for the last four years.
"I found a great community of friends, and I always liked finding independent cafes in the side streets to hang out at and practice Japanese. The incredibly long history of Himeji and most of Japan always impressed me too, and I loved seeing it in the old buildings, the calligraphy, and other visual art."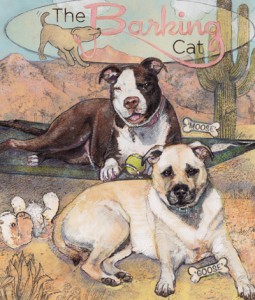 Creatively influenced by Tandanori Yokoo's wildly colourful posters, Ryan describes his own style as imaginative nonfiction. His website features not just the Pet Portraits, but also a slightly more typical graphic design and illustration portfolio: see his spin on wedding invites, logos and video art direction. On a more personal level, there's also his blog about living in Japan (featuring the amusing 'Whitey learning Japanese' cartoon, which this gaijin writer can definitely identify with) and as a bonus, his yearly 'best of ' music mixes that you can download.
You're missing a trick if you don't click on the Pet Portraits though (look out for the one with Yoda in the corner). If you've got a pet and a sense of humor, Ryan's clearly the man to immortalize your furry, scaly or feathery friend.
[box]
Facebook: idrawgood Art
Twitter: @idrawgoodart
Website: idrawgoodart.com
[/box]