Feature
Kozmoz cracks down on hunger in Kansai
The annual World Hunger Day will this year be recognized on May 28th, and while hunger may not strike many Kansai dwellers as a problem, Kyoto-based organization Kozmoz International begs to differ.
People going hungry… here? This is not a question we would usually think to ask in Kansai. Pay a visit to Kozmoz International in Kyoto however, and it will be the first question on your mind. For over 25 years, the non-profit organisation has worked in Kansai to prevent thousands, unseen by most of us, from slipping through the cracks of food poverty.
Founded by American man, Barry Wyatt, Kozmoz International runs a food bank every day, using a small café as a centre for sorting and repackaging goods. The project, now into its tenth year, involves distributing donated food from local manufacturers to public housing blocks, orphanages and the homeless across Kansai. With few other food banks working in the area, the scale of the task is phenomenal. Last year alone, the team delivered over 300,000 kilograms of free food to those in need.
At any given time, crates full of bread, fruits and vegetables line the centre's entrance. Some days, a volunteer driver will deliver a fresh haul of bananas, stacking up to over two metres high. Used as samples for quality inspection, these bananas are deemed unsuitable for commercial sale. As Barry points out, without Kozmoz they all would all go to waste.
"In Japan, about a third of all food is thrown away every day. Stores purposefully purchase an excess of what they need out of fear of losing customers. They give it to Kozmoz because it's the easiest and cheapest way to deal with it."
Each week, the Kozmoz truck journeys to several warehouses in Kobe to collect the bananas. All in all, the trip can take over six hours and rack up a substantial bill. The cost and time incurred however, are outweighed by the need these bananas answer. With an estimated one in seven people living below the poverty line in Japan, every bunch counts. This is most apparent at the housing blocks, where hundreds of elderly people, children, and low-earning individuals line up weekly to receive the bananas among other food packages.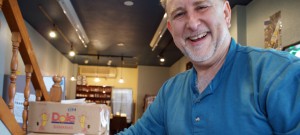 Although everyone is likely to leave with something, some people's desperation is clear. A Kozmoz volunteer recalls how fights sometimes break out over the last supplies.
"We once had a woman holding a baby in one arm and striking people with the other to reach the front. There are only four of us at a time, so crowd control can get difficult."
What the team lacks in size, it makes up for in dedication. Their goal is not only to provide relief, but to present a replicable socio-economic model for other communities to use. Barry tells a story that demonstrates why it is so important that we support projects like these.
"Last summer, we had a woman and her baby starve to death in Osaka right by where we drive every week. If somebody had only said something, then we could have changed that."
[box]
Helping out
Volunteer opportunities exist for helping the foodbank project, teaching English / other subjects in English, helping with the cafe, and one-off events. For more information or volunteer opportunities, please visit the Kozomoz website or email heenalivpatel@gmail.com
Kozmoz International
• Address: 59-2 Hirano-cho, Fushimi-ku, Kyoto.
• Tel: 075-200-3845
• Website: kozmoz.org
[/box]