Featured
Meandering Kota Kinabalu and the Sabah region
Picture long, sandy beaches, paradise islands, quaint tropical rain forests, mountainous hinterlands, and a gateway city to it all boasting its own metropolitan charms. Welcome to Kota Kinabalu and the tropical island of Borneo.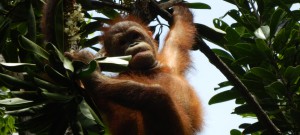 Malaysia is captivating and full of charm. It is an amalgamation of cultures and religions where Middle Eastern and Asian influences, as well as parts of the Western world, are all rolled in together. Its history is just as fascinating and varied; the country is now officially a part of the British Commonwealth with a parliamentary democracy, yet it has nine native Malay royal families. Even the mouth-watering food shares a host of identities, mixing Asian noodles, Indian curries, and Western-style meats onto one plate. It is a challenge for anyone, including Malaysians, to tell you exactly what "Malaysian food" really is. The diversity has to be the most wonderful part. The city of Kota Kinabalu is certainly testament to all of this this. KK, as it's known locally, is the capital of the state of Sabah in northern Borneo.
My first adventure there was a river cruise, about a 45-minute drive outside of KK at the Klias River. Even in November the air was hot and moist, but nothing a seasoned veteran of Japanese summers couldn't handle. The river itself was gorgeous. Lush and colourful fauna dotted both sides of the water. But that's not what I was there for. I was there for the monkeys; the Proboscis monkeys that only exist in Borneo. The river is home to the Proboscis. Their long human-like noses are fascinating to observe; a wonderful oddity of nature. I spotted one in the fading light of a sunset; it looked like a person was sitting up in the branches, contentedly watching the sun go down.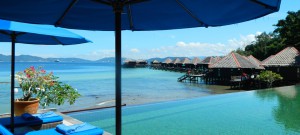 The next day I was up and out to a must-see destination; Mount Kinabalu inside Kinabalu National Park. This is where the Malaysian "fish massage" can be experienced, at Kampung Luanti, Ranau. It takes roughly an hour and a half from the city to get to Kampung Luanti, Ranau, but the drive up hills and down through sprawling valleys, dipping between mountains that just ooze greenery, makes the journey alone completely worthwhile. Along the way are local tourist markets selling various wares, but the most authentic items made in Malaysia are the hand-woven baskets.
The "fish massage" was stationed inside a protected fish habitat where the fish are not caught, but preserved. I watched as families stood at the edge of a shallow river where thousands of fish swam around waiting for the next person to get into the water. It turns out they are attracted to the dead skin on people's bodies, so as someone walks into the water, these fish literally eat the skin off of them. Eventually I gathered my courage and stepped in. Dozens of various-sized fish flocked around my legs as I let the massage begin. It was hilarious, fascinating, and a little traumatizing. I let the fish run up past my ankles and stopped. My heart couldn't take much more than that. But the locals were pros at this. Some of them liked to dip their arms, but remember this – whatever you dip in is considered fair game.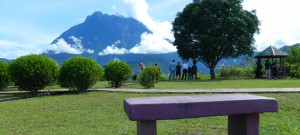 A hidden gem near KK is the Shangri-La Rasa Ria Resort. While the hotel is meant for guests (and is well worth the stay if you can afford it), a day-trip is a must. Not only does the hotel have its own stunning beach and a ridiculous amount of activities (ATVs, massages, hikes), it is home to an Orangutan sanctuary. Housing orphaned orangutans, this publicly available sanctuary is beautiful enough just to visit for its jungle trek. But there is a bonus at the end. Hiking through the man-made pathway and vibrant greenery I came to a feeding ground not far away from the base of the mountain to observe the orangutans in action. Staff are actually preparing these creatures to be released back into the wild, and this process takes a few years. Once they leave this area, they graduate to another sanctuary nearby that the locals consider a "high school." Basically it is a reverse zoo. The humans stand on an observation deck in the jungle and watch the orangutans. It's adorable, educational, and most of all a great time.
It's difficult to capture Kota Kinabalu in only a few hundred words. I spent just four nights there and only began to scratch the surface of this wonderful part of the world. Getting there and back from Japan has never been easier, especially now that Malaysia Airlines has opened a brand-new direct flight from Narita to Kota Kinabalu. The flight time is around five to six hours.
Leaving Malaysia was hard to do. Memories of mid-November sunset cruises, drinking white wine and relaxing on a boat in the South China Sea play nostalgically on my mind. And that's just one of many, many adventures awaiting in Sabah. I can't wait to go back.
---
When to go
While Kota Kinabalu's weather is consistent all year round, January to March is when the weather gets a little more dry and is best for backpackers and the adventurous. Between November and January there are many festivals to check out, but the fun could be dampened by a higher chance of rain.
Getting there
Access to KK is getting easier with many airlines opening up direct flights from Japan in the last year alone. Flights can be found with Malaysia Airlines, Cathay Pacific, Japan Airlines, Singapore Airlines, Asiana Airlines, and more.
---