Featured
Finding your way through Fabulous Fukushima
Fukushima is a hidden gem, teeming with narrow lanes of inviting bars, hole-in-the-wall eateries and friendly locals. Get the guided tour here.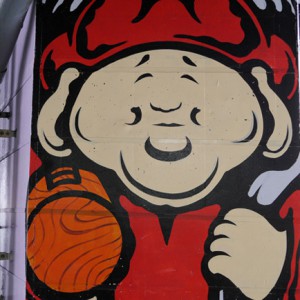 The Fukushima area of Osaka is a sparkly gem of deliciousness. Arrive on a Friday or Saturday night, and the exuberance oozing from the JR Fukushima station alone will genki up your mood immediately. It is a place to eat and drink, meet and greet, and discover and learn. Follow the young salaryman crowd to a favourite izakaya, chat to friendly locals, or check out some of these Fukushima feel-good options.
Near JR Fukushima Station
The first things to catch your eye as you leave the station are the Shichifukujin (Seven Deities of Good Luck) artworks by the creative designer Grind Pencil. Modern and ultra colorful, they are definitely part of the happy welcome that Fukushima provides.
Cross the street and drop in at the casual and cosy stand-up wine bar Anniversary 2001 . Friendly owner Nakamura- san will gladly pour your wine, and prepare some tempting French finger foods to satisfy your cravings. Live music starts at 8pm almost every night with no charge, and instantly amps up customer connectivity.
On-the-street drinking and chatting is certainly something to savor. Just across from here with the yellow abstract art work is Laxa Square, where farmers' markets are held every Saturday from 10am–3pm.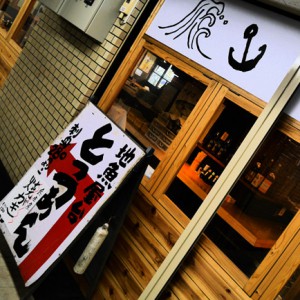 If the summer heat is diluting your power, why not grab some healthy produce and head to Hanshin Hotel for its well-known hot spring baths. Its latest summer campaign offers special massage and akasuri body scrub packages for both men and women at discounted prices until the end of September.
If you are looking for restaurants, do a right U-turn out of the station and follow the road heading back under the train tracks. Luce Birreria and Pizzeria is a family-friendly option open for lunch and dinner, with a distinct lightand- cheery mood. Abundant fresh ingredients make their pizzas look like pop art, and the antipasto options are zesty and satisfying.
Start with a ¥300 draft beer, then move onto an international beer or adventurous beer cocktail. For another kind of bold experience, grab a namachu beer at the izakaya-style, street food champion Tottsuan next door. Young, exuberant staff in head towels cheerfully chorus Osaka-ben to welcome you warmly and entertain you throughout your meal. The fresh seafood selection and generously-sized tempura on sticks are happy additions. For more good vibes and buzzing atmosphere, keep walking further down for other popular restaurants like Nukumi and ¡Qué Rico!, and the billiards bar Nine Up.
Fukushima Shotengai Strolling
Turn left out of the station, over the train tracks, and make an immediate turn down into this modernized yet still retro-laden shotengai. Drop in anywhere that takes your fancy. You'll be surprised and intrigued by what you can find here.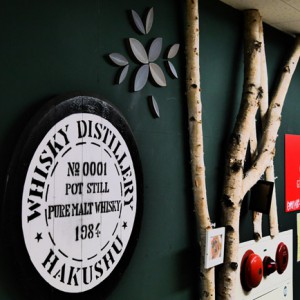 Perhaps even stay overnight at the J Hoppers Guesthouse with no curfew if you plan to have a late night out. They rent out bicycles for ¥500 a day, so another neat option is to explore the surrounding areas of Fukushima on wheels. (Nakazaki-cho, Utsubo Park, Nakatsu, and Tenma are all a very easy bike ride away.)
Walk further down to the long-running Dai Ichi meat shop run by sweet and chatty locals. Highly recommended are the "Lucky Korokke" which are so good, and so cheap at only ¥35 on halfprice Fridays.
Munch on a few korokke (croquette), and keep walking toward the Michelin starred soba shop Sobakiri Karani, run by Kiyoshi Hashimoto and his wife. It is a place where you can experience not only authentic food prepared with gentle care, but surrender to a flow of time that demands no rush.
The rhythm here always begins with a slow drink followed by appetizers, then soba (buckwheat noodles), then finally soba-yu (soba water) to end the meal.
Sake enthusiasts will delight in the range available, and foodies can relish appetizer choices like saiboshi (smoked horse), dashimaki (egg roll), kamowan (duck soup), and shougaten (ginger tempura). Hosogiri soba and arabiki soba are made on site, and taste amazing.
Add the teapot of soba-yu to your leftover dipping sauce after you finish eating, sip gently, and relish this meal of elegant simplicity. It is only a small shop of about twelve seats, so try not to be the KY (kuuki yomenai – "can't read the air") foreigner ignorant of the type of environment you are in. Good manners and awareness are always welcomed.
Across Sonezaki Street, towards Dojima river
The labyrinth of magical lanes can be reached by exiting the station and turning right. As you walk straight toward Sonezaki street, see if you can spot the ancient Enmei-yu bath house, and the ever-popular Italian shokudo (eatery) area of Bar Porcini, Taverna Porcini, and the Pane Porcini bread shop.
Once you cross over the main intersection and walk one block to the temple on the corner, spectacular oden (vegetables, eggs, tofu, etc. soaked in a special, steaming broth) shops are right there waiting for you. If you come to Fukushima only for the Hanakujira Oden (where, if you're curious, you can order whale meat), you will not be disappointed. It is the definite highlight of the area. Expect to line up unless you arrive at 4:15 for the opening at 4:30 as it is tremendously popular.
After dinner, take a stroll toward Dojima river past ABC Hall, and be wowed by the pretty river lights and modern skyline. Famous Hawaiian café Bogarts is a great location for a decadent morning meet-up, sitting on the terrace looking out onto the river. Their weekday brunch set is only ¥850 with yummy selections like pancakes, bagels, and eggs benedict.
However you choose to experience Fukushima, it is certainly a charismatic and exciting place to be.
[box]
Access: JR Loop Line Fukushima Stn; Hanshin Line Fukushima Stn; JR Tozai Line Shin Fukushima Stn; 20-min walk from Umeda
[/box]