Featured
Foodspotting
If you're in Osaka and the autumn chill hits, here are three cosy spaces you could curl up with a coffee in.
Max Relaxing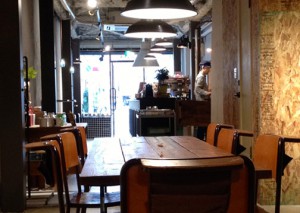 Inspired by the Portland, Oregon coffee scene, Granknot owner Katsuya Shibano has shaped his café in Kita Horie with a distinct edge of understated, stylish calm. Beautiful wooden shared tables encourage an energy for connecting people, while sweet side tables allow for solitary time or more private catch ups. Panini morning sets are ¥600, or try the sumptuous French toast set for ¥800. If world coffees are your passion, Ethiopian, Indonesian and Brazilian brews are available. Pop some leftover dollar bills in the tip jar to support Shibano-san's long overdue honeymoon to Portland, back from which he is sure to bring a deeper edge to his already authentic love of fine coffee creating. Combine a visit to Granknot with exploration of graffitiladen backstreets, and quirky shopping at nearby boutique stores.
Granknot
Open: 8am–6pm • Closed: 1st and 3rd Thurs of month • Price Range: ¥1,200–¥4,500 • Access: Tsurumi- Ryokuchi Subway Line, Nishiohashi Stn, Exit 4 • tabelog.com/osaka/A2701/ A270201/27076622/dtlphotolst/1/smp2
A Clean Sweep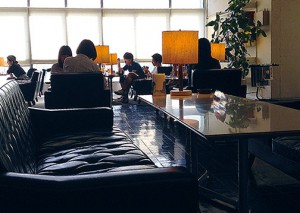 The industrially cool D & Department was once a broom factory, but has been transformed into a luxurious, sleek, inner-city haven; a comfortable space for delightful dining. Located opposite a park, it's a super family-friendly place with high chairs, kids' lunch sets, and gorgeous comfortable lounges. The vast choices for set lunches are ¥1,000– ¥1,400, or try the house proud omurice with a Minoh beer. It's a great venue for a private party, special evening date, or creative meeting spot. Head downstairs to be dazzled by gorgeous furniture, crockery and original souvenirs. Check out the mega bling Tamade supermarket nearby, Tables café next door, or stroll over to Minami Horie. Located throughout Japan, D & Department is one special culture to experience.
D & Department Dining
Open: Dining 11:30am–12 midnight; Shop 11:30am–8pm • Closed Wednesdays • Price Range: ¥1,000–¥3,500 • Access: 5-min walk from Exit 5 of Sakuragawa Subway Stn heading south on Minami Horie Koen Dori, just off Naniwa Suji • d-department.com/jp/shop/osaka/dining
Unforgettable Coffee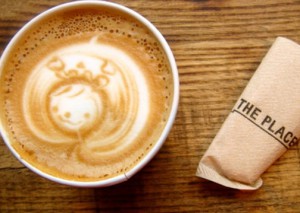 Forget Me Not Coffee is the first area to welcome you as you enter the groovy and modern café The Place. It's a very sweet coffee stand, and a bright addition to the Osaka scene. Say hello to chief barista Yukinori, while you kampai the day away with decorative lattes, ¥30 yen biscotti, and a wave to the nearby Sky Building. With high ceilings, trendy light installations, and a spacious layout, the magnetic allure of the space beckons you in. Lunch sets are ¥1,000. For something different, try the Tasmanian lamb. Ask senior sommelier and store manager Yamamotosan about the monthly craft beer and wine choices. Located next to the longrunning Shangri-la Live House, it's also an ideal date spot.
Forget Me Not Coffee/The Place
Open: Forget Me Not Coffee: 11:30am– 11:30pm; The Place: Lunch 11:30am–3pm (closed Weds), Dinner 5pm–11:30pm (closed Weds); The Common Place: 10am–7pm every day • Price Range: ¥1,000–¥4,000 • Access: Umeda Stn; Walk over from Umeda toward Umeda Sky Building • the-place.jp