Featured
New Saturday School a Top Class for Kids
Kobe-based St. Michael's International School is expanding its Saturday School program, and kids are loving their new classes. KS caught up with English language section coordinator Steve Moinester to find out more.
St. Michael's now has a Saturday School program for internationallyminded kids. How's it going?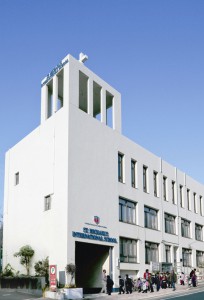 We've had an excellent start and there is a lot of excitement and buzz surrounding the program. Initial interest has allowed us to open three grade levels which we will be expanding to five levels in April 2015. One of the levels will be a new Preparation for Grade 1 class for children aged four to six years old.
Feedback from parents and children has been very positive. I've received many appreciative emails from parents praising the curriculum, teachers, and the overall positive effect the program has on the children. Some children have told their parents they wish every day was Saturday! The other really positive feedback we've received is about our natural and organic lunch which has been very popular. We are fortunate to have a health-conscious vendor located around the block that provides us with custom-made lunches for the children.
What kinds of kids attend the Saturday School program?
We have a wide variety of students from different backgrounds, but for the most part the children fall into three categories: native speakers, children who have returned from living abroad, and children in families that place a special focus on English education.
While not required, in almost all cases the children have at least one parent that is fluent or near-fluent in English. The families tend to be internationally-minded and want their children to develop fluency in the English language. Many have considered entering their child in a full-time international school, but they are concerned about their child maintaining their Japanese language skills as well as the cost of these schools. Our Saturday School program satisfies the needs of these families by providing a high quality, integrated, and comprehensive English-based education at a reasonable cost, while allowing the children to also develop their Japanese language skills in their weekday schools.
What are the criteria for entry into the program?
For our new Preparation for Grade 1 class, entry is open based on space availability. For all other classes, a placement test is required to ascertain the child's level in reading, writing, listening, and speaking. Placement is based primarily on ability, not age. In other words, it is possible for a child to be in third grade in the Japanese school system, but in a Saturday School class aimed at the second grade level. This flexibility allows us to match students of similar ability.
*The next open-house tour will be Saturday, November 22. Please call to make a reservation or fill-in the Open House reservation form online if you would like to attend.
[box]
St. Michael's International School
• Address: 650-0004 Kobe, Chuo-ku, Nakayamate-dori 3-17-2
• Access: JR Sannomiya/ Motomachi Stn, 15-min walk
• Tel: 078-221-8028
• smis-english.com
[/box]