Featured
Foodspotting
Visiting the newly-restored Himeji Castle this spring? Don't forget to explore the culinary treats the neighborhood has to offer while you're there.
Jidai Café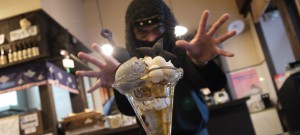 On a visit to Jidai Café in the neighborhood of Himeji Castle, don't be surprised if you are greeted by a ninja waiter, as this café has utilized themes relating to Himeji Castle to keep its customers entertained and satisfied! In addition to typical Japanese café menu items such as curry rice, noodles, dango (Japanese sweet made from rice flour) and tea, one of their specialties is a ninja parfait (¥880); delicious sesame ice cream and mochi (rice cake) on a cornflake base, topped with shuriken (ninja star) shaped cookies. If you're a beer and a samurai fan, try the busho (feudal warlord) craft beer. Each bottle has its unique flavor and is inspired by historic figures such as Toyotomi Hideyoshi, and Oda Nobunaga. If you're really feeling cultural, at Yumeoriuakata, which is adjacent to the café, you can try on high-quality, traditional Japanese costumes. "We value the experience of the 'real' Japanese culture," says café owner Erika Hiramoto. You have the option of taking the Himeji Castle walking tour while disguised in a ninja or samurai costume!
Open: Sun–Sat 10am–6pm • Price Range: ¥500–¥1500 • yumeoriyakata.com/en • Access: JR Himeji Stn, 10-min walk
Nohko: Oden in Style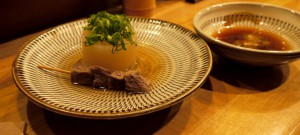 Care to try a local savory snack? Himeji oden would be the choice. Oden (vegetables, meat, egg, and tofu boiled in broth) dipped in ginger soy sauce is the perfect dish to warm your cockles on an early-spring visit to Himeji. There are many oden shops, but what makes Nohko special is their pick of locally-grown vegetables and seafood. The daikon (Japanese radish) comes from Tatsuno, the octopus comes from Harimanada, and so on. Prices may change according to the season. Don't miss the juicy daikon (¥200) that once appeared in a local gourmet food magazine. Approximately 20 kinds of oden are on offer including beef gristle, yuba (tofu skin), shiitake mushroom, and shungiku (garland chrysanthemum). Seating around 11 people, Nohko is small and usually crowded. There are no bilingual menus but don't let this put you off, get in there and enjoy some Himeji oden and sake in a friendly, vibrant atmosphere.
Open: Mon–Sat 5pm–10pm • Closed: Sun • Price Range: ¥1500–¥3000 • (Details on the "Himeji Oden Map") • Access: JR Himeji Stn, 10-min walk
Café de Miki with Hello Kitty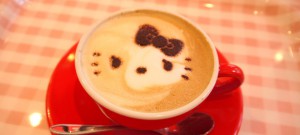 For kawaii culture in a cuppa, stop in at the ultra-cute, ultra-pink Café de Miki – just a few minutes' walk up Miyukidori shopping street toward Himeji Castle. The bespectacled Hello Kitty logo hints that this café is the result of a partnership between two quite different businesses; an iconic character, and a stylish eyewear brand. Café de Miki with Hello Kitty was born in 2010 thanks to Mr. Shintaro Tsuji, CEO of Sanrio, and Mr. Hiroshi Tane, the president and representative director of PARIS MIKI HOLDINGS. Tane says incorporating Kitty with food isn't easy, but it's so much fun, "I enjoy thinking, what would Hello Kitty have for afternoon tea?" Guests will find cakes and café lattes with Kitty's face dusted in chocolate on top. They also serve almond toast, which is one of Himeji's local gourmet treats. The third floor is good for an extended afternoon tea; based on a white color scheme, the couches and Hello Kitty-shaped cushions provide a relaxing, lounge type atmosphere.
Open: 9:30am–8pm • Price Range: ¥500–¥1500 • cafedemiki.jp • Access: JR Himeji Stn, 7-min walk up Miyukidori shopping street