Featured
Craft Beer Corner
With warmer weather on the way, there's no better time to get reacquainted with the Osaka craft beer scene. Here's three to get you going just a hop and a skip south of Umeda.
Beer Belly in Higobashi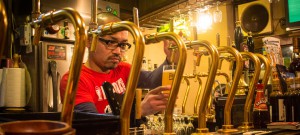 This month might be your final chance to enjoy one of the award-winning Minoh beers at the original Beer Belly in Higobashi. With its neighboring sister shop in Edobori having already closed its doors in January, one might wonder what the future holds for this iconic Osaka craft beer pub. Fear not! According to Beer Belly manager Yasuhiro Otsuka, "We are combining the two shops into a larger bar down the road in Kyomachibori." The new Beer Belly is tentatively scheduled to open March 20th and in addition to a larger space Yasu says they are planning to brew their own line of beers on location under the Beer Belly Brewing moniker, possibly as early as July this year. But with 12 taps and three real-ale pumps, they're not about to let the brew stop flowing at their current location. Check out this month's guest beers from Outsider Brewery, Bunyip Australian IPA and the seasonal brew Special Pale Ale.
[box]
Open: Mon–Sat 5:00pm–12:00am • Closed: Sun & Holidays • Price Range: Half pints from ¥500; UK pints from ¥900 • Food from ¥600 • minoh-beer.jp/spot/beerbelly • Access: Yostubashi Subway Line, Higobashi Stn, Exit 10, 5-min walk
[/box]
World Beer & Cafe Qbrick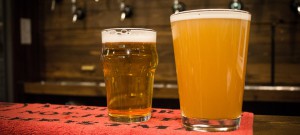 World Beer & Cafe Qbrick has been a fixture on the Osaka craft beer scene for a long time and will celebrate its 10- year anniversary next month in style. Bar owner Takuya Yamamoto says "We have 10 events for our 10-year anniversary spanning from April 1st to May 10th." The shop lives up to its name hosting a range of delicious brews from all over the globe, including a large selection of mostly imported bottled beers. The cozy atmosphere is perfect for small or large groups, with a downstairs area that can seat about 40 people. This month, pop in to enjoy their exclusive collaboration beer, an amber rice lager from Swan Lake Brewery in Niigata, which will be specially brewed for Qbrick and two other pubs in Tokyo and Hokkaido. With 15 taps, one real-ale pump, and mostly ji-biru on tap, the selection is constantly offering something new to try.
[box]
Open: 5:00pm–12:00am • Closed: Some Mondays (see website) • Price Range: Half pints from ¥650; US pints from ¥900; UK pints from ¥1,100 • Food from ¥600 • worldbeerqbrick.com • Access: Midosuji Subway Line or Keihan Line,Yodoyabashi Stn, 7-min walk
[/box]
Dig Beer Bar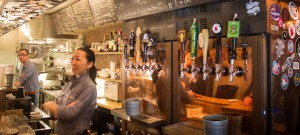 Opened in July 2013, Dig Beer Bar has cemented its place on the Osaka craft beer scene, educating fans about the culture and the craft locally and internationally. Its running series, the Great American Beer Tour, periodically showcases different American breweries and gives visitors the chance to sample some of the finest U.S. craft beers. This month, Pizza Port Brewing will be showcased from March 6th, and Stone Brewing from March 20th. Both will be featured in presentations from owner Keiji Nishio (Sat March 7th and Sat March 21st respectively) where he will give a talk on the history of the breweries and on craft beer in general. With a diverse rotating lineup of 16 craft beers on tap (roughly two thirds domestic and a third international), there is plenty to be curious about at Dig Beer Bar, and plenty to choose from. The friendly staff will also happily recommend excellent beer-food pairings to please the palate.
[box]
Open: 5:30pm–1:00am • Price Range: 200 ml from ¥550; 300 ml from ¥750; 400 ml from ¥1000 • Food Price Range: ¥500– ¥2000 • dig-beer.com • Access: Midosuji Subway Line or Keihan Line, Yodoyabashi Stn, 10-min walk
[/box]