Feature
Kansai – The Birthplace of Sumo, its Wrestlers, and their Careers
The yearly March tournament in Osaka sees the return of sumo to its birthplace, Kansai, where many wrestlers, foreign and Japanese, have gotten their start.
This month, grand champion Hakuho Sho returns to Osaka, a city where, as a scrawny 16-year-old, he made his debut. Now, 14 years, 80 kilograms, and a record 33 top-division titles later, the yokozuna from Mongolia leads the 650 wrestlers of the Japan Sumo Association back to Kansai, the place where sumo originated. The spring tournament will run from March 8th to 22nd at Bodymaker Colosseum in Namba.
Osaka will also see the official debut of Brodik Henderson, the first wrestler from Canada since John Tenta more than 30 years ago. Tenta started his career with 21 straight wins and three lower-division championships before quitting sumo suddenly to become a pro-wrestler. Despite going on to later fame and fortune in the WWF, he left behind an image of Canadians being soft and unable to handle the sumo lifestyle.
Three decades later, when many stables were first approached about taking the young British Columbia native, his predecessor's name and hasty departure was one of the first points of concern raised. Henderson is hoping to change the negative impression of his countrymen and last a lot longer than the six months Tenta did.
"Right now I'm overwhelmed because this has all happened so fast, but we all have to grow up at some point and I want to take advantage of this great opportunity. I just want to do my best and work hard even when I am tired and keep pushing and pushing because in the end that's really what's going to make you the best you can be," he said determinedly.
The sumo association's rules about foreigners having to skip their first tournament to concentrate on learning the language and culture means Henderson won't be on the dohyo this time, but it's likely he will be in the arena helping his stablemaster Nishikido. He's only been in the country since early February and pretty soon will be too famous to approach, so if you see a 201-centimeter, 160-kilogram guy with long, curly hair wandering around, now's your chance to say "hi".
Like Henderson and Hakuho, more than half of all current wrestlers first set foot in the ring in "the nations kitchen," meaning a trip to the former Osaka Prefectural Gymnasium will let you see the stars of the future take their first tentative steps towards fame and glory. Adding to the excitement and intensity is the fact that over 100 wrestlers are actually from Kansai and all are naturally keen to do well in their home tournament.
"Compared to other tournaments Osaka is much louder and I can get really worked up before a bout," said Terutsuyoshi Shoki (20), a Hyogo native who would be on the cusp of promotion to the paid ranks with a good showing in Osaka.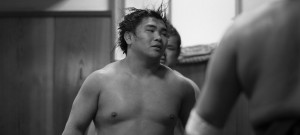 "The voices that have been familiar from childhood and the air thick with the smells of food that I love create the best atmosphere for doing sumo," added Terutsuyoshi' stablemate Tomisakae Ryutaro (22) who hails from Kobe.
Tomisakae and Terutsuyoshi both started their sumo lives in their home region but Osaka has also seen the birth of Tongan, Brazilian, and Georgian sumo careers. Egyptian, Osunaarashi Kintaro, also had his start here six months after he joined the sumo world. The delay was due to paperwork and the policy of foreignborn wrestlers missing their first tournament. Despite chomping at the bit to get going he, like most people, was instantly enamoured with the food and the people calling them "so funny and friendly."
Hometown interest at the top end of the rankings is mainly focused on two competitors; ozeki Goeido Gotaro, who narrowly avoided losing his rank with a win on the last day of the January tournament; and heartthrob Ikioi Shota, who had a spectacularly bad showing in January going 1-14. Both are 28 years old and probably at or near their peak.
Kansai may not have many wrestlers at the top of the rankings but the area's connections to the sport run deep. Yamato (in present-day Nara) was the site of the first-ever sumo bout which ended with Nominosukue kicking his opponent Taimanokehaya to death.
The Japanese word for the supporters of sumo whose generosity helps keep the stables open is tanimachi, taken from the area of the city where a famous doctor once treated wrestlers' many ailments for free. Nine out of ten sumo wrestlers are unpaid, struggling in the sport's feudal-like system, trying to make it to the promised land of the top two divisions where they will receive a salary and (relative) freedom.
For them, hometown support is immensely important. If you get to the venue early on weekdays you can usually see family and friends of these local boys roaring their support in an otherwise church-like silent and empty arena. So go, eat, drink, cheer on the local boys, and enjoy an experience you can't get anywhere else in the world.
[box]
2015 Grand Sumo Spring Tournament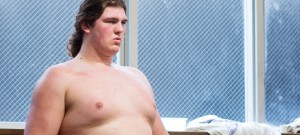 • When: March 8th to 22nd (8am to 6pm Daily)
• Where: Bodymaker Colosseum Namba
• Tickets: sumo.pia.jp/en Some Useful Sumo Terms
• Yokozuna: Grand Champion. Can never be demoted. Only 70 men have achieved this rank.
• Ozeki: Sumo's second highest rank. Two consecutive tournament victories as ozeki means promotion to yokozuna
• Dohyo: The sumo ring. Combination of the characters for earth and straw bale (which is what the ring is made of)
• Stable: There are 43 stables of various sizes. All wrestlers below the top ranks live and train in their stable full time. Wrestlers from the same stable never fight each other in official tournaments. Most are in central Tokyo but all relocate to Osaka in mid- February in preparation for the Spring Tournament.
[/box]