Articles
New Hero Headlines Sumo's Return to Osaka
Japan's national sport returns to Osaka riding a wave of popularity not seen since 1990's heyday of brothers Takanohana and Wakanohana.
Five different winners of the Emperor's Cup in 2016, sold-out tournaments, and a host of new, thrilling wrestlers shooting up the rankings means that this spring, Osaka residents are likely to see the most exciting sumo tournament in years.
The entire Japan Sumo Association, comprised of 640 rikishi (professional sumo wrestlers) along with stablemasters, coaches, managers, referees, ring announcers, and hairdressers decamp from Kanto to Kansai from late February in preparation for the tournament which runs at Edion arena from March 12th to 26th.
Headlining the event are yokozuna (grand champions) Hakuho and Kisenosato. One a legendary champion and the other the sport's newest hero.
Hakuho, initially a scrawny 14-year-old Mongolian kid rejected by every single stable in sumo, now owns practically every record in the books and stands in that rarified air with athletes whose names transcend their respective sports like Pele, Jordan, and Gretzky.
Kisenosato after so many near misses finally won the January tournament and became the first new Japanese yokozuna since 1998.
Tickets for the Haru Basho (Spring Tournament) go on sale on Feb 5th and if recent tournaments are anything to go by, they will be snapped up quickly. Seating is basically divided into two categories. Closer to the ring are the masu seki (box seats) where you'll be squashed cross-legged into a box with three other people. The dimensions of the boxes haven't changed since pre-war times, which means even for Japanese people they are a tight fit. So if you want to save your knees and back you're probably better off going with the isu seki (chair seats) which still offer a good view despite being further from the action.
Information on how to buy tickets is below but if you don't succeed in your efforts to get them you should try one of the jungyo (regional tour) events happening in the area (see sidebar). While the fights there don't have the same intensity, there are many activities you don't see in a regular honbasho (official tournament).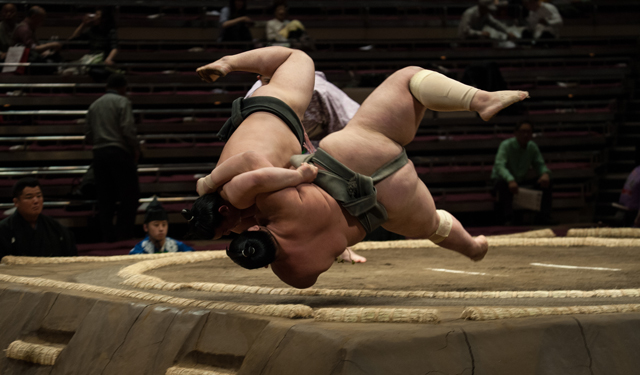 For those lucky enough to snag a tournament ticket for the first time, what can they expect to see?
A day of sumo actually runs from 8:30am to 5:45pm with bouts going on all day long. Only the top division bouts (which start at 4pm) are televised on terrestrial TV. From when the doors open until about noon the arena will be mostly empty. My advice to first time visitors is to make a two-part day of it. Go in early and even with tickets for the cheaper seats further back you'll be able to sit near the ring and sample the atmosphere up close. The only people there will be a handful of hardcore fans and the family and friends of the rikishi. At that time of day, the place will be mostly silent apart from the slaps and thuds of wrestlers colliding and the calls of the "gyoji and yobidashi." There are stalls dotted around the arena selling everything from towels to key chains, playing cards to beer, and rikishi-shaped chocolate snacks. Many of those goods are available only in Osaka and make good souvenirs.
Your ticket allows you to leave and reenter once so, after an hour or so in the morning, go get lunch, do your shopping, watch a movie, then come back around 2pm to watch the pageantry of the ring entering ceremonies and contrast the often tentative moves you saw earlier with the explosive power of the top rankers. From 3pm, the stadium will be full and the place will get louder as the fans consume more beer and cheer on their heroes.
If you are at a loss as to who to support, sticking with the local guys will endear you to the people around you. Ozeki Goeido surprised the world in May 2016 by going 15-0 becoming the first Osaka tournament winner since 1930.
If you like underdogs, diminutive Terutsuyoshi (who was born on the day of the great Hanshin earthquake) gives it his all day in, day out despite facing much larger wrestlers every bout.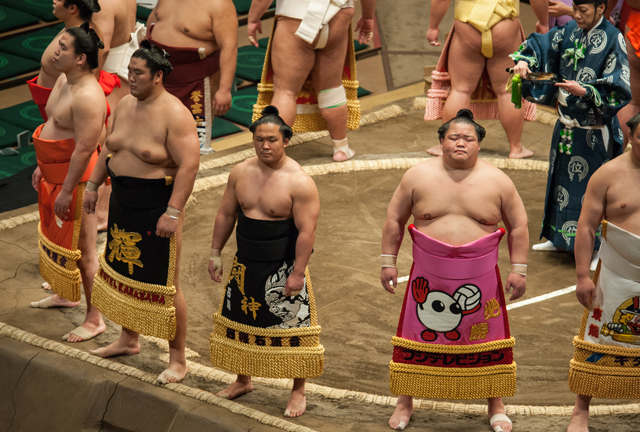 Sumo on Tour
Jungyo are regional tours that take place between tournaments and are a good opportunity for people in places that don't normally have tournaments to see sumo.
The atmosphere is much more relaxed and there are many chances to interact with wrestlers, pose for photos, get autographs, etc. Rikishi intermingle freely with the fans and often sit among them.
Osunaarashi from Egypt, Japan's Ishiura, and a few others (to a lesser degree) are able to speak English. Most of the wrestlers are outgoing and willing to chat but if you have some nice snacks for them they'll definitely be more open as the food on tour tends to be a variation on the humble bento day after day.
You'll also see things like demonstrations of how the hairstyle is formed, how the yokozuna's white rope is tied, rikishi singing sumo songs, and comedy bouts.
A typical day begins with an open practice session training, then moves on to drumming and wrestlers doing sumo with small kids.
This year there are three jungyo days in Kansai:
Apr 3 near Ise Jingu in Mie
(there will also be special events at the shrine)
>> jingukaikan.jp/kaikan/topics_sumo.html
Apr 4 in Kato City
(last time was in 1983)
>> city.kato.lg.jp/kakukanogoannai/kyodobu/hishokohoka/kohokochokakari/news/sumo.html

Apr 5 in Takarazuka
(the first there in over 60 years)
>> takarazuka.sumo-j.com
None of the events provide information or the possibility of booking in English.
The easiest way to get tickets is to call them (in Japanese) and arrange it.
Phone numbers are on the websites.
---
Tickets
Tickets can be bought online at sumo.pia.jp/en/sumo03.jsp
Chair seats range in price from ¥2,100 to ¥9,800
Box seats range in price from ¥9,500 to ¥11,700
A limited number of unreserved seats are available each morning on the gate.
They usually go on sale at 8am and are gone in 20 minutes
---