Feature
Wabori: Getting Under the Skin
Hori Hiro is one of a handful of old-style Japanese tattoo artists preserving the art of wabori – a time-honored and often misunderstood tradition that may be in danger of being lost.
A rhythmic clicking sound known as shakki cuts into the silence of the room, "sha," "sha," "sha," as the needle tips from the hand-carved persimmonwood bachi (traditional rod with needles) lightly pierce and raise the flesh to inject ink into the skin. The customer remains motionless with an expression somewhere between concentration and relaxation, seemingly in a meditative-like state. The artist executing his craft is Hori Hiro, a horishi (trained artist – "Hori" means to dig or engrave, and "shi" is an honorific term) who specializes in the mesmerizing art of wabori (traditional Japanese tattoo), also known as irezumi. It is an art form with a rich and complex history that is often misunderstood and unappreciated in Japan. Hailing from Kansai, with more than 30 years experience, Hori Hiro is one of a handful of lineage-trained masters left today who still practice tebori (hand carving).
A Self-Made Man
Coming from humble beginnings, Hori Hiro was out on his own from the time he was 17 years old. He made a living in various ways including playing pachinko and Mahjong, until by chance, he met his calling. When he was 27, he went with a friend to watch him get an irezumi, and while watching the tattoo artist he thought, "I really want to try this." Soon he began his apprenticeship under a sixth-generation wabori master, Horimitsu-sensei, and became part of the Horimitsu tattoo family, the oldest group in Osaka dating back to the Edo period.
An apprenticeship like this usually lasts between five and 10 years, and out of 10 who take on an apprenticeship, perhaps one will become a true wabori master. Day and night, Hori Hiro thought about his craft, striving for perfection, constantly thinking of ways to improve his skill. The complexity of the art became all-consuming for him. It was due to this unwavering dedication, mixed with raw talent, that Hori Hiro quickly surpassed his peers and gained his sensei's acknowledgement. After just two years, he was able to open his own shop in Osaka, and in 1983, business was booming. During this period, Hori Hiro tattooed countless yakuza around Japan, constantly being sought out for his expert craftsmanship.
The situation dramatically changed in 2008 with the revisal of the Anti-Bouryokudan (another term for yakuza) law, which saw a crackdown on yakuza activities. Because of this, his main client base was not getting inked like they used to, causing Hori Hiro's business to suffer.
"Ninety-eight percent of my clients were yakuza at that time, among them they called me the number one tattoo artist in Osaka. Now I hardly tattoo any yakuza at all."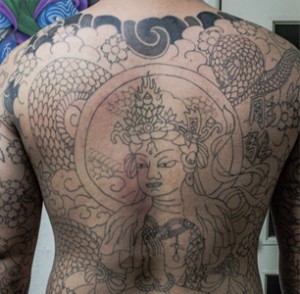 These days, Hori Hiro's clients are those who are simply fascinated by the art and appreciate the traditional style. He still carves his own bachi tools and mixes his own organic sumi ink, which he gets from a shop in Nara that is more than 400 years old. Much like the tattoo shops of old, he has no sign outside his premises and operates out of his home. But he doesn't rely on word-of-mouth alone. He has adapted with the times, using facebook and the Internet to bring in new customers. He has also had to adapt his artwork somewhat in order to keep with the times.
"The technique is the same – it is very important to keep the old style. But you have to change with the times; fashion, colors, sizes, etc."
Hori Hiro is well versed in both wabori and more Western styles, which he can outline with a tattoo gun. However, all shading is done traditionally with a bachi tool which, explains Hori Hiro, gives the tattoo "color that is much more vibrant and will stay that way for 10 to 20 years." Smaller pieces can be done in a few hours starting at around ¥20,000.
"The world looks at it and thinks it's art. Most Japanese people don't see that – they see only a bad image."
A Complex History
Throughout Japanese history, tattoos have been complicated cultural symbols used for various purposes such as religious talismans, to mark prisoners (bokkei), to signify membership to a subculture, and as an expression of fashion. During the Edo period (1600–1867) tattoos were prominent across various areas of Japan.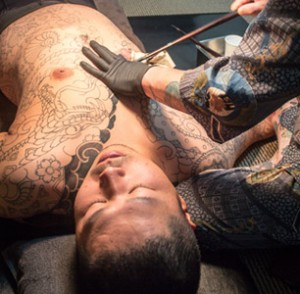 In the 19th century the Chinese fantasy novel Water Margin, which was translated into Japanese and color prints, set the Edo-era people's imaginations on fire. The flames were fanned by the famous ukiyo-e artist Utagawa Kuniyoshi's woodblock series The Popular 108 Heroes of The Water Margin, which had a tremendous impact on tattoos, helping to spark the rise of the flamboyant full-body tattoo, and interlinked the two art forms of ukiyo-e and irezumi. Both ukiyo-e artists and tattoo artists use the title "horishi". Both require immense talent, dedication, and perseverance. A munewari soushinbori (full-body tattoo with an opening on the chest) takes over 200 hours and costs upwards of five million yen.
The irony is not lost on Hori Hiro that the rest of the world sees wabori for what it is, a truly unique and beautiful Japanese art form, "The world looks at it and thinks it's art. Most Japanese people don't see that – they see only a bad image."
It was all triggered when Japan began to open up more to the West. The Japanese were worried about how they would be perceived, and thought that Westerners would view their tattoos as barbaric. The Meiji government encouraged people to wear Western clothes, banned samurai topknots, and in 1872, declared tattoos illegal, thus making it synonymous with criminality. On the contrary, however, the West was fascinated by this unique art. Sailors in the port would see rickshaw drivers with beautiful designs and want to get inked in their style. The Japanese called the sailors' tattoos "sushi" due to their simple and crude design in comparison.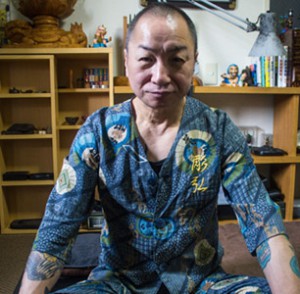 But it wasn't just the laymen who wanted irezumi. Several British Royals – the second son of Queen Victoria, Prince Alfred; Prince Albert Victor; Prince George; King George V; and Prince Arthur of Connaught – were all tattooed in Japan. Other players on the world history stage to receive tattoos in Japan include Austrian Archduke Franz Ferdinand, whose assassination in 1914 sparked World War I, and Nicholas II, the last czar of Russia. It wasn't until after WWII in 1948 that the ban on tattoos was lifted by the Western occupying forces, but by that time the damage was done, and tattoos were associated with the underbelly of Japan. "Young tattoo artists do not understand traditional style, they don't think it's important – it's a big problem. I can't live forever I want to teach this technique to younger generations but it's difficult," says Hori Hiro.
Whether or not wabori will ever receive the recognition of ukiyo-e, remains to be seen. Would the Japanese in general feel differently about their traditional tattoo art if they learned about its history and understood that they altered their own perception of tattoo culture out of fear of judgment from the outside world? Perhaps in time they will re-examine this, and not let outdated thinking relegate an important cultural art to obscurity.
和彫り:伝統美の魅力
日本伝統の技法である「和彫り」を継承する、数少ない刺青師の一人が彫弘さんだ。この美しい芸術も、誤解や偏見のために継承が危ぶまれている。
文と写真:ジェイソン・ハイダー • 翻訳:遠藤 建
バチ、バチ、バチ。刺青師たちが打つと呼ぶ、リズミカルな音が静かな室内に響く。木製のバチに取り付けられた針が軽く肉を貫いて、せり上がった皮膚の内部にインクが注入される。客は身じろぎもしない。集中と弛緩の狭間で、瞑想の境地に入っている。施術しているのは、美しい和彫りを専門とする刺青師の彫弘さんだ。繊細で豊かな伝統を持つこの刺青芸術も、日本ではしばしば誤解と偏見の的になってきた。関西に生まれ、30年以上もの実績を持つ彫弘さんは、旧来の徒弟制度で手彫りを学び、現在もその伝統技法を守り続ける数少ない名人のひとりである。
独立独歩の人
貧しい家庭で生まれ育った彫弘さんは、17歳で自立した。パチンコや麻雀などで日銭を稼いでいたが、27歳で天職に出会う。友達が刺青を入れてもらう様子を見学しながら、「これを自分でもやってみたい」と思い、すぐに6代目彫光師匠の門を叩いて弟子入りしたのだ。彫光一門は、江戸時代から続く大阪最古の名門である。
このような徒弟制度は、通常5~10年の下積みが必要で、その中でも真の和彫りをマスターできるのはせいぜい10人に1人だという。彫弘さんは夜も昼も技術の習得に没頭し、上達への道を模索しながら、刺青の芸術性の虜になった。生来の才能に加え、和彫りへの専心が師匠に認められた彫弘さんは、兄弟子たちを追い抜いて入門わずか2年後に大阪で開業する。1983年には、その腕前を聞きつけた日本中の極道に施術する人気刺青師になっていた。
ところが2008年に状況は激変。暴力団対策法が改正され、ヤクザに対する取り締まりが厳しくなったのだ。主な顧客基盤だったヤクザたちは刺青を控えるようになり、彫弘さんの仕事も苦境に陥った。
「1983年当時、お客さんの98%は極道でした。あちらの世界で大阪一の彫師という評判をいただきましたが、今ではもう極道に刺青を彫ることはかなり少なくなった」
近年の顧客は、伝統的なスタイルで施術される和彫りの芸術性に魅了された一般の人たちが中心だ。今でもバチなどの道具を自分で削って作り、400年以上の歴史を持つ奈良の店から自然素材の墨を取り寄せて混合している。多くのベテラン刺青師と同様、看板は掲げず自宅で施術する。とはいえ口コミだけに頼っているわけではない。時代の波に合わせ、Facebookやインターネットも利用して新しい顧客を獲得している。刺青師には、時代に適合した作品を作る努力も必要だという。
「用いる技術は変わりません。伝統技法を守ることは極めて重要です。それでもファッション、色、サイズなど、時代に合わせて変えるべきものもあります」
和彫りだけでなく、タトゥーガンで下絵を描く西洋のスタイルにも精通している。それでも影付けは必ずバチを使った伝統技法でおこなうのが彫弘さんの流儀だ。手彫りは色彩がより鮮やかで、10~20年くらい色褪せることがないという。小さな作品なら数時間で仕上げ、20,000円程度の料金から相談に応じてくれる。
複雑な刺青の歴史
日本の刺青は、複雑な文化的象徴としての歴史を持つ。宗教的な護符として、囚人に刻印する墨刑として、特定の階層への帰属を示すシンボルとして、粋なファッションとして、さまざまな目的で刺青が用いられてきた。
刺青文化が日本各地でもっとも隆盛したのは江戸時代のことである。19世紀に出版された中国の伝奇小説『水滸伝』の色刷り版が人々のイマジネーションに火を点けた。浮世絵師、歌川国芳の木版画シリーズ「通俗水滸伝豪傑百八人之一個」が刺青の図案に多大な影響を与え、見事な総身彫りの流行に一役買いながら、浮世絵と刺青という2つの芸術様式の橋渡しを果たしたのである。浮世絵師も刺青師も「彫師」を名乗り、ともに計り知れない才能と専心と根気を必要とする。「胸割り総身彫り」には200時間以上がかかり、施術料は500万円を下らない。
和彫りは、真にユニークで美しい日本の芸術形式だ。それを正当に評価してくれるのが、いつも日本社会の部外者たちなのは皮肉なことである。彫弘さんも例外ではない。「世界は和彫りを見て芸術だと言いますが、日本の人たちはそのように見ていない。悪いイメージだけに目が行くのです」
刺青への偏見は、開国の時代にまで遡る。自分たちが世界からどう見えるのかを案じた日本人は、刺青が野蛮な文化だと西洋人に思われることを恐れた。明治政府は洋服の着用を奨励し、髷を禁止し、1872年には刺青を違法とした。刺青と犯罪が結び付けられたのはこの時点からである。しかしながら、逆に西洋は日本の刺青の特異な芸術性に魅了されていた。港に入った西洋の船乗りたちは車夫たちの美しい刺青を見て、同じスタイルの刺青を入れたがった。一方の日本人たちは、船乗りたちの単純で素朴なタトゥーを「寿司」と揶揄していたのである。
刺青に魅せられたのは一般人だけではない。英国の王族たちも、こぞって日本で刺青を彫らせている。ヴィクトリア女王の次男であるアルフレッド王子、アルバート・ヴィクター王子、ジョージ王子、英国王ジョージ5世、コノート公アーサー王子は、みな日本で刺青を施した。それだけではない。1914年にサラエボで暗殺されて第1次世界大戦の引き金になったオーストリアのフランツ・フェルディナント公や、最後のロシア皇帝ニコライ2世の身体にも、日本で入れた刺青があった。戦後の1948年になって占領軍がようやく刺青の禁制を解くことになるが、日本の暗部と関連付けられた刺青のイメージを復権させることはできていない。
「若い刺青師が伝統技法を理解せず、その重要性をわかってくれないのが大きな問題です。私の人生にも限りがあるので、この技術をなんとか若い世代に教えていきたい。でも現状は難しいですね」と彫弘さんは言う。
和彫りが浮世絵のような認知度を獲得できるかはともかくとして、その伝統はこれからも彫弘さんのような職人たちに受け継がれていくだろう。一般の日本人が歴史を学び、伝統的な刺青に対する認識を変えることはあるのだろうか。かつて日本は外国からの評価を恐れ、刺青に対する自らの美意識を変えてしまった。この真相が理解できたら、いつかは日本人も刺青の伝統を再評価し、継承すべき文化を暗がりに追いやるような時代遅れの愚を改めてくれる日が来るのかもしれない。