Featured
Craft Beer Corner
Cozy spot in the back streets, down low in an industrial lounge, or up high over the city – Umeda has a craft beer spot for you.
Craft Beer Bar Marciero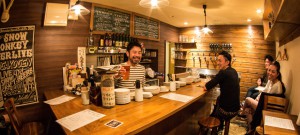 A cozy bar with seating for 13, Marciero offers a nice retreat from the lights and noise of Umeda's busy shopping area. Opened about two-and-a-half years ago by owner Hideaki Yoshii, who creates a welcoming atmosphere playing host, bartender, and chef, this little bar has gained a reputation for having unique foreign and domestic beers always on hand. With eight taps continuously flowing with hard-to-find brands and brews, it makes a trip down Umeda's side streets well worth the effort. While there, sample something from their eclectic food menu. Not sure what to get? Take Yoshii's advice, "Don't think too much about pairing. Just eat what you want and drink what you want." Sounds simple enough.
Open: Mon, Wed–Fri 5pm–2:00am, weekends 3:00pm–2:00am
• Closed: Tue
• Drink Prices: 284ml ¥650; 380ml ¥880; 474ml ¥1080; 568ml ¥1280 on tap
• Food Price Range: ¥380–¥980
• facebook.com/craftbeerbar.marciero
• Access: Umeda Station
Craft Beer Base BUD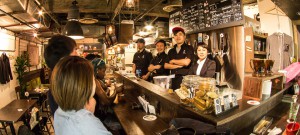 Brand new on the ever-growing Kansai craft beer scene, opened on March 25th, this is the latest shop opened by owner Ai Tani that also includes the original Craft Beer Base and bottle shop, Craft Beer Base Seed. Located on the second basement floor of the Dai-Ichi building, it is a mix between a hip, industrial-esque bar and comfortable lounge atmosphere to enjoy one of their constantly rotating craft beers from Japan and abroad. Adding to the ambiance is the incredibly hospitable staff, led by Planning Manager Masaki Tsuchiya who is keen to inform about the latest and greatest beers they have on tap. If you can't choose just one great beer to try, start with their sampler set of four 150ml beers for ¥1,200.
Open: 11:30am–10:30pm except Sat 5:00pm–10:30pm
• Price Range:
• ¥1000 pint, ¥700 half pint
• Food Price Range: ¥380–¥1000
• craftbeerbase.com
• Access: Osaka Station Dai-Ichi Bldg B2F
CRAFT BEER HOUSE molto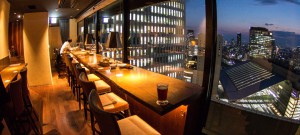 With 24 taps, a full food menu, and a commanding view of the Umeda cityscape, Molto is a place for a long lunch or to settle into for the evening. Situated on the 31st floor of the Hankyu Umeda Grand building, this is easily one of premier spots to enjoy a Japanese craft beer in Kansai. The taps are dedicated to ever-changing ji-biru goodness so the task of selecting a beer can be daunting. No worries, hop on the Brewery Beer Flight and have the staff select a three-beer (140ml each) sampler set of some of Japan's finest for ¥1,280. Make sure to pick up the member's card for ¥300 which saves you and anyone with you about ¥100 on your drinks!
Open: 11:30am–3:00pm (l.o. 2:00pm) lunch, 5:00pm–11:30pm (l.o. 10:45pm)
• Admission ¥300 seating charge
• Price Range: ¥630–¥1480
• Sizes: Small (240ml), Medium (400ml), Large (650ml)
• Food Price Range: ¥380–¥4000
• craftbeer-molto.com
• Access: Umeda Stn, Hankyu Grand Bldg 31F