Feature
Kansai Scene: Fifteen Years in the Making
This month KS is 15 years young! So we decided to take a trip down memory lane to when it all first began.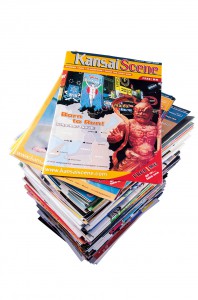 It is our birthday! Kansai Scene is celebrating its 180th issue, a milestone we're pretty proud of. KS has published 15 years' worth of monthly news, feature stories, listings, articles, photographs, and classifieds since its inception in May 2000. And at 15,000 copies a month for 180 months, that's some 2.7 million printed copies! Kansai Scene exists to make it easy for you to access English language information on living in Kansai, with minimal effort. We pull out all the stops to put this information at your fingertips and do it because we truly love it. A lot of blood, sweat, and tears have gone into the magazine over the years from its dedicated string of editors, writers, salespeople, photographers, designers, and office staff. So we want to say a big thank you for reading, and keeping us going all this time, and we would like to share with you a brief potted history of the magazine.
It Began in Nishinakajima
Back in 1995, when the the internet was just in its infancy, Kansai expats turned to Kansai Time Out for their English-language lifeline. KTO was a well-respected magazine with a 20-year pedigree. Safe to say, they knew what they were doing. But Peter Horvath, Hungarian national and then-manager of the Higashi-Umeda branch of the H.I.S. travel agency, thought otherwise. He'd seen city magazines all over the world and he simply felt that KTO could and should be better. So why not do it himself? He mulled over the idea for a few years and then in 1999, without any previous publishing, design, or writing experience, he quit his job, formed his own company, and set about putting together a team to launch his own magazine.
It takes a certain kind of individual to pull off such a feat. Leaving a secure job in a large firm to plunge head-first into an industry you know nothing about takes a giant leap of faith. He found an editor, a designer, some eager volunteers and, perhaps more importantly, managed to win over a number of key advertisers with his unflagging enthusiasm and passion. They bought into his vision.
Finally, after months of planning, sales calls and liaising with printers, advertisers, galleries, museums, bars and hotels, the first issue of Kansai Scene was launched from the living room of a small apartment in Nishinakajima, Osaka. It wasn't pretty, but it was the new kid on the block and proved an instant success with readers and advertisers alike.
The first three or four issues were a real challenge for the fledgling publisher, particularly when it came to meeting deadlines.
"Everything took too long. Too long was spent on writing, re-writing, and editing articles. Too long on tweaking and perfecting QuarkXPress layouts, and too long procrastinating over cover designs," Peter said.
A few of the original team left or were replaced in the early months, and slowly, learning on the job, they were able improve the production process and get up to speed. After six months or so, it was a well-oiled machine.
The Tokyo Experiment
With two years of KS publishing experience behind him, Peter set his sights on the alluring Tokyo market. He felt that KS had already hit the ceiling as far as advertising was concerned. In June 2002, Tokyo Scene was launched. It was a bilingual version of Kansai Scene, with content that was shared between both Kansai and Tokyo. It started brightly and had great promise, but with so many other Englishlanguage print media titles saturating the market, attracting advertisers was extremely difficult. Realizing it simply wasn't financially viable to continue for any longer, Peter pulled the plug after just 12 issues.
From Publishing to Print
It was also during those first few years, that Peter began to notice a big demand from advertisers for other marketing materials – business cards, flyers, and leaflets. With an in-house design team and strong ties with a printing company, he was wellpositioned to seize the opportunity to supplement the magazine's advertising income with print and design jobs. Within a few months, this new revenue stream proved more profitable than the magazine itself, and by 2003, he was able to launch King Printers as a separate business. Where Tokyo Scene failed, King Printers flourished (and continues to this day).
With Peter then largely out of the Kansai Scene picture, its art director Jatin Banker, was left to steer the magazine through its next chapters. The office relocated to Namba and a new team was assembled. The production process shifted from QuarkXpress to Adobe InDesign and with the proliferation of the internet, more attention was paid to the magazine's web presence and an online classifieds system was developed. For the next five or six years, the magazine continued to grow from strength to strength and then, somewhat unexpectedly in 2009, its only rival Kansai Time Out decided to cease publication after 32 years in the business.
It was also around this time that Kansai Scene was sold temporarily to Metropolis KK – publishers of the Tokyo English language magazine of the same name. Just 12 issues later however, it was hastily returned to Peter. A few more ownership changes ensued until, in June 2012, the magazine was bought out by its current publisher, Daniel Lee, one-time Kansai Scene designer and founder of Mojoprint.
Current Trends
Fast-forward to May 2015, and thanks to Cloud-based applications such as Dropbox and Google Drive, we have been able to streamline operations to the extent that most of the magazine is now planned and edited remotely, with only a few core staff required in the office (Mojoprint HQ in Shinmachi). Consider that there were six full-time staff required to create KS back in 2003 and this is a massive change.
We are proactive in our use of Facebook and Twitter, have launched a KS Instagram account, and are always on the lookout for new channels to distribute our content. To that end, we recently developed an API to allow third-party services and applications to access our content, which allows us to interact with our readers in ways never before possible. Back in the real world too, we now organize monthly events and seminars in an attempt to engage the community at a grassroots level.
With new technology comes new challenges and opportunities for the magazine. The ability to adapt to the changing media landscape is probably the number one reason KS has managed to remain in print all these years. By remaining relevant and listening to our readers' needs, we're confident the magazine has a bright future, and we look forward to serving the local community for the next 15 years and beyond. Whatever format its delivery happens to take (be it digital or analogue), the need for quality content and relevant information will always remain.
"The first issue of Kansai Scene was launched from the living room of a small apartment in Nishinakajima, Osaka. It wasn't pretty, but it was the new kid on the block and proved an instant success."
[box]
Get in Touch
You can reach us at editor@ kansaiscene.com, connect with us on Facebook (kansaiscene) or Twitter (@kansaiscene), or join our Meetup Group (meetup. com/Kansai-Scene) to find information about upcoming KS events.
Get Involved
If you'd like to write for Kansai Scene, please see our writers guidelines at kansaiscene.com/ write-for-us
[/box]