Featured
Craft Beer Corner
Make a pre or post-hanami stop into one of these Namba craft-beer watering holes showcasing both international craft beer and ji-biru at its very best.
Cafe & Beer arca->archa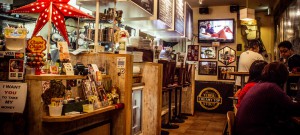 Tucked away in the labyrinth of winding alleyways of Ura-Namba that crisscross the shotengai near Namba station is arca→archa, meaning "toy box" in latin says owner Mitsuo Taniguchi. Mitsuo has been in the bar game for 10 years as a bartender and proprietor. Opened in December 2012, arca→archa has four taps, one of which is dedicated to craft beer that changes weekly, and the bar boasts a nice selection of around 25 bottled craft beers from the US, Japan, and Europe. Peruse the full English menu and choose a tasty craft brew to accompany something from the extensive food menu. Better yet, ask Mitsuo himself for a recommendation, like his take on the pub classic fish-and-chips with his own special homemade tartar sauce, paired with a Black Isle Goldeneye Pale Ale.
Open: Tue–Sun 11:30am–12:00am • Closed: Mon • Price Range: ¥880 on tap; bottles ¥980–¥1380 • Food Price Range: ¥380–¥3200 • arca-archa.jp • Access: Nankai Namba Stn, main exit, 5-min walk
beers and bar NOLA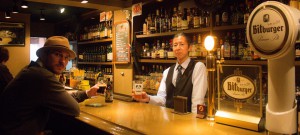 Beer and bar NOLA, which stands for New Orleans, Louisiana is named after the birthplace of the music that owner and bartender Shuji Terada loves. You'll be reminded of it by the smooth, jazzy tunes that play in the background, working in tandem with the classy throwback décor. The small second-floor bar, seating around nine at the bar and another four at a private booth in the corner, is a mellow retreat from the hustle and bustle of the Osaka streets. NOLA has two taps serving the UK's Bass beer and the popular German draft beer Bitburger for ¥850 and ¥900 a pint respectively. Where NOLA truly shines is with its nearly 100 bottles of mostly international craft beers, including many hard-to-find treats such as North Coast Brewing's Old Rasputin Russian Imperial Stout for ¥950.
Open: Mon–Sat 7:00pm–1:00am • Closed: Sun • Admission ¥300 seating charge • Price Range: ¥850 draft beers; bottles ¥750–¥3600 • Food Price Range: All food ¥300 • facebook.com/pages/Beersbar- NOLA/770871926320498 • Access: Nankai Namba Stn, Main Exit, 2-min walk
Smoke House Ape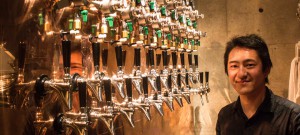 Smoke House Ape – smoked food, but no smoking allowed. Situated across from the OCAT building in Namba, Smoke House Ape (an off-shoot of Yellow Ape Craft in Kitahama) burst onto the craft beer scene last month, and is quickly making a name for itself in the rapidly-growing Kansai ji-biru movement. Thanks in part to its colossal wall of 20 taps, the crown jewel of this modern, chic bar that offers a constantly changing selection of mostly Japanese craft beers. Don't hesitate to ask friendly bar manager Kai Takahiro for a recommendation to pair with their teppanyaki or smoked food menu. Try the clams with spinach covered in an almond sauce, with a baguette to soak it all up. Pair it with the Rauch Fujizakura Kogen beer to wash it all down.
Open: Tue–Fri 4:00pm–12:30am; Sat, Sun & Holidays 12:00pm–12:30am • Closed: Mon • Price Range: ¥580–¥2000 • Sizes: Glass (260ml), US pint (420ml), Mass (1000ml) • Food Price Range: ¥380–¥1000 • ameblo.jp/smoke-house-ape • Access: JR Namba Stn