Food & Drink
Foodspotting
Vegetarian and vegan restaurants can be hard to come by in Kansai, but Osaka boasts these three that are bound to delight your taste buds and have you radiating health and vitality.
Paprika Shokudou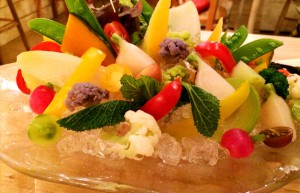 At Paprika, all food is organic and vegan, which means no chemicals, MSG, milk, sugar, meat, egg, or genetically modified organisms (GMOs). Despite this, there is a plethora of delicious, fresh dishes to choose from. Start with the Paprika Shokudou "vegetable island" with dipping sauce; a huge plate of fresh vegetables on ice, paired with different flavored dipping sauces including miso and umeboshi (pickled plum). Follow up with deep-fried oysters made from mushrooms and tofu, and finish with the baked organic banana and cinnamon cake. Well, that's just one suggestion as there are many options. A big customer favorite is the donburi (rice bowl), especially the soymeat yakiniku donburi. Whatever you choose, don't forget to order a bottle of their organic wine to enjoy in this beautiful, laid-back space. The service is friendly and efficient, the staff speak some English, and the menu is also available in English.
Open: Lunch 11:30am–2:00pm; Dinner 5:30pm–11:00pm • Price Range: ¥800–¥2500 (service charge for dinner) • Access: Yotsubashi Stn, Exit 2 • facebook.com/papurika.vegan/app_813913961985014
Shama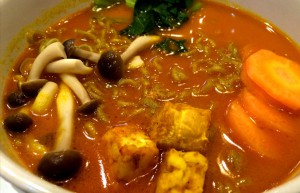 Namaste! This small and cosy, vegan-friendly Indian restaurant in Kitahorie serves tasty Indian cuisine without meat, fish, eggs, onion, garlic, nira, or leek. Some of the food is lacto-vegetarian (including dairy products) and some is vegan – either way it is clearly marked on the menu. Drinks are mostly alcohol and caffeine free. The extensive menu (available in English) features dishes such as soy-meat tikka, eggplant keema curry with minced gluten meat, and tikka with soy ham. The scrumptious curry-noodle dinner set with tofu, carrots, and mushrooms is deliciously heart warming, and comes with a soup, salad, and vegemomo starter, and an after-meal chai tea with a chocolate brownie topped with vanilla ice cream. Lunch sets are great deals, most at less than ¥1,000. To add to the feel-good factor, aside from the healthy eating, this restaurant has been helping to run an orphanage and school in the Indian state of Bihar.
Open: Lunch 11am–3pm; Dinner 5pm– 10pm • Closed: Monday Dinner • Price Range: ¥750–¥2000 • Access: Yotsubashi Subway Stn, Exit 6 • indoshama.jimdo.com
Green Earth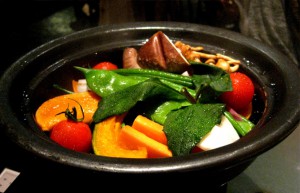 Green Earth is one of Osaka's oldest vegan restaurants. It's almost all vegan with a couple of exceptions for lactovegetarians who eat milk and cheese. For example, you can request regular cheese on the pizza, otherwise you'll get soy or cashew cheese. There are daily changing lunch specials ranging from pasta, pizza, salad, sandwiches, veggie burgers, and of course desserts (try the mouthwatering grain-crust apple pie). Most lunch sets are ¥1,000 or below. The food feels very healthy, natural, and of good quality, and is ultra tasty. Their mapodoufu is arguably better than the "real" thing (with minced-meat sauce). Also worth a try is the all-vegan BBQ mock-meat dish. The only downfall of this cute, reasonably-priced, and friendly restaurant, is that (except Fridays) they're not open later. Reservations can be made on Sundays and holidays for a small group party at a cost of about ¥2,500 per person.
Open: Mon–Sat 11:30am–5pm (L.O. 4:30pm), Fri 6:30pm–11:30pm • Closed: Sundays/National Holidays • Price Range: ¥750–¥2800 • Access: Midosuji Subway Line, Hommachi Station, Exit 15 • osakavegetarian-ge.com/english.htm