Food & Drink
Foodspotting
Brighten up your winter morning mood with a visit to one of these three Kansai breakfast havens.
Clamp Coffee Sarasa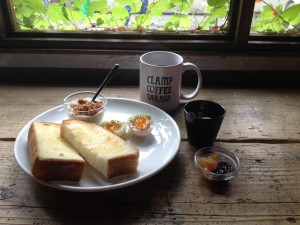 There is a distinct new addition to the well-known Kyoto Sarasa café experience, and it begins with a walk down an ancient stone path to the gorgeously overgrown and inviting Clamp Coffee Sarasa. A very popular café, particularly at the 9:30am mark. The polite staff who run this very calm space never rush customers, and maintain a very calm and relaxed atmosphere. Morning time here is full of wondrous aromas and content customers. Help yourself to a buffet of fun condiments for your chunky toast. The yoghurt and granola is such a treat, and the homemade pickles are delightful. With their own coffee roaster here, the brews are something special too. Enjoy your breakfast set in harmony for ¥750, and be enchanted by this creative space.
Open: 8am–7pm; Breakfast 8am–11am • Closed: Tues & Wed • Price Range: ¥750–¥1,200 • Access: JR Nijo Stn, 8-min walk from East Exit • cafe-sarasa.com
Coffee Hut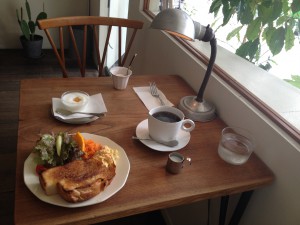 Allow yourself to pause one morning and relax and unwind in an intimate setting. With only 10 chairs, the small-scale, relaxed Coffee Hut provides an ideal place to reset and renew. Kuriyama-san has created such a gentle atmosphere full of organic simplicity and earthy calm. Creative breakfast sandwich sets include pumpkin salad ¥600, BLT cheese toast ¥450, marinated tuna carrot ¥400, or seasonal jam toast ¥280. The deluxe breakfast (toast, egg, salad, yoghurt and coffee) for ¥600 is also recommended. The fresh coffee aromas transport you to faraway lands, and a refill is ¥250. Indulge yourself further with a delightful homemade cake for only ¥350. If white-chocolate cheesecake feels too decadent for you, the seasonal pound cakes are much lighter. A weekday morning visit is highly recommended, followed by a fun day of shopping in eclectic Matchamachi.
Open: 10am–7pm; Breakfast 10am–12pm • Closed: Wed • Price Range: ¥400–¥1,000 • Access: Matsuyamachi Subway Stn, Exit 4 • coffeehut.jp
Usagi to Boku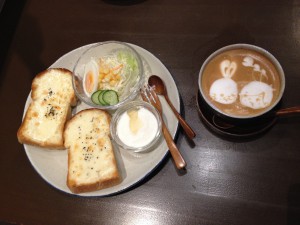 Ease into your workday, or take it slowly on the weekend with a good book or favorite magazine at 'The Rabbit and Me' coffee shop in retro Showa-cho. Mr and Mrs Uwaguchi renovated this 80-year-old nagaya just four years ago. The coffee selection reads like a well-traveled passport (¥480–¥580), and the cutest bunny latte art will instantly jazz up your Instagram feed. Morning sets cost less than ¥500 and are ultra satisfying; butter or cheese toast, salad and homemade yoghurt plus a coffee, or try the hotdog set. The calm, cosy back area is full of quiet, comfortable reading spots, and there are lots of bunny books for children. Take a stroll over to the expansive Momogaike Park for a post-breaky stretch, or walk up to the Hankai tram line for further exploring.
Open: 8am–6pm; Breakfast 8am–11am • Closed: Tues & Wed • Price Range: ¥500–¥1,200 • Access: Showa-cho Subway Stn, Exit 4 • usaboku-coffee.com