Food & Drink
Foodspotting
KS takes a trip to Takatsuki in search of delicious, authentic tastes from abroad.
T's Diner
You'd be forgiven for mistaking T's Diner for the set of Happy Days. Kitted out as an authentic 50's diner, the interior is part of the overall dining experience. Enjoy your meal in the surroundings of retro neon signs, and black and whites of Elvis Presley and other iconic 50's legends. If you're searching for authentic American-style hamburgers, you'll be hard pressed to find anywhere that hits as close to the mark as T's. We highly recommend tasting the signature Takatsuki burger, or if you're feeling adventurous, why not try the 30cm hamburger of death? The menu is extensive, with an array of foods including chili dogs, nachos, fries, club sandwiches, desserts and even traditional milkshakes. Oh yes, they don't skimp on the portions either!
Open: Lunch 11:30am–3pm; Dinner 5pm–3am • Price Range: ¥1,500–¥2,000 • Access: Takatsuki Hankyu station, 3-min walk from central exit • ts-star-diner.com
Wabi Savvy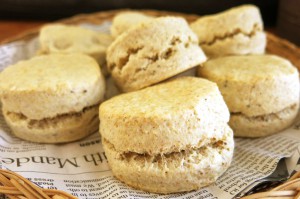 Conveniently located right next to Takatsuki's Hankyu Station, Wabi Savvy is a stylish place to dine. Enjoy your meal in a spacious and relaxing environment overlooking the station. Wabi Savvy – an international food restaurant, offers a decent selection of foods that would usually be hard to find elsewhere. Proper roast dinners, pies, hearty soups, quiche, scones, casseroles and a huge array of fine desserts are just a few of the items on offer. Wabi Savvy also has a wide selection of English teas, beers, wines and whiskey to choose from. All menus come both in Japanese and English and the staff are bilingual. If it's the taste of home that you've been craving, Wabi Savvy will definitely fit the bill.
Open: 11am–10pm • Price Range: ¥1,500–¥2,500 • Access: Hankyu Takatsuki Stn, 1-min walk from central exit • ameblo.jp/cookinglish
Dee Dee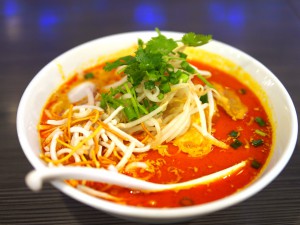 If you're looking to add a bit of spice to your day, why not try Thai restaurant Dee Dee? Located in Takatsuki's shopping arcade, it's a five-minute walk from either the JR or Hankyu stations. Furnished with decor imported directly from Thailand, you can enjoy your meal in a smoke-free environment with atmospheric music. With a good selection of curries, diners can choose from mild to ultra-spicy. You can also find handmade egg noodles and traditional Thai hotpot on the menu. We recommend going between the hours of 11:30am and 3pm in order to get the daily lunch-set special. Dee Dee has a small play area for the kids too. Overall a very pleasant dining experience.
Open: Lunch 11:30am–3pm; Dinner 5pm–10pm • Price Range: ¥1,000–¥2,000 • Access: Hankyu or JR Takatsuki Stn, 5-min walk from central exits • ddthai.net