Featured
Foodspotting
In Osaka with a Chinese-food craving? Try one of these three tantalizing options.
Lei Can Ting
The interior of Lei Can Ting is rather bare. Whoever the interior designer was surely was going for modern while remaining in line with the tenets of minimalism. This is fitting due to the approach to the cuisine. This is a health-food restaurant that serves dim sum and other Chinese fare (a separate vegetarian menu is available). Those diners looking for showmanship may be disappointed, but I can assure you that the flavor of each serving will more than make up for that fact. Each dish balances the other wonderfully. Even with a normally oily entree like mapo doufu, I was left feeling full but not sluggish, thanks to the accompanying salad and dumplings. The service is fast and attentive without the invasiveness that can easily come with the latter. Next time, I'll be sure to go back on an extremely empty stomach because their viking meal plan at ¥2,500 per person is a deal that should not be passed up.
Open: 11am–11pm (L.O. 10pm) • Price Range: Lunch ¥1,000–¥2,000; Dinner: ¥1,000–¥3,000 • Access: Hankyu/Subway Umeda Stn or JR Osaka Stn, 7-min walk to Lucua Bldg 10F • tabelog.com/en/osaka/A2701/A270101/27057211/#anchor-rd-detail
Taiseikaku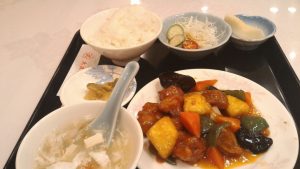 Situated in bustling Shinsaibashi, this restaurant boasts a large storefront. Upon first glance, it looks like a hotel. That is, however, not the case now. On their website, they mention that Taiseikaku opened its doors in 1957 concurrently with a sportsman's hotel and later bought out their co-tenant. They now use the upper floors for receptions and large events. At its core, Taiseikaku is a family-style restaurant with enormous tables outfitted with lazy Susans and four seats at each. That being said, this restaurant's best dishes are its plates. The set meals are good, but they fall short of the splendor that can be that can be experienced from a multi-plate meal. When you go, be sure to go at night with a large group so that you can take advantage of all they have to offer. If you have the foresight to make a reservation, do yourself a favor and order the Peking Duck. You will not be disappointed.
Open: 11am–11pm; Lunch 11am–3pm (L.O. 2:30pm) • Price Range: Lunch ¥800–¥1,500; Dinner: ¥2,500–¥6,000, Course Meal ¥4,000–¥20,000 • Access: Shinsaibashi Subway Stn, Exit 6, 3-min walk • taiseikaku.jp/index.html
Souryuukou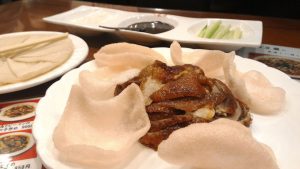 Souryuukou is a spacious, 130-seat restaurant, spread over four floors, located in the bustling restaurant area of Tenma. As forewarning, if you show up on a weekend without a reservation you will be turned away – it's that popular. To the management's credit, though, they do a great job of letting you down easy. This restaurant is a family-run, family-style restaurant. Order at least three dishes – each one is bound to blow your socks off. Souryuukou's Peking Duck is hard to go past, but also highly recommended is their "Pon Pon" Chicken (known as "Bang-Bang Chicken" due to the tenderizing method), and also their Eggs and Tomatoes stir-fried and simmered. If you're more inclined toward vegetables, try their Szechuan Vegetables (ざーさい). Every dish is crafted with care and attention to detail. Flowers made of carrot slices adorn plates and even the dim sum are crafted in the most appealing way possible. If you only choose one Chinese restaurant in Osaka, make it this one.
Open: Lunch time 11am–2pm; "Dim sum time" 2pm–5pm; Dinner time 5pm–11pm (L.O. 10:30pm) • Price Range: Lunch ¥800–¥1,800; Dinner ¥3,000–¥5,000 • Access: JR Temma Stn, 5-min walk • tabelog.com/en/osaka/A2701/A270103/27063993