Feature
Kyoto Train Museum in Locomotion
Calling all trainspotters and rail enthusiasts! Make tracks to Kyoto's new train hotspot.
The newly opened Kyoto Train Museum is in full swing, featuring 53 cars ranging from the Japan's oldest steam locomotive to more recent shinkansen models.
Located near the Kyoto Aquarium, the 30,000-square-meter space exhibits not only trains from the former Umekoji Steam Locomotive Museum and Osaka Modern Transportation Museum, but also many sections depicting activities related to rail transportation, as well as play areas for the kids.
Of course, the 53 cars displayed are the main stars, the top picks perhaps being the Twilight Express sleeping train, 500 Series Shinkansen, and the collection of 23 steam locomotives (SL) built between 1880 and 1948. The SLs are housed in the 1914, 20-track roundhouse, an Important Cultural Property.
Just outside sits the functional turntable, moving locomotives to the two service sheds (semi-accessible to visitors), or pulling the open-air cars that whisk passengers between the standard JR lines and Umekojii park.
The other cars are housed in three structures, two of which are open air: the Promenade, featuring notably a Shinkansen 0 Series (with walk-in museum), an imperial wagon, and a restaurant car where you can actually eat or buy a bento; and the Twilight Plaza with the sleeping cars of the same name.
The highlight of the experience, however, is in the main hall. Welcoming you in is the 1903 Kitson (UK) SL, followed by three emblematic locomotives – 500 Series Shinkansen, 581 Series Kuhane and 489 Series Kuha – towering over crowds of doe-eyed kids of all ages. The rest of the first floor features a few other cars, including under-train passages to compare diesel and electric locomotive engines, exhibits explaining bridge and tunnel construction and inspection, and interactive displays allowing visitors to get in the driver's seat, go through train crossings, and pedal a coach on actual tracks.
On the second floor, there is a restaurant with train-themed meals, a Plarail corner, a diorama, a smaller diorama where children can control toy trains, simulators (get there early!), a library with various train-related media, a video room, and other exhibits on the evolution of trains in society. The third floor is divided between an indoor section with another library and an outdoor terrace allowing visitors to watch passing trains on the Tokaido lines.
Obviously, with the popularity of trains, the museum and the souvenir shop get very crowded on weekends and holidays, though it tends to thin out from the middle of the afternoon. At the moment, there is little English available, but audio guides languages other than Japanese should be available in a few months.
So, jump aboard and make tracks to train heaven. Any day, rain or shine, is a good day to go, though a sunny day will you allow you to also enjoy the nearby Umekoji park.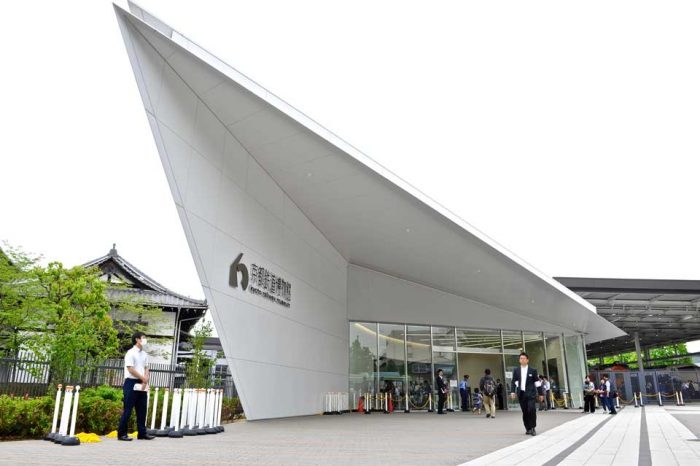 ---
More Info
Admission: ¥1,200 (concessions for students and children).
Tickets are valid for a day, unlimited admissions
Access: JR Kyoto Stn, 20-min walk west, or 10-min bus ride to Umekoji-koen-mae
Website: kyotorailwaymuseum.jp/en
---