Featured
Foodspotting
Don't be a wet noodle. Try out these delicious eateries around Osaka Station.
Chabuton
Conveniently located in the Yodobashi Camera food court, this little ramen restaurant boasts that the original chef once scored them a Michelin star. Despite this, the place is inexpensive and on a similar priceline with other ramen restaurants in the area. It's got all your usual types of ramen on the menu, but what stands out about this place is the vegetable ramen. The noodles are made from spirulina, giving it the distinct green color. Fish stock is used in the soup, however, so be warned that it's not vegetarian. The vegetable gyoza is also a refreshing change to the standard ramen shop menu, allowing yourself to pretend you're doing the healthy thing, relatively speaking. Expect to wait as it can be busy, especially on weekends. There's an English menu, and tickets are purchased from a vending machine.
Open: 11am–11pm (l.o. 10:30pm) • Price Range: ¥300–¥1500 • Access: JR Osaka Stn or Hanshin/Hankyu/Subway Umeda Stn, 5-min walk, Yodobashi Camera 8F • chabuton.com
SOSH The Market Bar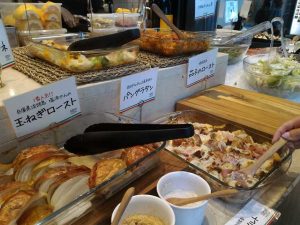 A slightly topsy-turvy establishment nestled in the bustling Grand Front Osaka, Sosh serves Italian-style fare with a Japanese twist. Their lunch menu is simple with a range of pasta, pizza, curry, and meat-based dishes available. The best part of this place is that all orders are accompanied with a salad buffet. A range of fresh salads are available alongside jars of flavorful dressings. There are further pasta dishes available as part of the buffet, as well as vegetable soup. There is a large assortment of vegetables to choose from that all come directly from the farm. Fresh ingredients and great flavors can be enjoyed in a nice, open-air section, or in cosy booths at the back.
Open: Mon–Thur 11am–12am (l.o. 11pm); Fri, Day before a National Holiday 11am–1am (l.o. 11:30pm); Sat 8am–1am (l.o. 11:30pm); Sun & National Holiday 8am–12am (l.o. 11pm) • Price Range: ¥1000–¥1500 • Access: JR Osaka Stn or Hanshin/Hankyu/Subway Umeda Stn, 5-min walk, Grand Front Osaka 1F • sosh-grandfront-osaka.jp
TsuruTonTan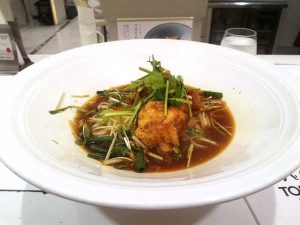 Simple doesn't quite come to mind when looking at the Tsurutontan menu. It boasts everything from your typical tempura and curry udon to interesting concoctions such as a sweet chilli chicken udon, clearly taking inspiration from the sweet, tangy flavor fused with the sharpness of coriander and chilli usually found in Thai cuisine. These fusion flavors are the main reason to come here as long as your taste buds are up for the challenge! Some of the dishes might have you thinking the chefs are being too ambitious, but the interesting flavors complement the udon noodles perfectly. The portion sizes are impressive, with everything coming in large bowls with large spoons. Combine that with a plush interior, and you'll get your money's worth. The unique menu brings a lot of customers to the restaurant, so be prepared to queue for a while.
Open: Sun–Thu 10am–8:30pm (l.o. 8pm); Fri & Sat 10am–9pm (l.o. 8:30pm) • Price Range: ¥1000–¥2000 • Access: JR Osaka Stn or Hanshin/Hankyu/Subway Umeda Stn, 5-min walk, Daimaru Umeda B2F • tsurutontan.co.jp