Featured
Foodspotting
Holy guacamole! Three Mexcellent spots that will leave you with plenty to taco-bout!
Saboten
Look out! There's a new Mexican restaurant in town and it's already making a name for itself. Located in the bustling streets next to Yotsubashi station, Saboten is a reasonably large space that comfortably seats 50. Vibrant decorations and a beautiful, wood-and-tile interior provide this restaurant with a modern aesthetic in line with its ethnic heritage. The open-air bar and kitchen allows the customer a full view of the restaurant's inner workings. The lunch menu has a limited set selection, which makes ordering easy and efficient. Their lunch special consists of juicy al pastor pork, a gooey quesadilla, chicharrónes, beans, potatoes, pickles and tortillas to wrap it all up in. The lunchtime half-price happy hour is a welcome addition. Dinnertime is when the possibilities take off. An expansive menu with a huge variety of dishes awaits any patron of Saboten. If you're looking for the hot new restaurant, this is the place to go!
Open: 12pm–12am; Lunch 12pm–3pm; Happy Hour 12pm–6pm; Dinner 3pm–12am • Closed: Mon; open national holiday Mon then closed the following Tue • Price Range: Lunch ¥1,000–¥2,000; Dinner: ¥2,500–¥4,000 • Access: Yotsubashi Subway Stn • Search "Saboten" on Facebook or Tabelog
El Zocalo.Burrito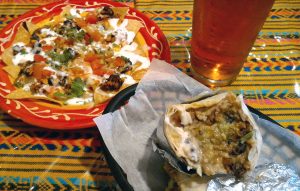 Wherever I have lived, there has always been a local burrito shop that I visit as often as possible. In Osaka, that's El Zocalo. With a small interior that seats approximately 20, this restaurant is best for small parties or those looking for quality take-out burritos. At El Zocalo, they stick to their strengths. What they do, they do well. Their best filling, in my opinion, is the carnitas. The meat is nicely caramelized on the ends while keeping it tender. For vegetarians, they have a bean-and-cheese option that pairs well with their meat-free filling. Burritos come with a side of chips, and choosing the "Set C" option will get you guacamole and a drink. For big eaters, I would recommend ordering a side of nachos as well to crunch down on. To go with their food is a complementary selection of beer that any brew enthusiast will find suits their needs quite well, and of course, there is always the frozen margarita.
Open: 11:30am–10pm • Closed: Mon • Price Range: ¥1,000 • Access: Yotsubashi Subway Stn • Search "El Zocalo.Burrito" on Facebook or Tabelog
El Pancho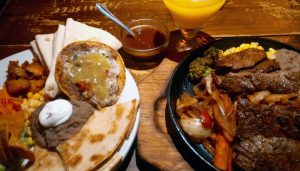 El Pancho is the most established of these restaurants. They have inhabited this location dishing up Mexican goodness for almost 30 years. Their history is literally written on the walls; praise and well wishes are scrawled there by satisfied customers to the point where almost every inch of wallspace is covered with writing. El Pancho is a highly desirable location for dinner on the weekends. If you go early enough in the night, around 6:00–6:30pm you may be seated, but do not expect to be seated during the high point of the night at 8pm or later – reserve to be safe. Their plates are substantial and well crafted – the enchiladas and chimigangas a highlight. The fajitas are well-seasoned and filling. As for drinks, the bar does not pull their punches, so be sure to order at least a pitcher of the margarita and enjoy!
Open: 11:30am–11:30pm (L.O. 11:30pm) • Price Range: Lunch: ¥1,000–¥3,000; Dinner: ¥2,000–¥4,000 • Access: Shinsaibashi Subway Stn, Exit 6 • Search "El Pancho" on Facebook or "Erupancho" on Tabelog