Travel
Return of the Okayama Villas
An authentic rural Japanese experience.
Long-time Kansai residents likely have fond memories of the Okayama International Villas. Established in the 1980s, they were designed to give visitors to Japan an authentic rural Japanese experience at a reasonable cost. They were built in beautiful settings that include mountain villages, a fishing port, and an Inland Sea island. It was a sad day when four of the six villas closed in the late 2000s.
The good news, however, is that two of those four villas have recently reopened as privately operated facilities, meaning that four of the original six villas are open again. The four villas — Ushimado, Hattoji, Fukiya (renamed Eleven Village) and Shiraishi — are located at the four corners of the southern half of Okayama Prefecture.
Each villa has its own unique design and atmosphere and includes four or five Western or Japanese-style rooms. Visitors share common living facilities. For most villas, prices are around ¥3,500 a night without meals, or ¥4,000 if you are staying alone in the room. Eleven Village charges ¥5,000 for one night, ¥4,500 each for two nights, and ¥4,000 each for three or more nights. All of the villas have cooking facilities which range from minimal (Ushimado) to fully featured (Shiraishi). Ushimado and Eleven Village have the most dining-out options; in the other two areas, guests should be prepared to cook.
The Villas
USHIMADO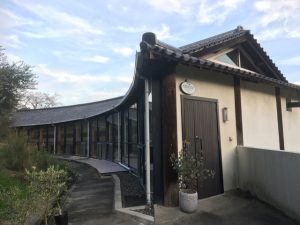 nippon-olive.info/mall/villa
Located on a hillside in the coastal village of Ushimado, this reopened villa's rooms offer spectacular views of green hills and the Inland Sea. After exploring the town, you can take a ferry to the tiny island of Maejima nearby and rent bicycles for some leisurely cycling.
HATTOJI
international-villa.or.jp
This villa is an authentic thatched-roof farmhouse in a tiny, picturesque mountain hamlet. Sleep on tatami (straw mats) and enjoy sitting around the traditional square irori (hearth) inside the villa on chilly nights. The villa was recently rethatched and looks lovely.
ELEVEN VILLAGE (formerly Fukiya)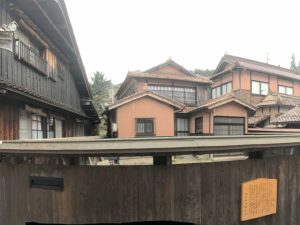 elevenvillgae.jimdo.com
Set in the former copper-mining mountain village of Fukiya, this reopened villa is unchanged except for the new hammock on the second floor and the fact that it now offers vegetarian meals. This villa location is incredibly picturesque and arguably has more things to do than the other villa locations: an old copper mine, bengara (red ocher) dye works, and restored country manors.
SHIRAISHI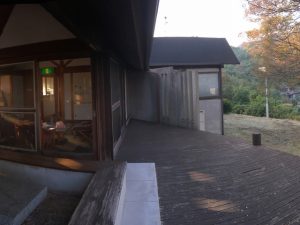 international-villa.or.jp
Particularly ideal for a summer visit, this beautifully designed island villa has a large deck with a stunning view of the Inland Sea. What's more, there is a swimming beach right down the hill. Extensive trails criss-cross the top of the island's hills for even more breathtaking views.
---
Getting There
From Shin-Osaka Stn, Kyoto Stn, or Shin-Kobe Stn, take the Shinkansen to Okayama Stn (takes around one hour from Osaka and Kyoto and half an hour from Kobe).
From Okayama, proceed using local train lines, buses and taxis (or a rental car) to the villa of your choice. Shiraishi is 20 minutes by ferry from the port near Kasaoka Stn.