Feature
Bathing in the Forest
Ditching the pills: A mindful, immersive walk in the woods is all you need to boost your mood and improve your well-being.
Who knew that a casual meander among the plants and the trees could have such a beneficial effect on our health? It turns out that for years the Japanese have been harnessing the power of forest therapy, or Shinrin-yoku as it is known.
Forest therapy is a practice that involves spending time mindfully in nature. This can be forests, woods, and other natural environments. The key is to not race through but to go slowly and to immerse yourself, mindfully taking note of everything around you.
Shinrin-yoku translates as "bathing in the forest." Imagine nature being a big bath tub; step into it and soak in its colors, sounds, scents, and textures for a while. Of course, you will be fully clothed!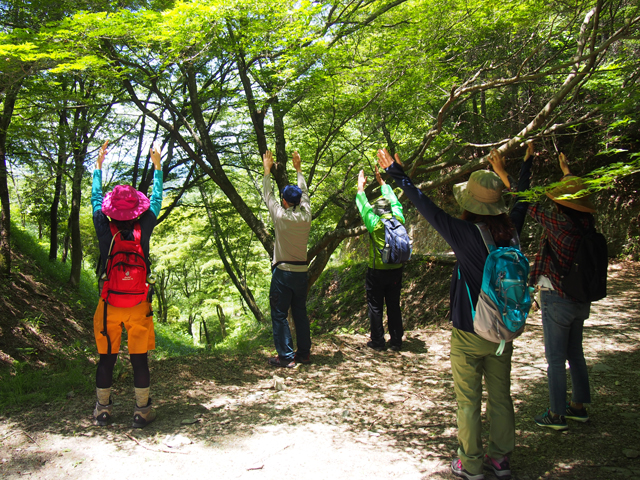 I am a certified forest-therapy guide in Yoshino, Nara. It is my role to stimulate your perception of your surroundings and lead you to engage all your senses while immersing yourself in nature. Do you notice the faint scent of the shrubs next to the trail? How about the murmur of the little stream that runs by the trail? Does the breeze gently blowing through the valley cool your skin? Do you notice the different shades of green around you; the different shapes of trees and leaves? Really see, hear, smell, taste, and feel nature around you.
While in the forest, you are breathing in essential oils from the wood of the trees around you. Called phytoncides, these work like essential oils in aromatherapy. You don't have to invest in expensive bottles but just take a deep breath.
This is not just a rediscovery of the age-old wisdom that being in nature and walking in forests is good for the body and mind, but there is actually scientific data gathered from a series of experiments proving that a slow walk in the bush will boost your immune system, reduce stress, and encourage healing.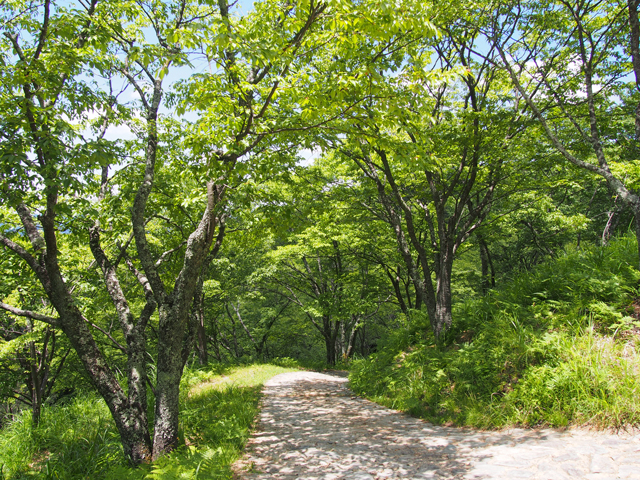 The Yoshino Trails
First introduced by the Japanese Forestry Agency in 1982, Shinrin-yoku is now a recognized health-management system for preventive health, wellness, and healing. Yoshino has offered Shinrin-yoku walks since 2013, and there are currently 46 licensed guides. They are women and men from the region who underwent a half-year training to qualify.
There are two forest-therapy trails, each with their own charms and varied landscapes. First, there's the 8 km Yoshino Miyataki Manyou therapy road. It starts at Kintetsu Yoshino Station and slowly winds its way up to Nyoirinjin Temple from where we can admire the skyline of Yoshinoyama. From the temple, another kilometer uphill takes us to an observatory set at the highest elevation on this course of 500 meters. After a short tea break, we walk through a cedar forest to Takataki waterfall. Near the waterfall, there is a nice spot to settle down for a short meditation session. We then continue walking through Kisadani Valley to Sakuragi Shrine. The therapy trail ends at National Road 169 by Yoshino River.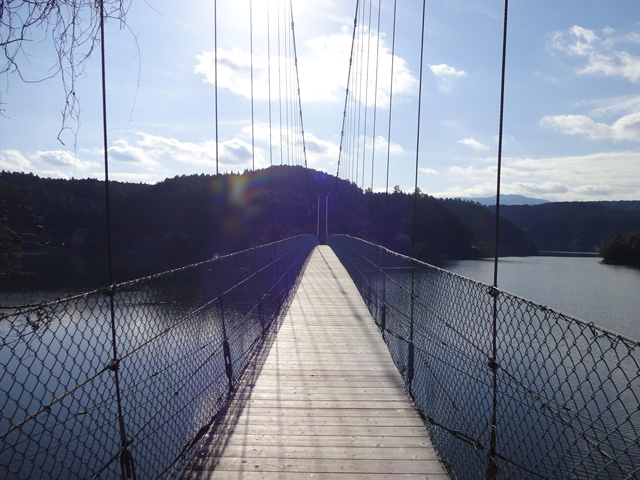 The next day, the walk follows the Shinsen kyou Ryuumon no sato therapy road, which starts and ends at Yoshino Sports Park. This course is just over 6 km and its highest elevation reaches just 350 meters. The first 3 km takes us around a part of Tsuburo Lake, then on to Yoshinoyamaguchi Shrine. Passing through a rural landscape with paddy fields, gardens, and traditional houses, we follow a creek into a valley. Heading upstream, we reach Ryuumontaki waterfall, a beaut spot for our meditation session before walking back along the same path.
The walk will be carried out slowly and purposefully. There will be rest stops on benches along the trail where you can sip on local tea or savor a tasty Yoshino lunch box. Both trails have an area where you can lay in a hammock or sit on a yoga mat, look up to the crowns of the trees, and let your gaze go beyond to the clouds in the sky, taking in the sound of singing birds.
By the waterfalls, your guide will encourage you to do follow a guided meditation, a yoga routine, or engage in some breathing exercises. You will gaze into the white veil of the gushing waterfalls, lose track of time, and forget modern-day distractions like computers, phones, and the internet for a moment. Your worries and stresses will float away, with nothing to aim for and nothing to achieve, except to just simply be.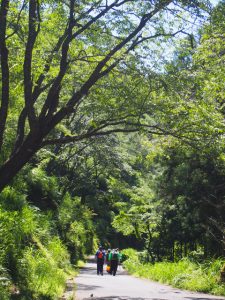 More details
Yoshino is easily accessible from Osaka, Kyoto, and other parts of Kansai by Kintetsu Railway. Your guide will meet you in front of the Yoshino Visitors Bureau at Yamato Kamiichi Station. Afterward, you can catch your train home, or take a train to Yoshinoyama to spend a night in one of its delightful traditional inns.
For more information please contact:
therapy@yoshino-kankou.jp