Kids & Family
Splash into summer
It's that time of the year again where the heat takes over, leaving us desperate for ways to cool down and keep the kids occupied with water activities. Whether it's a night away or a day of play, there are plenty of options to keep your cool this summer, and ensure enough fun for the whole family.
Hotel for a day
Hyatt Regency Osaka
Only 30 minutes from Umeda, Hyatt Regency Osaka offers a great summer getaway with its outdoor pool on the ninth floor overlooking Osaka Bay. Use the hotel's complimentary shuttle bus, arrive early and spend a day by the pool (including a small children's pool) while enjoying the menu from Pergola Poolside Bar and Restaurant. At the end of a relaxing day, the aroma from the Great American Summer BBQ will be enough to entice an evening spent outside indulging in the fresh grill along with appetizer and dessert buffets. The original great urban resort of Osaka has it all this summer.
[box]• Pool open from: Jun 30–Sep 9 • Time: 10am–6pm (Sun–Thu) 10–9pm (Fri, Sat, hols) • Admission fee for visitors: adult ¥3,500, child ¥2,000 (weekdays) adult ¥5,000, child ¥2,500 (weekends and 11–16 Aug) • Access: Complimentary shuttle buses from Cosmosquare stn (daily), JR Osaka stn (daily) and Namba OCAT (weekends only) • Closest station: Cosmosquare stn, Chuo line or Nakafuto stn, New Tram line[/box]
Hotel New Otani Osaka
With amazing views of Osaka Castle, the Hotel New Otani Osaka opens a new outdoor pool this summer. Located on the Osaka Business Park riverside, the hotel is within easy access from downtown Osaka, making a simple day by the pool with dining options available throughout the day.
[box]• Pool open from: Jul 6–Sep 17 • Time: 9am–6pm • Admission fee for guests: adult ¥5,000, child (4–12 years) ¥2,500 • Closest station: Osaka-Jo Koen stn, JR Loop line (3min walk)[/box]
Minoo Hotel, Minoo Spa Garden
The Minoo Hotel and neighboring Minoo Spa Garden are only 30 minutes from Umeda and offer an abundance of leisure facilities for all seasons. Proving a popular location during the summer months, the Spa Garden's outdoor pool (known as Kogen) has one large and one small children's pool along with two slides, and provides remarkable views of Osaka city. Along with barbecue facilities, a bowling alley and sky bath with its natural hot spring, spending a day in the mountains is just what you need to escape the heat. For something different try the Spa Garden's Doctor Fish treatment for your feet for only ¥1,000.
[box]• Pool open from: Jul 14–Sep 2• Time: 10am–6pm  • Admission fee: adult ¥2,000, child ¥1,000 (weekdays) (includes pool and onsen) adult ¥2,500, child ¥1,500 (weekends) • Closest station: Mino stn, Hankyu line (3min walk)[/box]
A DAY AWAY
Lake Biwa, Omi Miako beach
This summer you will not be disappointed if you find your way to Omi Miako beach at Lake Biwa, Japan's largest freshwater lake located in Shiga prefecture. Easily accessed by road or rail, find space under the pine trees on the extensive shoreline and enjoy the lake's cool, calm water throughout the day. Take your own barbecue or picnic or simply enjoy the selection of food prepared by the vendors along the beach. As the sun sets, you have no need to rush home with camping locations close by or many ryokan to spend the night.
[box]• Swimming season: Jul–Aug • Closest station: Omi-Maiko Station, JR Kosei line (5min walk)[/box]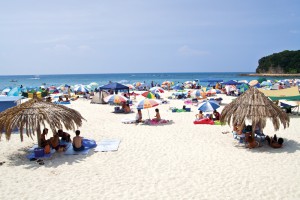 Shirahama beach
With a 500-meter-long sandy beach that reminds me of home in Australia, we head to Shirahama (the Japanese name for 'white beach'), a resort town in the Wakayama Prefecture. It's well set up for tourists and there are many hotels within the town for a weekend away. Fireworks throughout the summer provide a festive end to the day. Shirahama is also famous for its hot springs and I highly recommend for an authentic experience the 'Saki-no-yu' open air bath that sits at the ocean's edge with waves lapping up against the rocks. To fill up the rest of your weekend, visit the ever-popular Wakayama Adventure World close by.
[box]• Swimming season: May 3–Sep 17 • Closest station: Shirahama stn, JR Kisei (Kinokuni) line, transfer to the local bus for Shirahama Beach [/box]
Nishikinohama Beach Park
For a more local experience in Osaka, visit the easily accessed Nishikinohama Beach Park. The one-kilometer-long beach is simple with its offering. There are bathrooms and vending machines close by and I recommend you take supplies to use the barbecue facilities within the park or enjoy a picnic on the nearby grass area. The water gets warm from the sun but is still a great relief from the heat and the sand can become very hot, so be sure to take a leisure sheet with you. It's a popular spot for water sports such as jet skiing, water skiing, windsurfing or snorkeling and there is also plenty of space on land for volleyball, throwing a frisbee or kicking a football!
[box]• Swimming season: Jul 1–Aug 31 • Time: swimming ends at 5pm, the park closes at 10pm • Closest station: Nishikinohama stn, Nankai line (10min walk)[/box]
THEME PARK PLAY
There is no shortage of parks with their assortment of outdoor pools and never-ending slides to suit all children big and small. The most modern parks with an abundance of activities are the impressive Hirakata Park The Boon Water Wonderland and Misaki Park Pool Land Rio.
The Boon Water Wonderland has three large pools primarily designed for children plus one lap pool, along with four different slides for varying heights and weights. This really is an amazing place. Pool Land Rio with a large water jungle, five slides and multiple pools for children is also a paradise during the summer.
The Jumbo Pool at Hamadera Park is a little older but still offers four different pools along with two giant slides and a children's slide. During the summer months two different courses for children's swimming lessons are available. Hattori Ryokuchi Koen's Waterland is also slightly older but with easy access and a simple design that includes three pools and three slides it is a great way to spend a day.
Hirakata Park, The Boon Water Wonderland
[box]• Open from: Jul 14–Sep 9 (closed Jul 17 and Sep 4) • Time: 10am–4pm • Admission fee: adult ¥2,200, child (3–12 years old) ¥1,200 • Closest station: Hirakata Station, Keihan line (3min walk) [/box]
Misaki Par, Pool Land Rio
[box]• Open from: Jul 14–Sep 2 • Time: 9:30am–5pm • Admission fee: adult (junior high school students and over) ¥2,000, child (over 3 years) ¥1,200 • Closest station: Misaki Koen stn, Nankai line [/box]
Hamadera Park, Jumbo Pool
[box]• Open from: Jul 1–Aug 31 • Time: 9:30am–6pm • Admission fee: adult ¥900 yen, child (4 years to elementary students) ¥300 and (high school students)¥500 • Closest Station: Hamadera Koen Station, Nankai line (10min walk) • Swimming lessons: Short course: 4–6 years old, daily from Jul 23–27, Jul 30–Aug 3, Aug 6–10; ¥6,000 each • Long course: 6 years old to elementary school, daily from Jul 23–Aug 24; ¥20,000 total[/box]
Hattori Ryokuchi Koen — Waterland
[box]• Open from: Jul 1–Sep 2 • Time: 9:30am–6pm (Aug 13–16, opening time is 9am) • Admission fee: adult ¥1,000, child (4 years old to high school) ¥500 • Closest station: Ryokuchi Koen Station, Midosuji line [/box]