Feature
Shoot to win
Kameraoke, the annual amateur photo competition, is now in its seventh year. Here's seven reasons you should get clicking.
1. It's fun to take pictures
It's a rare breed of person who comes to Japan and takes absolutely no photographs. Sharing pics of your new life is a big part of making memories, and keeping in touch with those back home. You know what you like to take pictures of – drunken nights out, weird food, pretty objects – but does anyone else find them interesting? The answer is, almost always, yes. Don't be shy to share what you find interesting.
2. A theme gives you ideas
Kameraoke is a competition with a theme. This year it's the Seven Wonders of Kansai. The organizers want images of wondrous cultural, culinary, natural, design, human or fashion scenes. The seventh category is for images showing reactions to wonderful events. That should get your creative mind buzzing.
3. See something new
If you've lived in Japan for a while, perhaps you feel you're used to life here. Nothing surprises you these days. Then prepare to have your mind changed. Take your camera out for the day and shoot what you see. Kameraoke co-organiser Edward says: "Don't just trawl through your photo library and pick the best shot. Of course, you can do that, but you get a better experience if you take it as a challenge to go out and discover something new. Many photographers at the event come and thank us for that opportunity."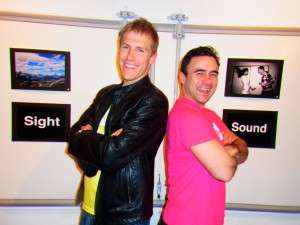 4. You don't need a fancy camera or expertise
Last year's winning photo was taken with an iPhone. Fancy camera equipment really isn't needed. There's no need to worry about professionals sneering at your smartphone pics. Use what you've got – all cameras are OK here.
5. But you will get a fancy book.
"So here's the book of that photography exhibition I was in…" All photographers who enter Kameraoke will get one picture published in a quality book. What better souvenir to show the folks back home? Makes putting 'photography' on your CV that little bit more credible.
6. Be an exhibitionist
You submit some digital pictures to the Kameraoke team, and just over three weeks later, one of them will be hanging in an art gallery. The photo exhibition is held for just one day, and photographs will be grouped by theme, which makes for a good talking point too. A gallery is a bit of a change from the first Kameraoke in Canada, which was held in co-organiser Danyk's university dorm. "People just turned up with their photographs, and we taped them onto the wall," he says. "When we ran out of wall, well, there was room on the stairwell." Of course it's a bit more professional these days, but still far from a stuffy art gallery event, as local DJs will be playing music throughout the night, and you can get food and drink.
7. The public vote wins
Even if you don't enter a photograph, you can come to the gallery on Dec 2nd and enjoy the show. But you won't be just looking at the pictures, you'll be voting on them. All the prizes given to photographers will be decided by the public. Everyone who enters the gallery gets voting forms to choose their favourite images. The ones with the most vote win – it's as simple as that. "Everyone is an active participant. There's no-one just hovering in the corner, because you have a part to play," says Danyk. There are also random prizes to be won throughout the event for non-photographers. It's arty without the farty. But, the organisers add, everyone who just comes to the exhibition wishes they'd taken a photograph too. Danyk muses: "It's like going to a movie and just seeing the credits roll. Kameraoke doesn't begin next month at the art gallery, it begins now. If you join in, you'll get it."
[box]
Kameraoke 7: Wonders of Kansai
• Deadline for submissions: Nov 11
• Guidelines and questions: www.kameraoke.com
• Email: kameraoke7@gmail.com
Photography exhibit: Dec 2
2pm–9:30pm
Pinebrooklyn Gallery, Higashi Umeda
Admission: ¥1,000
[/box]