Food & Drink
A beautifully composed bar
Mixing hard liquor and classical music hits the right note.
The first thing you notice about Taka Bar is the sign: "Talk. Whisky. Brahms." It was the Brahms that brought me inside. Well, that and the whisky.
Takaba san, the master of the eponymous bar explained that the Brahms connection is both deliberate and coincidental; he opened the bar nearly 20 years ago on the birthday of the German composer, who also ranks as one of his favorite musicians.
Takaba ended up behind the small bar after an even more intriguing coincidence. For years he oversaw banquet preparations and celebrations at the nearby Hilton hotel, which is where he came to the attention of a former president of beverage company Suntory. After a little cajoling, Takaba agreed to leave the Hilton and run this little whiskey gem, formerly called Suntory Old Bar. Despite the name change, the Suntory connection is still strong; Taka Bar has a handful of Yamazaki whiskies bottled exclusively for his bar.
The bar is small, like a confessional box except with alcohol, and the lights are kept down. At one end there is a little recess, a hideaway for a couple or for salarymen absconding from work. But the best seats in the house are at the bar because from there you get to view the main attraction: the gallery of whiskies.
You can be guided either by your wallet or by Takaba. My companion and I deferred to his encyclopedic knowledge. As you might expect, some of the vintage single malts are pricey, but don't be put off: Takaba will lead you through menus, in English or Japanese, to find you great, affordable whiskies. We started with a Glenfiddich and a Yamazaki single malt, a single shot of each over a rock of handcut ice. Takaba is particular about how to serve each whisky, whether straight, on ice or with a splash of water. You can quiz Takaba on whiskies of the world while listening to his collection of classical music. It's hard to tell which he knows more about, and when he doesn't have an immediate answer he disappears into his back office and reappears with a printout or a book.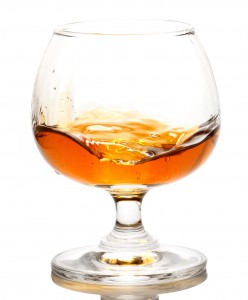 For the most part the stock is Scotch and Japanese whisky with a few Americans and Irish making a show, but the Yamazakis are the winners.
The whiskies at Taka Bar are much like the master himself: subtle and refined, and the atmosphere is genial and unpretentious. If you've reached your whisky limit or run dry of funds there is a beer tap. Suntory, of course.
I can't recall too many occasions where I have spent the evening drinking hard liquor and come away feeling a little more knowledgeable. Well, I think learned something, but that could be the drink talking.
[box]
Taka Bar
• Where: Sonezakishinchi 1-7-3, Kitaku, Osaka
• Tel: 06-6344-1311
• Open: Mon–Sat from 6pm
[/box]