This month we put the spotlight on Masaki Kitamura, the General Manager and founder of the professional basketball team Hyogo Storks (www.storks.jp).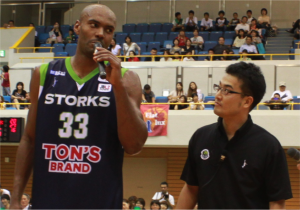 Basketball in Japan is an evolving proposition. As opposed to China and the USA where local basketball is highly regarded, you won't find Japanese basketball on the top page of Yahoo Japan sports. One issue facing the growth of the sport is a dual league system – comprising the Japanese Basketball League and Basketball Japan – that is confusing to fans. Despite the difficulties, the Hyogo Storks have attracted a passionate fan base, the majority being women in their early 30s. As part of his 11-man team, Kitamura has recruited two foreigners (William Knight, pictured below, from the USA and Michael Leiffers from Canada) and six Hyogo players, which has given the Storks a thriving family-oriented local fan base. In the midst of a season that has seen the Storks win first place results, KS chats to Kitamura about how he started the team and how he is ensuring they all keep scoring goals.
KS: Tell me about your interest in sports management.
Kitamura: Sports has a big influence on people, especially the young. Recently, there are not many heroes for children. But as long as a local sports team is close by, children can come to see players up close who can become their heroes. This helps the children have dreams about playing sports when they are adults. If my team follows this model, then we will build the support of people in Hyogo.
KS: How did you get the team started and why did you pick the Hyogo area?
Kitamura: I started the team here in Hyogo as there was no team here previously. To get started I applied to the Japanese Basketball League (JBL) and paid the appropriate fees. It was a fairly simple process. That was two years ago. We struggled a bit as we got started in 2011 but this season we are doing well and planning on moving to division one next year. Our team just qualified for the Japan National Basketball tournament that will be held in Tokyo over the New Year's holiday.
KS: Your team does not have a dedicated arena so you play in many places throughout Hyogo prefecture, including a fashion mall. Can you tell me about how you pulled that off?
Kitamura: When we started the team in February 2011, I couldn't book a regular arena so we came up with the idea of playing in a fashion mall, which was a first for the JBL. It took some doing – I had to borrow the basketball goals and the scoreboard – but in the end we were able to pull it off. During the game I had to ask the facility management to stop the glass elevators from moving up and down as that was distracting the players while they shot free throws.
KS: What are the key elements of your business?
Kitamura: Customer relations comes first, but sponsorships by local businesses are also important. Eighty percent of our income comes from sponsorships and 20% from ticket sales. I think it's true for all businesses, but especially for the sport business, that success is all about people. We cannot manage this team without our fans, sponsors, the media, of course our players, coaches and my staff. This team is built on the love from these people.
---
Dr. Zurcher is currently teaching an Entrepreneurship in Japan class for his foreign and Japanese students.
[box]
Make a bid for a bargain
By Nicholas Despopoulos, Real estate and investments advisor
When looking for a home to buy or an investment property researching foreclosed properties can produce great deals. The process includes a public auction at which anyone can participate. Only a single bid is allowed and the successful bidder must be able to pay cash. Other challenges may include finding the key, removing the current occupant or their possessions, taking legal possession of the property and handling necessary repairs and remodeling. With all this accomplished you can move in, find a renter, or prepare to sell the property again for capital gain. There are good deals and great profits to be made by mastering the system. There are also companies that specialize in helping people find appropriate properties. If you're new to the game and become serious about trying to purchase a foreclosed property you may want to consult with a professional.
Information on available properties can be found at www.981.jp
[/box]