Feature
The Sento: Japan's Living History
Blogger and bath enthusiast David Kawabata reveals the best of Kansai's hidden sento.
When it comes to the changing face of Japan, one thing is clear: national chains of convenience stores, restaurants, and supermarkets now dominate the scene. But in this landscape of homogenized signs and buildings, a rich and ancient vein of Japanese culture can still be tapped within the steaming waters of the sento, or neighbourhood bathhouse.
In the realm of Japanese communal bathing, sento sit at the bottom of the food chain; beneath the theme park-like supersento, and the luxurious springfed baths of ryokan inns. Despite their reputation as just a homely place to take a bath, sento are an irreplaceable part of the fabric that binds local communities. They are places of healing and culture, where living history can still be experienced first-hand.
Since coming to Japan in 2005, I have used sento as a way of understanding the physical and cultural geography of Kansai, and at the same time giving relief to my painful back. Ever lured by the "ゆ" symbol on a solitary smokestack, I have searched remote corners of unknown neighborhoods in a quest to document the rich variety of Kansai's sento.
Through my journey I have come to appreciate the humble sento for its authenticity. Supersento, while very enjoyable, are an idealized Japanese landscape sold to an idealized clientele; they are as real as anything in Disneyland. The sento on the other hand is real. Though they have much in common, they are as unique as the neighborhoods they are found in. The sad thing is that many are closing – even those registered as cultural properties – and as each sento shuts its doors, a bit of Japan's history goes too.
Of the hundreds of sento I have visited, the following five are my favourites. They typify the sento's simple pleasures yet offer an experience that cannot be had anywhere else in the world.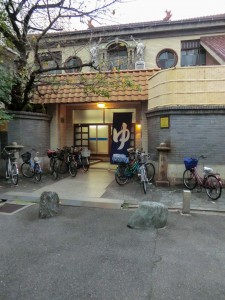 Gengabashi Onsen
源ヶ橋温泉
CLOSED PERMANENTLY
Gengabashi Onsen is a historical sento near Tennoji. The building is registered as a cultural property and dates from 1937. The granite bath is smooth to the touch in a way that could only be obtained with age, and the granite floor is a pleasure on the feet. The bath is placed in the center of the room allowing people to wash off there with a bucket instead of showering. Outside, the two models of the Statue of Liberty on the roof are a pun on the name New York, which sounds like "take a bath" (Nyuyoku) in Japanese.
Hinode-Yu
日の出湯
26-6 Nishikujyo Karahashi-cho,
Minami-ku, Kyoto • Closed
Thursday • 4–11pm • ¥410
Built in 1928, Hinode-Yu is hidden down a footpath a few minutes walk south of Kyoto station. It is an old Japanese wooden building that fits perfectly in Kyoto's well-preserved cultural surrounds. Inside, the changing room feels more like a quiet temple where the aged wood floors give a bit under your feet. The lockers have vintage glass panels in the doors. In the wet section, tiles line the baths and floor, where each square is made of four perfectly aligned smaller tiles. The water here is normal, but the experience is anything but.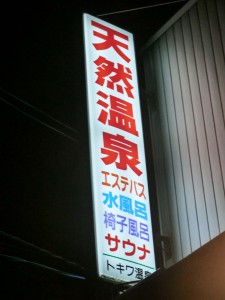 Tokiwa Onsen
トキワ温泉
3-129 Shinmechonishi, Sakai
Closed Friday • 4:30pm–12am (with time limit of 2 hours)
• ¥450
Tokiwa Onsen is a natural hot spring-fed bathhouse two minutes walk from the Hankai streetcar line. Don't judge this sento by its drab exterior or worn-down, haphazard changing room. It's the water and the people that matter. The main bath is built like a terraced waterfall. Straight from the well, the 45°C water flows from an extra-hot shallow bath to a medium-hot deep bath. The regulars here are boisterous and friendly, which means your bath – although perhaps not quiet – is guaranteed to be enjoyable.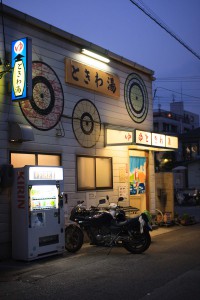 Tokiwa-Yu
ときわ湯
8-9-19 Mikagehonmachi,
Higashinada-ku, Kobe • Closed
Saturday • 4–11pm • ¥420
Toikiwa-Yu was rebuilt in the aftermath of the Great Hanshin Earthquake of 1995. The earthquake damaged numerous sentos in the Kobe area, many of which never reopened. The original Tokiwa-yu was damaged beyond repair but with encouragement from the community, it quickly reopened using a temporary prefabricated building. The building was small but served the recovering neighborhood well and is still a working sento today. There are no special baths here or natural hot spring water, but in a place like this those things are not necessary.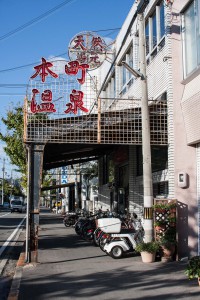 Muso-no-Yu
夢想乃湯
CLOSED PERMANENTLY
Muso-no-Yu in Wakayama is a bit quirky. There is a hobbit-sized door on the second floor entrance to the baths and a sign inside that says, "No Parking." The real reason to take the trip to Wakayama is the large wooden tub filled with natural hot spring water straight from the well. This amazing spring soaks out any pain or fatigue in your body, almost like medicine. At 40.5°C, the water feels neither hot nor cold, so it's no surprise that the name of this opaque spring water is "daydream" in Japanese.
Secret source
A sento can use municipal water, well water, or natural hot spring water in the baths. The word onsen in the name of many sento in Kansai is just local nomenclature for bathhouses, and does not mean that natural hot spring water is used. This can confuse even some Japanese not from Kansai. In most prefectures, a sento's entrance fee is fixed at ¥410 regardless of the water's provenance. And there's no need to disregard sento that don't source water from hot springs – you'll be surprised just how similar municipal tap water feels to the real thing.
About the author
David Kawabata is the creator of I Love ゆ, a website about sento in Kansai.
www.iloveyu.jp