Food & Drink
Dipping into new territory
A standing bar that's serving up the per-fect blend of fried food and whisky.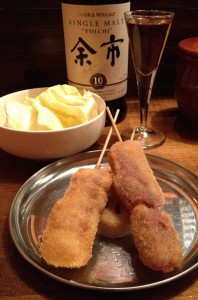 Japanese standing bars? That's where the patrons are over 50 years old and the drinks selection consists of cheap and nasty alcohol, right? Wrong. This tachinomi, or standing bar, has plenty of appeal for those in search of great food, cold beer, modern and tasteful surroundings, and of course a whisky or two. Best of all, it's kept the down-to-earth prices of its traditional relatives. And that's one custom we're happy to have hang around.
No idea Tachinomiya, which opened in 2011, is a cross between a kushikatsu-ya and a whiskey bar, serving both from a warm, wood-paneled interior. An enticing aspect of this well-known establishment, which is frequented by both locals and foreigners in the know, is that it's not in the Mecca of Osaka's hustle and bustle, but in the humble location of Rokkomichi, Kobe.
The simplicity of the tiny but cozy retreat means that there is no snobbery and the friendly team is always happy to converse and give recommendations. A lot of young and young at heart frequent the place for these qualities alone, so whether night or day, the place has some interesting individuals to converse with.
It's got a tiny and arguably ordinary-looking shop front, but once inside, patrons will find a well-stocked wall bar with a variety of Scotch and Japanese whiskies, as well as bourbons, and popular domestic and international liquors. The whisky lineup is small compared to your average dedicated whisky bar but nevertheless perfectly selected.
To accompany drinks, No Idea offers a range of kushikatsu from as little as ¥80. If you want bang for your buck, the best time to go is during happy hour (2:00pm–5:00pm) when a ¥500 coin gets you a choice of a cold beer, chuhi, highball, or shochu, plus an option appetizer of the house specialties.
[box]
No idea Tachinomiya
• Where: 2-12-2 Morigo-cho, Nada-ku, Kobe
• Open: daily from 2pm–2am
• Access: JR Kobe line, Rokkomichi station. Exit left at the ticket gates and station exit, right at McDonalds and walk 3 minutes to Rokko arcade.
• Check it out if…you want a night out drinking whisky that won't break the bank.
• Don't bother if…you dislike small spaces and are looking for a bigger establishment where private conversation is possible.
• Go to dish: non traditional kushikatsu such as cheese chikuwa, Camembert cheese, and ham katsu.
• Go to drink: something from the selection of Japanese and Scotch whiskies, or the house specialty: fresh tomato Chu-hi.
• It'll cost you…not an arm and a leg. The kushikatsu menu ranges from ¥80-170 per skewer, whiskies go from ¥450-800.
• Best bit: there's NO COVER charge and it's just minutes from the station.
• Worst bit: last kushikatsu order at 11:00 pm.
[/box]