Featured
Best-kept Secret of the Century
Famed for blowfish and kushikatsu, Shinsekai might not be the glammest part of town, but it's celebrating 100 years of serving up the true flavours of Osaka.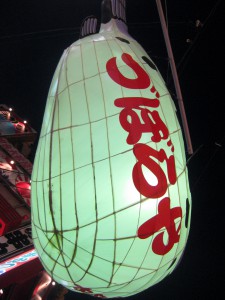 It may not be the first place to cross your mind when planning an afternoon or evening in Osaka, but perhaps this year it should be. Shinsekai means "new world," which may seem a little outdated for this end of town, but 2012 is a special year. It's the 100th anniversary of the building of the Tsutenkaku tower, part of a makeover of this area in 1912, so a dose of nostalgia is in order. Local or visitor, you've got to eat, and whether you're contemplating gourmet cuisine or just good ol' Osaka grub, Shinsekai offers boundless culinary options. Just a half-hour walk from Namba, or a short subway ride away, the supposed birthplace of kushikatsu reminds us that some of Japan's most cherished dishes hail from its most humble streets.
Daruma
If you're new to the art of kushikatsu, visit Daruma and you'll soon learn the number-one rule—the customers share trays of tonkatsu sauce, so no double-dipping! That's the mandate of the stern-looking character at the shop front with his arms crossed over his chest. But don't let him fool you, the staff are as friendly as they come. Their comic banter in the kitchen provides entertainment while you wait, because the fact of the matter is, there will be a line, and this kushikatsu is worth waiting for.
There are three Daruma shops in the area. The original shop, opened around 1929, is very small and only fits a few patrons, so depending on the day, the one facing the Tsutenkaku tower could be a better bet. It seats around 50, mostly around a big, rectangular counter and allows for a little more elbow room. You can ask for the English menu if you need it, then order away.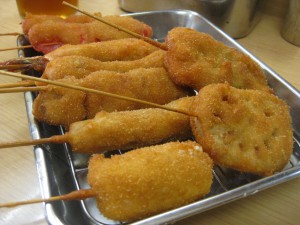 The beef and the pork cutlets are the two most popular choices and cost ¥105 per stick. There are many kinds of vegetables which are delicious deep-fried; lotus root, bamboo shoot, onion, leek, and red ginger. There's also sweet potato, eggplant, mushroom, tomato, and long sticks of juicy, green asparagus. The more adventurous can choose chicken gristle, chicken gizzard, or cow tongue. Don't forget the favorites from the sea: the shrimp and scallops at ¥210 a piece. In the summer months, the conger pike eel is worth a try, and keep your eye out for succulent oysters on the winter menu.
A very different experience from tempura, kushikatsu's breaded coating is often heavier than a tempura batter and the Worcestershire-based tonkatsu dipping sauce far darker, thicker, and richer than the lighter tentsuyu tempura dip. Some kushikatsu is fried with a lot of batter while some has only a thin coating—it depends on the ingredients you choose. Daruma is all about attention to detail.
When your sizzling hot skewers arrive, dunk each deep-fried parcel into the special sauce (Remember, only once, so don't hold back) and enjoy the crispy batter melting in your mouth as the juicy ingredients release their flavours.
To wash it all down, beer, chu-hai, sake and shochu are on offer as well as tea, soft drinks and a "gabunomi akadama cocktail"—a red wine and chuhai concoction that staff refer to as "a red bomb." For something different, and a little less explosive, try the yuzu citrus wine. It's cool and sweet, with a dessert-wine-style finish.
Where: Naniwa-Ku, Ebisu Higashi 1-6-8
Access: Ebisucho Subway Station Exit 3
(Sakaisuji Line)
Tel: 06-6643-1373
Open: 11am–9pm
www.kushikatu-daruma.com
Takobozu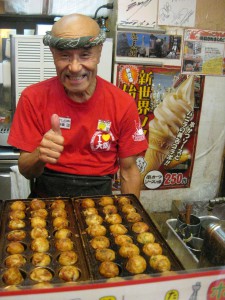 If you've sampled Shinsekai's iconic kushikatsu but still want something more, how about burning your mouth on some tasty, piping hot takoyaki? Takobozu, just a few metres east of Tsutenkaku, has all the answers – savoury and sweet. Buy six golden brown balls for ¥300, or 12 for ¥500. Try your best to let the pancake part cool down before fishing out the octopus in the middle, or the roof of your mouth will punish you for your impatience.
To celebrate the 100th year of the Tsutenkaku tower, Takobozu is offering a dessert with a difference – Kushikatsu sauce-flavoured soft-serve ice cream. Admittedly, tonkatsu taste in a cone takes a little getting used to, but they combine it with vanilla ice cream for an intriguing savoury-sweet effect. Word seems to have spread, because there are long lines at Takobozu on weekends for this unlikely dessert. Luckily, talking to the cheerful staff is half the fun of being there. They're full of stories and will have you eating sauce-flavoured ice cream before you know it.
Where: Naniwa-Ku, Ebisu-Higashi 3-1-14
Access: Ebisucho Subway Station Exit 3 (Sakaisuji Line)
Tel: 06-6647-0840
Open: 11am–10pm (last order 9:30pm)
Zuboraya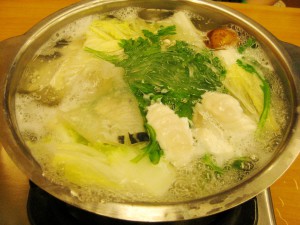 Call it what you like – blowfish, balloonfish, bubblefish, pufferfish, fugu or, as on the English half of the menu at Zuboraya, globefish – the potentially poisonous dish was Shinsekai's first iconic food.
The area is home to the original Zuboraya blowfish restaurant, which is open every day of the year except New Year's day. Look for the giant blow-up blowfish that seems to be floating in midair. Whatever form of blowfish you can imagine, Zuboraya has it at an affordable price. Sushi and sashimi (¥1,400), salad with egg, tomato, lettuce, cheese and red onion (¥950), deep fried (¥1,050), grilled (¥1,500), and blowfish in udon noodles or gratin (¥900). For a light and healthy dinner option, the blowfish nabe (¥2,650) is a must-try. This fish and vegetable hotpot contains shiitake and ennoke mushrooms, tofu, Chinese cabbage and glass noodles, and it's perfect for the cooler weather. Turn on the gas burner and watch the fresh, healthy ingredients bubble away in the silver pot before you. And if you're dining with friends who fear the fugu, no problem: Zuboraya serves a range of other dishes, including crab salad, beef shabu shabu and beef sukiyaki. There's also a children's menu offering fried prawns and fried chicken so the little ones don't have to miss out.
Where: Naniwa-Ku, Ebisu-Higashi 2-5-5
Access: Ebisucho Subway Station Exit 3 (Sakaisuji Line)
Tel: 06-6633-5529
Open: 11am–10:30pm
www.zuboraya.co.jp
Doyasa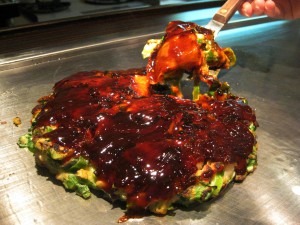 When it comes to Osaka soul food, the staff at Doyasa has it covered. They're experts in what Kansai does best: scrumptious flour-based dishes and fried noodles. Despite seating just eight people, this little restaurant is genuinely comfortable and the two-man team behind the counter will cook your order to perfection on the long, sparkling silver grill in front of you.
Choose from classic-style okonomiyaki or one of many variations the place offers on the savoury pancake. One Doyasa specialty is its negiyaki – okonomiyaki made from a batter of flour, yam, eggs and cabbage, mixed in with other ingredients of your choice, and a giant helping of juicy, green spring onions. If you're feeling brave, ask for the extra hot sauce (warning – extra hot does mean extra hot) or for a Korean take on the dish, add the spicy kimchi topping. Adventurous okonomiyaki and modanyaki eaters can order their dish with offal and dried noodles (¥780). For something a little lighter to share, order the deluxe tonpeiyaki (¥600), a tender pork-strip omelette drizzled in okonomiyaki sauce and that unbeatable Japanese mayonnaise. Doyasa also has a takeaway option – you could pick up your order and take it to the Tsutenkaku tower straight ahead down the mall. It is, after all, its centenary. If you're happy to pay the ¥600 fee to get to the top, the view of south Osaka is splendid.
Where: Naniwa-Ku, Ebisu-Higashi 1-17-12
Access: Ebisucho Subway Station Exit 3 (Sakaisuji Line)
Tel: 06-6645-1083
Open: 11am–9pm (last order 8:30)
Closed: Wednesdays, and the 2nd Tuesday of every month
www3.ocn.ne.jp/~teppan