Featured
A centenary of song
It's been 100 years since the president of Hankyu Railways started an all-female troupe to draw passengers to Takarazuka. KS meets a former Takarasienne to hear the inside story of this iconic company.
The Takarazuka Revue Company(宝塚歌劇団, Takarazuka Kagekidan) is a unique and enduring part of Japanese popular culture. Since the early 20th century, this all-female musical troupe has performed both male and female roles in lavish adaptations of mostly Western genres such as Hollywood movies, American literature and Shakespeare. Recent productions include the Takarazuka version of the 2001 movie Oceans 11 and Hemingway's For Whom the Bell Tolls.Classical Japanese literature and even Manga are also part of the Revue's repertoire with productions of The Tale of Genjiand Black Jack. Takarazuka productions are heavy on romance, allowing the otoko-yaku(male role) and musume-yaku(daughter role) stars to shine on stage as they sing, dance and act out epic love stories.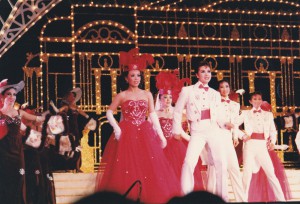 The Takarazuka grand Theater and its training facility, the Takarazuka Music School, are based in Takarazuka city in Hyogo Prefecture. There is also a theater in Tokyo and the Revue's five troupes of Hana (flower), Tsuki (moon), Hoshi (star), Yuki (snow) and Sora (cosmos) – with approximately 400 members total – rotate between western and eastern Japan. Both theaters reportedly attracted combined audiences of 1.88 million in 2011, earning the company around ¥25 billion. The Revue's audience is also unique – estimated to be 90% female and including highly organised fan clubs for the top stars of the various troupes. It's been observed that Takarazuka fandom now passes from generation to generation within families – mothers, daughters and granddaughters attend shows together.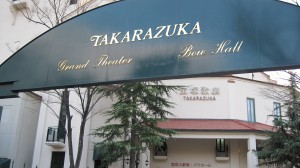 This year, the Revue marks the 100th anniversary of its founding. It started in 1913, when railroad baron Kobayashi Ichizo decided that an all-female musical theater group would be an ideal attraction to increase the number of passengers alighting at the Takarazuka terminus of his Hankyu line from Osaka. Kobayashi was undoubtedly tapping into the trends of the Taisho era (1912-1927), when Japan enthusiastically embraced Western modernity. A trip to Paris had inspired him to create "modern girls" and he imported the style of the Folies Bergere, a French Cabaret. The Revue is still owned by Hankyu Railway Cor-poration and Kobayashi's valuesarestill part of its ethos. This is evident in the Revue's motto; kiyoku, tadashiku, utsukushiku, (modesty, fairness and grace), which according to the Revue's website is "fervently alive in the hearts of the performers and staff " and aims to produce "a pure, elegant and well-educated personality."
Incredibly high standards of performance and deportment are expected of the young women who enter the Takarazuka Music School. It has a reputation for a very strict training regimen. According to former Takarazuka actress, Shiori Gibson, her two years at the Music School, which she entered at 16 years old, "were as hard as training for the army." The three-day audition process was particularly arduous. She says there were 1,300 girls competing for 40 places. The pressure to make the final selection was intense, but "once you get into the school you don't want to give up. You become more confident."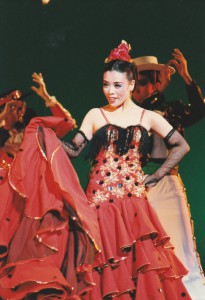 Gibson auditioned for the school during its "boom time" in the late 1970s. The Revue's production of the Rose of Versailles, based on a popular manga and anime series about the French Revolution, had been a huge success since it premiered in 1974 and had increased the popularity of the company. BeruBara, as it is locally known, is still the Revue's biggest hit and fans are flocking to performances during this cen-tenary year. Gibson says the Revue is still so popular because it is an escape into a "beautiful and glittering" world, where the men are "unreal". Her motivation to join the Takarazuka Re-vue was twofold – she says she wantedto perform on stage, but she knew that she also wanted to do something special. And there's certainly no other school of performing arts in Japan that is comparable. During her two years at the school, where it was compulsory to live in the dormitory and there were very few days off, she studied a wide variety of music and dance styles including opera, ballet, and traditional Japanese dance. Of equal importance was the early morning cleaning of the classroom – including dusting with paintbrushes and using sticky tape to eliminate any dirt from the floor – and marching. The local Self Defense Force unit were instructors at the school, teaching the students to move in tandem as preparation for the Revue's famous line dance.
Finally, Gibson made her debut as a musume-yaku in the Hana troupe and performed in up to eight productions a year for six years. She took the stage name Mikage Shiori; "Mikage" means "beautiful shadow". Gibson says she knew she couldn't be a top star because she was too small in height. "So many people were competing to be a top star, but I was quite happy being stardust." Despite her modest attestation, Gibson had her own fan club and has many stories of fans delivering fresh food and flowers to the stage door, and sending her letters and gifts.
As the Revue celebrates its 100 years, Gibson says that she feels proud to have been a part of it. "Takarazuka is a world of dreams, but it's also a world in which you can be fearless," she says. It is this sentiment that is currently propelling the Revue overseas in an at-tempt to gain new audiences. InApril, the Revue performed in Taiwan and there are plans for more shows in Asia in the future.
[box]
The Manga connection
Tezuka Osamu, the creator of Atom Boy was raised in Takarazuka. His mother was a big fan of the Revue and he saw dozens of performances with her as a young boy. It was this experience that apparently led him to create the romantic tale of the cross-dressing Princess Knight, consideredto be one of the foundational works of Shojo (girls') manga. Subsequently, the Revue has adapted Tezuka-created manga, such as Phoenix and Black Jack, into popular stage productions.With such strong mutual inspiration, a visit to the Tezuka Osamu Manga Museum is a must. It's located just beyond the Grand Theater.
Open 9.30am–5pm, closed
Wednesdays, ¥700.
tezukaosamu.net
[/box]
[box]
Upcoming Performances & Getting Tickets
The Takarazuka Revue performs every day except Wednesdays at the Grand Theater in Takarazuka, Hyogo Prefecture. Performances start at 11am and 3pm. Tickets cost between ¥11,000-3,500 and can be purchased through the Revue website, Ticket Pia, or Lawson Ticket. There are also tojitsutickets available on the day from 10am for ¥2,000.Getting a ticket can sometimes be tricky because fan clubs buy up blocks of tickets to see their favourite stars. Upcoming shows for 2013 are in the "classic" genre but will certainly show off the Revue's unique dramatisations and lavish costumes.
The Rose of Versailles(4/19-5/27)
Romeo and Juliet(5/31-7/8)
Arsene Lupin(7/12-8/12)
Song of Love and Revolution – Andrea Chénier(8/16-9/23)
1-1-57 Sakaemachi, Takarazuka-shi,
Hyogo-ken 665-8558
Tel: 05700-00-5100
www.kageki.hankyu.co.jp
[/box]