Made in Kansai
Bottling up mother nature
The waterfalls at Nunobiki are a popular tourist attraction in Kobe. As well as photographing them, you can now drink the waterfalls…for an eye-watering price.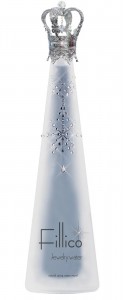 Unbeknownst to many Kansai residents, the water that cascades down a waterfall near downtown Kobe is some of the most popular in Japan. Often simply called 'Kobe water', what flows down Nunobiki waterfalls has traditionally been held in such high esteem that it appears in the famous Tales of Ise. In these classic poems, there are a number of verses describing the waterfall's "cascading gems", which are said to have kept visitors enthralled. Lovers of sake may also know that Nunobiki's water is one of the 'big 100' group of waters used for making the superior sakes. The world famous Nada-gogo sakes owe a large part of their success to the flavour that manufacturers claim comes from Kobe water. Naturally, as the popularity of the water has continued to grow, so too has the price people are willing to pay just to drink the water itself. In 2005, a company called Fillico spotted the gap in the market and began offering Japanese customers the chance to drink part of their country's history. With the price of some bottles costing over ¥10,000, the product is significantly more expensive than many wines and champagnes, yet it remains as popular as ever.
"I know of some famous cooks who come all the way to Osaka to get this water for their cooking," says Reiko Wakisaka of Fillico. As senior manager, she has seen the product's popularity expand from Kansai to the rest of Japan and beyond. "Some people have even moved to live here just for the water," she says. "Our president used to own a chain of restaurants and bars and he always chose Kobe water for these establishments. He often says that he wouldn't consider any other product beside Kobe water to do business with."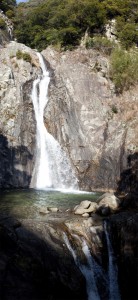 Reiko adds that Nunobiki waterfall is especially well-known for having "delicious water". This statement may baffle some people as most would assume that water tastes, well, like water. However,recently there are signs that water may become the next designer drink of choice. Connoisseurs insist that water has many distinctive tastes and should be savoured like the finest wines. To encourage people to take a further interest in the topic, the Nestle Waters website lists 36 different descriptions of the experience of drinking water and how to distinguish them. There are even professional water tasters (or aqua sommeliers) who have made a lucrative career out of advising companies how to improve the flavour of their water products. So what does Fillico itself taste like? Unfortunately, this writer's budget didn't stretch to buying a bottle, but according to the promotional material, Fillico's taste is both "smooth" and "refreshing".
Because of the importance of having the right taste, Fillico use a waterbottling factory at Nunobiki itself to draw water directly from the waterfall. Then a specialized heat pasteurization technique is used instead of chemical pasteurization to make sure the water is safe and pure enough to drink. The heat pasteurization is preferred because it alters the taste as little as possible and also helps to maintain the minerals, which are considered to promote flavour and good health.
From there the water is sealed in bottles ready to be sold. As Fillico is a luxury product, the bottle itself is one of the most attractive things about the brand. The exterior of each bottle is encrusted with Swarovski crystals, with one of the most popular bottles featuring crystals arranged into a glittering bottle top shaped like the former Roman Emperor Fredrich II's crown. While this may sound unusual, Reiko explains that Fillico's president often cites Friedrich II's power, leadership, wealth and historical influence as his inspiration. "He was particularly impressed by the images of Friedrich II, which formed the basic idea for the design of our bottles."
Being a Japanese brand, there have, of course, been special editions of this water designed to appeal to the unique demands of the home market. A Hello Kitty special bottle bearing her face and a bow of crystals was released recently, and the RosaAngelo featuring a cheeky cupid on the bottle cap is naturally popular for weddings. "The beautifully decorated bottles can be loved by anyone," Reiko says. "For many of our customers, the bottles may be a memento of their special occasion; a wedding, birthday, anniversary – any event. All the bottles are handmade and we even take name orders to make your bottle completely unique and customized for your special day."
When I ask her about the future of the company, Reiko describes Fillico's growth in the global market. The product has recently been adopted by Hollywood luxury lovers and has made appearances at numerous parties and celebrity bashes. In addition, the Middle East has been a surprising new market for the brand. "Our customers in these areas use our water for their special occasions like weddings," Reiko explains. "Since most of them are of the Islamic faith, they do not drink alcohol, so the water is preferred for their parties. They also really like our designs on the bottles." Despite their popularity abroad, Reiko assures us that the company are not about to abandon their roots. "Fillico is connected to Kansai, because we started business in Kansai," she says. "Kansai is Fillico's home."
[box]
Luxury in a bottle
While Fillico is one of the most expensive water products in the world, there is a surprisingly large amount of competition in luxury water.
Designed and marketed specifically for the nouveau riche hip-hop set, a 750ml bottle of Bling H2O will cost between ¥4,000 and ¥6,000 depending on how much 'bling' is on the bottle.
10 Thousand BC, the current Canadian prime minister's drink of choice, is named for the 10,000-year old glacial ice from which it is made. It'll set you back about ¥1,000 for a 750ml bottle.
If glacial ice isn't extravagant enough, try drinking a bottled iceberg. Taken from the floating ice found off the coast of Canada, Berg is available for a comparatively reasonable ¥700 for 750ml.
The Fuji area in Japan has long been an important part of national identity. And now water from this iconic volcanic area, sold under the name Finé, can be yours for only ¥600 for 750ml.
[/box]