Featured
New take on an ancient tradition
Which floor do your toes prefer to tread on: fluffy carpet, polished wood or tatami? A look at the past, present and future of Japan's traditional flooring.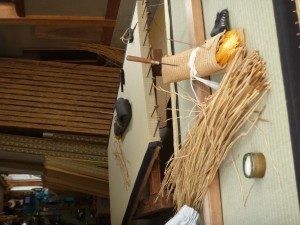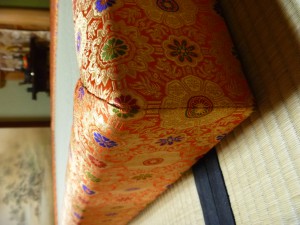 Tatami is synonymous with Japan. These simple rectangular mats made from rice straw have been a part of Japanese culture for around 1,300 years. They're an intrinsic element of Japanese architecture, and are useful for more than merely aesthetics. However, the relationship between this traditional product and Japanese lifestyle is shifting.
Spending time in Motoyama Tatami, a company based in Kyoto, I saw how a business based on an age-old tradition is adapting, promoting and engaging with modern lifestyles. In other words, how they are keeping tatami alive.
The business of tatami
Motoyama Tatami is a third generation business that's been in operation for the last 90 years. Set back from Daitokuji Temple, this small shop produces an enormous amount of tatami. The current owner, Hiroshi Motoyama, left his life as a salaryman to take over his father's tatami business 18 years ago. Today, Motoyama still works alongside his 75-year-old father and another craftsman to produce tatami for the local market. They also have a growing international customer base, because Motoyama understands the need to stay relevant and to look beyond the traditional approaches to tatami. The shop has produced tatami for many important cultural institutions and people. Some of these clients have included: The Rockefeller Centre in New York City; The Japanese Consulate in Washington D.C.; Hiroshi Sugimoto's photography studio in New York; Temples in Daitokuji; as well as private clients in the Czech Republic, Germany, Netherlands, Hong Kong, Italy and Britain.
An international project
While at Motoyama Tatami I was invited to go and see a new international project in the seaside town of Amino, Kyotango. Umeda Tatami Factory works in collaboration with Motoyama Tatami on some projects, to produce the finest handmade tatami for export. Takayuki Umeda is arguably one of the best tatami craftsmen in Kansai. He grew up making tatami with his father and went to the Kyoto Tatami Technical School with Motoyama. Although he is young he has managed to develop a reputation as the go-to man for this kind of specialised work in Kansai.
The featured piece was for a family in New York City, designed as a play area for their children. Weighing in at approximately 140 kg and entirely made by hand, this tatami was no small feat. The guys told me that you would never see a piece like this commissioned by a Japanese client; it is unusual and expensive and totally out of the box. The style of this tatami is generally reserved for the shogun as a kind of "oshitone" or small floor cushion. In this instance the oshitone has been appropriated and uses Kyoto size mats. The entire object is handmade, sewn together with every detail scrutinised. The edges of the 'shu' are joined taking care to marry the pattern as much as possible at the fold. An object like this takes weeks of work on a daily basis.
Tatami then and now
Both of the craftsmen told me that today's tatami business is markedly different from their fathers' era. Cheap imitation products have come onto the market from China, and lifestyles are changing; homes that used to be essentially all tatami are taking on a more western feel. One thing that has remained virtually unchanged is the handmade practice. Beautiful and skilful it stands out, ageing gracefully. Machines were introduced about 50 years ago, this coupled with changing attitudes and cheaper imitations means the handmade artisans are dying out.
Tatami's history is extensive, it first appeared in one of Japan's oldest texts, the Kojiki (Record of Ancient Matters) written 712. Originally tatami was used to help distinguish the social classes. Now size varies regionally. Kyoto, Chukyo, Kanto and Okinawa all have different measurements. The omote is the traditional cover 'face' for tatami core made from the wetland plant Juncus effuses, referred to as igusa. Various grades of igusa come from different regions in Japan. To produce the omote, igusa is harvested at a certain height and covered with mud to dry, increasing the longevity of the material.
Tatami is intricate and spectacular. With unique qualities, diverse materials, and specialised craftsmen tatami is far more complex than a mere flooring material. Handmade tatami is art. Let's hope we see this ancient part of Japanese history continue to diversify in contemporary Japanese society, and overseas.
[box]
Tatami care tips
• If Japanese tatami is cared for it can last up to 25 years, so be gentle. Don't wear shoes, drag furniture across it, or leave spills. While it is tough, its appearance can quickly lose lustre without respect.
• Only vacuum along the width of the tatami toward the heri (material edge) as vacuuming vertically will damage the omote.
• Tatami purifies the air, removing unwanted toxins, acting as insulation, absorbing moisture in the humidity and releasing it during the dryer months. For this reason it needs to have fresh air circulating regularly.
• Most spills can be cleaned up with a damp cloth softly rubbing in the direction of the weave (not against it, this will only ingrain the stain). Often products don't need to be used, just water. If you do want to spray something, read the label! • Never directly place a mattress on tatami for long periods, this results in mould. Futons should be put away every day.
Motoyama Tatami
• Address: Kyoto Kitaku Murasakino Monzencho 45.
• Tel: 075 491 8608
• Web: kyototatami.com
Mentioning this article will get you 5% off. Motoyama's staff speak fluent English and are happy to help!
[/box]