Feature
Kabuki 101
Curious about the larger-thanlife drama and costume of kabuki shows, but too scared to commit? Doing a little pre-theatre prep work will pay rich dividends for the overall experience. KS puts together a crash course to get you started.
Those ghostly white faces, the eerie sound effects, and the apparently completely random yells from the crowd… yep, the traditional Japanese performance art of kabuki can at first seem a bit perplexing, if not downright strange, to the average gaijin. But take a closer look, and you'll see that this 400 year-old art form is in fact a wonderfully entertaining insight into Japanese culture. For those yet to experience its magic, we've put together a crash course to help in appreciating the wildly popular and enduring spectacle that is kabuki.
Kabuki's roots can be traced back to 1603 when shinto priestess Izumo no Okuni began performing a new style of dance drama in the dry riverbeds of Kyoto. People were immediately drawn to her dynamic method of storytelling and the salacious themes that were explored and often extended off-stage, as many of the exclusively-female performers offered services beyond the dramatic variety. Following the Tokugawa shogunate's relocation from Kyoto, word soon spread to Edo where kabuki exploded onto the social scene, finding popularity in Yoshiwara; the city's registered red light district. Here the art brought together people of all classes in a way that had never been seen before, and theatres became iniquitous social stages where Edoites came to see and be seen in all the latest fashions.
From this point kabuki experienced many changes: from being temporarily driven underground by disapproving shoguns to the switching of emphasis solely to male actors through a ban on women. Despite the controversy that once surrounded the ban, however, the emphasis on male actors, or onnagata, is a tradition that persists to this day. Today kabuki, literally meaning "song dance skill", remains extremely popular and is the most viewed of all the traditional Japanese performing arts.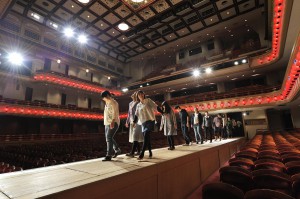 The unique style of kabuki comprises exaggerated and extremely stylised acting with elaborate costumes to match. This is important because, much like our Shakespearean plays, kabuki is an old art form performed in an archaic tongue, which even the most exquisitely cultured of natives may sometimes struggle to understand. The makeup worn by the different characters also helps to reinforce the narrative and is the most instantly recognisable aspect of the spectacle. Character appearance, however, is just one of many conventions in kabuki. Equally unique to the art form is the stage itself, which houses more effect-creating intricacies than one would care to shake an ame-uchiwa (that's the beaded fan used to mimic the sound of rain incase you didn't know) at… I'll stop there with the witty references and fill you in.
The revolving stage, or mawaributai, allows the quick changing of scenes, often during a brief period of darkness (chompa) before a transfixed and hopefully not too nyctophobic audience. Pioneered in the Kyoho era, the mawaributai is rotated on wheels by stage assistants, although modern theatres now mostly rely on the convenience of electrical power.
Adding to the art's spectacular nature, kabuki actors often enter the stage via extraordinarily dramatic means. The senri, for example, allows characters to emerge from below the stage, sometimes while attached to cables to create a flying effect, or chunori (think Peter Pan meets Memoirs Of A Geisha). The hanamichi, literally meaning "flower path", is a raised walkway used for when characters emerge from behind the audience. Such entrances often result in shouts from audience members, but don't take this to be a sign of disrespect. On the contrary, if the well-dressed Japanese guy sitting next to you suddenly leaps out of his seat and starts yelling, rest assured that he is chanting an actor's yagao (traditional troupe name) in a show of adoration…either that or he just spilled hot sake on his lap.
Kabuki programs are all-day affairs, but you can purchase a ticket for just the matinee or evening show (each still being four hours) if you don't feel like staying for the long haul. The day is usually split up into three plays separated by intervals in which spectators typically discuss the play while consuming traditional food and drinks.
If you're still mystified why so many people pay to be locked in a theatre for 11 hours straight, this is how Osaka resident and kabuki-enthusiast, Yuko Hamamoto, explains her passion for the artform: "The things that I enjoy most about kabuki are the ways in which the actors perform the stories. The costumes are beautiful and the dancing is fascinating and creates a great atmosphere for the audience to enjoy."
Yuko Abe, of the Minamiza kabuki theatre in Kyoto, says it's the performers' distinct skills that makes kabuki so appealing. "Their acting styles are truly unique and cannot be seen in any other art form. You can enjoy the actors' flamboyant and exaggerated gestures, dancing, and dialogue used in the performance."
And how has this art form, which has kept the same format for hundreds of years, stood the test of time to be popular even today? Abe explains "People can find the source for the true Japanese art form in kabuki and that is why so much effort has been made to defend its tradition. One can travel back in time just by seeing kabuki."
So what are you waiting for? Get to one of Kansai's two very own world class kabuki theatres; the Minamiza in Kawaramachi or the Shochiku-za on Dotonbori and experience kabuki for yourself.
[box]
Where and when to see kabuki in Kansai
Kyoto Minamiza
East side, Shijo-ohashi-bridge, Higashiyama-ku,Kyoto
Access: City bus to Shijo Kawaramachi. Hankyu railways: Kawaramachi station exit 1, 3min walk.
June: Kiyoshi & Naomi Concert (comedy)
July: Tokyo Story (drama)
August: OSK Girls' Opera (opera/musical)
September: Kouka (drama)
October: Amaterasu (drama)
November: Kabuki Museum
December: Kaomise Kabuki
Osaka Shochiku-za
9-19, Dotonbori 1-chome, Chu-ku, Osaka Access: Osaka city subway, Namba exit 14, 1min walk.
June: Ooku (drama)
July: July Kabuki
September: Untitled play (drama)
October: October Kabuki
November: Shochiku Comedy (comedy)
[/box]