Business
First steps to vital connections
It's tough being the stranger in town, but you've just got to bite the bullet and get networking, says Tong Cheuk Fung.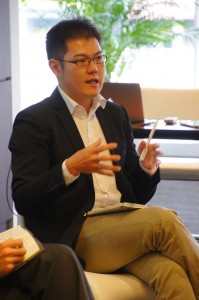 KS: Can you describe your current job and how it relates to networking?
Tong Cheuk Fung: I work in event planning, project management, overseas promotion for Japanese companies, and running a co-working space. Networking has been crucial in building my career in Japan. Almost all of my job opportunities have come through referrals from the network I have built. I think for a foreigner wanting to work as a small business owner or freelancer in Japan, word of mouth is especially important for your credibility. After getting the jobs, I'll again use my network to find resources – be it translators, designers or consultants – to complete the task.
KS: What are the benefits of creating networks in a foreign country?
TCF: Coming to a foreign country is not easy. In Japan, basic things like applying for a mobile, getting accommodation, opening a bank account, going to the ward office, can often break you. But a good network will help you with basic survival needs. Once you are done "surviving" in a foreign country, you might want to build your career or business. Chinese people talk a lot about "Guanxi" (関係), which describes relationships or connections in business. I don't mean that success is simply a matter of getting to know big shots. Rather, success is about being good at what you do and having people know about it. By having Guanxi, or useful connections in your network, you will eventually meet gatekeepers who will open up opportunities where you can showcase your talent.
KS: How have you created these networks?
TCF: I have created my network in Japan by setting up an international community called We Are One Japan (weareonejapan.com), which organizes events based on different interests like music, films, design, art, languages, food, culture, or travel. Through these events, I meet a diverse group of foreigners and Japanese with whom I become friends, and even business partners. I also make sure I attend other people's events to meet different communities and just to have fun.
KS: What has been the most crucial factor in helping you build networks?
TCF: I think it would be having an open mind in meeting new people, and not being shy to introduce myself and find out about them. Sometimes I will even send emails to strangers with whom I see a potential for collaboration, and some of them have now become my customers and business partners. Another crucial factor is the ability to communicate with people, and the most effective way is if you can speak their language. So making the effort to learn new languages, or not being shy to use those in your repertoire, will help make your connection with people more engaging, and amazingly the level of trust will increase as well.
KS: What can people in Kansai do if they want to connect?
TFC: Go online to Facebook, Linkedin, Couchsurfing, meetup.com etc to find events that suit your interest or are in your local area. For those looking for career or business development through networking, I've created 47RONIN (47ronin.co), a global residential and co-working space in Kyoto, which hosts a community of entrepreneurs, freelancers, and small business owners. We sometimes collaborate on bigger projects by synergizing each of our talents and resources. And if you want to get to know the Japanese business community, you can check out events and activities at Knowledge Capital (kc-i.jp) at the newly opened Grand Front Osaka. Finally, please feel free to get in touch through any of my communities. I look forward to meeting you at events in the future.
[box]
Vital Connections
Tong Cheuk Fung will be the presenter
at the next Business Matters Event.
Join us for a presentation on building
a network in a new country with a
networking opportunity to follow.
• Date: Jul 18 (Thu)
• Time: 7:30–9:30pm
• Entry: ¥2,000 w/1d
• Venue: Odekakebiyori Machiya Cafe
Restaurant, Kyoto
For full details and registration visit: kansaiscene.com/businessmatters
[/box]