Business
Fingers on the pulse
In the space of just three and a half months, the newly-opened Kisaki Clinic in Juso has attracted over 650 patients. We caught up with Dr. Nelson Yamawake for a full examination of his practice's success.
KS: What inspired you to open a women's clinic?
Nelson Yamawake: Women seeing an OB/GYN specialist at a general hospital will invariably have to wait for a very long time – often over 2 hours – before seeing the doctor. This wait can be especially frustrating as many women are trying to fit this in along with work, going grocery shopping and picking up the kids from school. I felt strongly that there must be a better, more convenient, way for women to receive quality healthcare.
KS: What makes your clinic unique?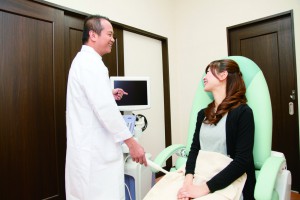 NY: In Japan, many women's clinics are specialised in gynecology, but don't deal with other female health issues such as breast cancer, pregnancy and childbirth. My clinic has a more holistic focus, including not only gynecologists, but also a breast cancer surgeon and midwives. Therefore, patients can consult with experts for all of their needs under the one roof, and with a far shorter waiting time. Not to mention we are a multi-lingual clinic and have staff available to consult in English, Korean, Chinese and of course Japanese.
KS: Why did you become a doctor?
NY: I was born to a very poor family in Malaysia and my parents didn't have enough money to go to the hospital when they needed care. Growing up like this, I decided to become a doctor to make sure that my parents would never miss out on medical care again.
KS: How have you managed to build up such a large patient base in so little time?
NY: People are serious about their health and want the best quality care they can find. My clinic has been built around the following principles to ensure we are always providing the best possible service:
1. Treat Japanese people with Japanese manners.
2. First and foremost, think about what's best for the patient.
3. Help the patient understand the situation, no matter how complex.
4. Be good to those around you, and they'll spread the word.
KS: What are your views on the state of medical care in Japan?
NY: There is no doubt that the quality of medical care in Japan is some of the best in the world. However, it suffers from being over protected by governmental policies. Medical care in Japan will improve even more if there is scope for competition between healthcare providers.
KS: What are your hopes for the clinic in the future?
NY: To the best of my knowledge, I believe Kisaki Clinic is one of the first private women's clinics incorporating mammography facilities to provide total health care to women. I hope that there will be more clinics like this in the future, so that more women can receive holistic care throughout their whole lives.
• Address: Osaka, Yodogawa-ku, Jusohigashi2-7-8 3F
• Tel: 06-6476-7233
• Web: kisaki-clinic.jp
[box]
A New Model for Women's Healthcare
Dr. Nelson Yamawake will be sharing the secrets of his success and providing an insight into the state of medical care in Japan at our upcoming Business Matters event this month:
• Date: Aug 21 (Wed)
• Time: 7:30–9:30pm
• Entry: ¥3,000 w/2d + light food
• Venue: Beer and Pizza Gosuke, Umeda For full details and registration visit: kansaiscene.com/businessmatters
[/box]