Featured
Paradise rated G
Once Thailand's party central, Koh Samui has matured into a wholesome destination fit for the family.
Say "Koh Samui" and one generally thinks backpackers, bucket drinks and full moon parties. But over the last decade, Thailand's third largest island has outgrown this '90s cliché, and has matured into a destination that has something to offer almost any traveller – even kids! While the island's universally appealing mountains, coral reefs and palm-fringed beaches remain, the presence of large shopping complexes, movie theatres and international hospitals now make it a safe and convenient getaway for the whole family.
Island life
Koh Samui, or just Samui as it's known by locals, is easily reached from Kansai Airport with a 5 hour and 40 minute flight to Bangkok, followed by an hour flight south. Stepping off the plane, you'll notice the repetitive "irasshai" are instead replaced with low-key greetings by smiling Thai staff. Occasionally, the only person who appears to be on duty in a shop or taxi can be spotted sleeping in a nearby hammock. But don't let that worry you. Instead, bury your watch, slow down to island time, and focus on enjoying your holiday.
A beach to call home
There are places to stay on Samui to suit every style and budget, with the majority found in the beach communities around the island. A good place to start would be to first decide on the area you like, then search for accommodation that suits.
Chaweng is the largest and most developed beach town on Samui. Backing on to the six kilometre long beach you can find every class of hotel. Lamai is the favourite haunt of the Kansai foreign community, and on New Year and Golden Week holidays it's common to see groups of 30 plus familiar faces strolling the beach. Laem Yai, Mae Nam and Choeng Mon are quiet beaches on the northern shores of Samui, while Bang Rak on the north eastern tip of the island is famous for the glorious Big Buddha statue. The fisherman's village of Bophut is a charming place to stay and boasts boutique style hotels. On the south coast of Samui, the small beaches of Ban Hua Thanon, Na Khai, Laem Set, Bang Kao and Thong Krut all have several places to stay and seem a world away from the hustle and bustle of Chaweng.
A nice option for families is to rent a hillside private villa. Fully serviced villas with private pools and outdoor kitchens offer a luxurious experience at prices cheaper than you imagine. An easy way to book is via samuifever.com, run by Andy Walmsley and Glen Morgan, who long-term Kansai residents will remember from their nightclub days in Osaka. Famous for taking care of you from behind the bar, they, along with their international and Thai staff, will now take care of you on Samui, offering specialist advice and great deals on services across the island. A bonus for Kansai residents travelling with Japanese friends and family is that information and services are available in Japanese.
Navigating the Island of Coconuts
By far the best thing to do on Samui is to laze on the beach, snacking on fresh fruit and banana pancakes from vendors, and watching the kids commune with nature. But if you want to venture out, it's easy to do so yourself. The island has an area of 228.7 km2 with a ring road that connects its main beaches, towns and ports. A car can be rented for around 1,500 Baht per day, but remember to drive on the left side of the road and be prepared to be passed by faster moving bikes and cars. Air-conditioned taxis will take you from one side of the island to the other for 600 Baht. "Song tail" open sided taxi trucks travel around the Samui ring road and stop at every beach and attraction. Expect to pay 70-100 Baht per person.
Family fun
With myriad temples (wats), waterfalls and family-friendly attractions, Samui will keep even the most enthusiastic children content. For some traditional culture, visit Wat Phra Yai, which is home to the 12 metre tall golden Big Buddha, or Wat Plai Laem, the most colourful temple on Samui with an eight armed Buddha set in a lake full of hundreds of carp.
The Namuang waterfalls are also well worth a visit, with the 18 metre waterfall 'number 1' easily accessible just off the ring road and a lovely place to enjoy a fresh water swim. Coco Splash Waterpark is walking distance from Lamai beach and features several water slides, sprinklers and pools with shady areas for meals and frosty beverages for supervising parents. Paradise Park Farm is on Samui's highest mountain, Khao Pom, within a cool, tropical rainforest. Offering spectacular views of Samui and the surrounding islands, it boasts 100 species of birds, small animals, a deer park, waterfalls and an infinity edge pool.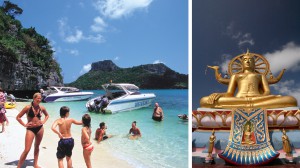 For a day trip, Angthong Marine Park is a must. Have your hotel arrange for a morning pickup to the boat and enjoy the day on pristine, uninhabited islands where you can swim, snorkel and kayak in the freshwater lagoon.
After an active day outdoors, wind down in the evening at one of the island's many "Walking Streets". Closed to vehicular traffic in certain sections, the streets come alive at night with vendors selling crafts, art, food and entertainment by cultural groups. Lamai has one every Sunday, Cheong Mon on Wednesday, Maenam on Thursday and Bophut Fisherman's Village has theirs on Friday. Low-key and charming, these kid-friendly events are a great way to spend the evening as you savour the memories of a day spent in paradise.
[box]
Traveling Tips
• Stay away from scooters.
• Bargaining is the norm: try to find out the local price, always counter the vendor's initial offer, and remember to smile.
• Drink bottled water.
• At wildlife attractions, avoid people who offer to take your photo with the terrified animals.
• Treat yourself to a Thai massage. Prices start from 200 Baht.
Getting there
• Thai Airways offers multiple flights daily to Bangkok (BKK) with a very convenient night option that allows you to put in a full day's work. Get to KIX for a flight just after midnight, arrive in BKK, switch to a Bangkok Airways flight and be checked in and on the beach by breakfast time.
• Low-cost carrier Air Asia offers convenient flights to Kuala Lumpur with transfers to Surathani Airport on the mainland and a short ferry to Samui.
When to go
The rainy season typically finishes just before year-end holidays, making Samui a great destination to bring in the New Year. Winter and spring are dry on Samui with the hottest time of the year being the middle of April.
Where to stay
Coconut Beach Resort
Directly on Lamai Beach and featuring some of the last simple huts that were ubiquitous 20 years ago.
coconutbeachsamui.com
Sea Breeze Place
This modern and stylish hotel features a fully serviced relaxing pool area, groomed grounds and a restaurant.
www.samuiseabreezeplace.com
Where to eat
Chaweng Beach
For an unforgettable beach-dining experience, feast on delicious Thai food while lounging on colourful cushions under the glow of flaming torches.
The Farmer Restaurant & Bar: Maenam
Sample the best of local Thai, Western and seafood dishes among green meadows and rice paddy fields.
[/box]