Business
From books to bento boxes
KS caught up with CEO of Bento&co, Thomas Bertrand, to find out how a humble, French Kyoto University exchange student became an international lunchbox success.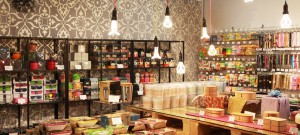 How did you come to be in Kyoto running a bento box business?
I've lived in Kyoto since 2003 after coming here to study at Kyoto University. I thought I'd be here for 10 months but so far it has been 11 years, and I still enjoy this city a lot! In 2005, I started a blog about my life in Kyoto (La Rivière Aux Canards – in French), the blog became a bit popular among Japan fans in France and I thought I could start a business thanks to it.
I wanted to start small and simple, selling Japanese products online to France. That's why I started a homebased online bento box business in November 2008. I worked as a freelance writer for some websites, I didn't have a lot to spend, but I had time, and my blog readers trusted me. They were my first customers.
We opened the English site in 2010 and a Japanese version in 2011. The company got a bit bigger every year and in April 2012, we had an opportunity to move to our actual location, near Sanjo Teramachi, a perfect place to open a store!
What was the process of setting up the business like?
It was quite easy. At first, Bento&co was a Kojin Jigyo, which means I was a sole proprietor. I just needed to sign a paper at my neighborhood tax office to start selling online. Two friends helped me to set up the site. My wife was in charge of contacting some potential suppliers and I was on the marketing side. The biggest challenge, at first, was not about setting up the business, but believing in myself; making the first step, and launching the business even if some people around me didn't believe in my idea.
What kinds of people or organizations are your customers/clients?
We've shipped out more than 70,000 parcels since 2009, in 84 different countries. Most of our customers are located in France (40%), and the U.S. (20%), but also in Australia, Canada, Belgium, and Switzerland. Some customers are fans of Japanese culture, but some of them are people who just want a nice box to bring their lunch to work or school in. We also do wholesale and work with about 150 retailers and restaurants in Europe, North America, and Asia.
What kinds of designs are most popular among customers?
Both "Kawaii" and "Chic" modern boxes are quite popular. The Kokeshi Bento Boxes and the Bento Colors have been our best sellers for a couple of years. We only have a few bento boxes with original designs, but most of the items we sell are made by about 20 different suppliers (most of them in Japan). We will soon introduce new original bento boxes. Stay tuned!
What are the challenges and rewards of running a business like this?
The challenge is to find great people to work with… and there are plenty of rewards! Because I'm a foreigner selling what Japanese people see as a very common product, our shop in Kyoto is quite famous. It's exciting to build this company and to be a part of the business world in Japan. It's great meeting so many interesting people: our suppliers, the craftsmen who work for them, other entrepreneurs in Japan, and many of our online customers who drop in to see us when they're passing through Kyoto.
[box]
Bento&co
• Tel: 075-708-2164
• Email: thomas@bentoandco.com
• Access: Shijo Kawaramachi Stn (north exit). Shop is located a few blocks away on Rokkaku street
• Address: Nakagyo-Ku, Rokkaku Dori, Fuyacho Higashi, Iru Yaoya-cho 117, Kyoto 京都府京都市中京区六角通麩屋町東 入八百屋町117
• Hours: Every day 12pm–7pm
• Website: en.bentoandco.com
[/box]