Business
Art SoHo style
Weekly, there are hundreds of art exhibitions happening throughout Kansai, with more than 350 art spaces in the region booked up. That's more than in London and Paris combined.
KS caught up with Celio Barreto from SoHo Gallery in Osaka, to hear how he navigated the intense Japanese art scene from the ground up.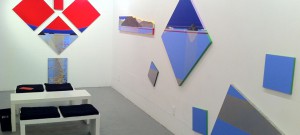 How did you come to open an art gallery in Tanimachi?
My friend and business partner Yachiyo Nakao and I both seriously love art and had both lived in the Tanimachi area of Tennoji for many years. In 2006 we had been wanting to go into business together for a while, and wanted to do something art-related and unique in the city. We came across a wonderful building and it just so happened that all the stars aligned. A primo location on a main thoroughfare, a flexible building with great character, and nothing short of an incredibly ambitious dream driving us to action.
Tell us about the process of setting up SoHo Gallery.
Well, it was painstaking to say the least. First of all we needed to set in stone the role the gallery would play, its vision and mission, and stick to those principles. We wanted to help and support emerging artists and to create opportunities for artists to grow and advance in their careers. We wanted to bring the local and international art communities together in our space and through our projects. Getting the paperwork together was a fun process in retrospect, but frustrating at the time. We did all the renovation work ourselves with the help of a few friends. It took about three months worth of 18-hour days and no holidays to get it ready for the first show in May 2007.
What kinds of artists do you showcase?
We showcase a great deal of artists, from the avant-garde to the traditional and almost everything in between. Our focus is primarily on contemporary art, working with painters, photographers, installation artists, performance artists, conceptual artists and many more.
What will you be showcasing this month?
We have our eighth anniversary exhibition from May 20th to the 25th. It's a fun group exhibition featuring smaller works by dozens of artists we have worked with since our inception, as well as new artists. We have people joining in from all over Japan, Europe, and North America.
What's the visual arts scene in Osaka like generally?
It's vibrant, exciting, and mind-blowing at times! However it's quite disjointed and fragmented. There are a lot of artist and industry collectives doing a lot of exciting projects, from commercial art fairs to riverside flea markets. The range is astounding but there is very little cooperation between these groups. Osaka affords artists levels of freedom to act and create beyond what many "art" towns around the world allow. Osaka and Kansai are great places to be if you're an artist. Lots of opportunities!
What are the challenges and rewards of running a gallery like this?
It's a 24/7/365 kind of deal. You're working with people in different time zones and languages. You're planning future shows a couple of years in advance and seeing current shows materialise. There's always something urgent coming up. Quite a bit of work goes on behind the scenes by everyone involved in an art exhibit, which isn't always apparent.
Is there anything of note on the horizon for SoHo?
Oh yes! Since 2009 we've been curating TRANSNATIONAL ART, first at the Osaka Contemporary Art Center and then at the Enokojima Art & Creative Center. This exhibition showcases works by artists from around the world who are active in Japan and other countries simultaneously. Since 2010 we began making headway in Northwestern Europe, creating exhibition opportunities for our artists in Finland, France, and soon Germany and Canada.
[box]
SoHo Gallery
• Address: Ikutamacho 9-18, Tennoji-ku, Osaka 543-0071
• Hours: Tue-Sat 12:00-19:00 Sun 12:00-17:00
• Tel: 06-4394-7456
• Email: info@soho-art-gallery.com
• Access: 1 min from Tanimachi- 9-Chome station, exit #3
• Website: soho-art-gallery.com
[/box]