Feature
There's something for everyone this Halloween!
In case you hadn't noticed, Halloween is big time in Japan. Every bar and club in Kansai will be having its own fancy dress show sometime this month, with parties spanning two weekends. Here are some events to watch out for.
For the Kids
The Haunted House of Hataeda
250-plus kids are expected at the annual Haunted House of Hataeda in Iwakura (Kyoto) – a free, fabulous and fun event from Oct 30th to Nov 1st. Volunteers/performers needed. Meals and transport provided. It's a blast!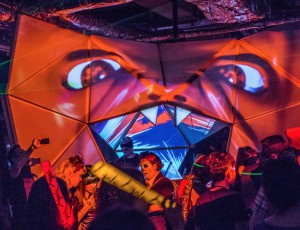 For children of all ages (and their parents), The Haunted House of Hataeda is a western-style, walk-through Halloween attraction now in its 4th year. This typical Japanese home runs riot with ghosts, witches, skeletons, giant spiders and other seasonal scares.
Date: Oct 30–Nov 1 • Time: 5:30pm– 9:30pm • Tel: 090-6600-3114 • Free • Location: Iwakura Hataedacho 93-10, Sakyo-ku, Kyoto • Access: Kokusaikaikan (Subway) Stn, Exit 3, 15-min walk; Kino Stn (Eiden Line), 10-min walk • Free parking available nearby • facebook.com/hauntedhousehataeda • Email: stuart4th@yahoo.com
Kitayama Halloween Parade
Now in its 17th year, this annual Halloween celebration attracted some 8,000 visitors last year! With pumpkin carving, a costume parade (Sunday only) and contest, craft market, and game and food stalls, it's super familyfriendly. Note that if you or your children want to take part in the parade, you need to register in advance.
Date: Oct 25 & 26 • Time: Sat 9:30–9pm, Sun 9:30–5pm • Free entry; Parade participation ¥1,000 for adults or ¥500 for children • Location: Garden of Fine Arts, Kitayama • Access: Karasuma (Subway) Line, Kitayama Stn, Exit 3, 3-min walk • kitayama-halloween.com
For Grown-ups
Halloween Rampage @ BIG STEP Penthouse
Now in its 7th year, Halloween Rampage, is the leviathan of Halloween parties in Osaka. Known for its originality and off-the-wall excitement in a Japanese and foreigner-friendly atmosphere. Showcasing some of Osaka's best DJs and visual artists, Halloween Rampage never disappoints. Rampaaaaaaaaagggggee.
Date: Nov 1 (Sat) • Time: 10pm–5am Location: Top floor of Big Step East, America Mura (15-sec walk from triangle park) • Cost: Guest ¥3,000 with 2 drinks / Door ¥3,000 with 1 drink • VIP Packages (6 tickets, instant access, 3 bottles, mixers, energy drinks, snacks, private booth) ¥45,000 • Cash prizes: ¥50,000 + skate gear, drinks, and more
Balabushka Halloween Party
Always a fantastic turnout for this annual costume contest at one of Shinsaibashi's most popular bars. With ¥100,000 in prize money up for grabs, make sure you're well turned out. Live DJs and drink specials all night.
Date: Oct 25 (Sat) • Time: 8pm until early morning • Location: Balabushka, America Mura Osaka • Cost: ¥500 • Access: Shinsaibashi Stn • balabushka.jp
Big Step Halloween
Over the weekend of Oct 25/26, Big Step in Amemura is having several Halloween events to get everyone in the party mood. On Sat 25th there will be a performance event by Cosplay Team CosPAfo followed by a photo session and on Sun 26th a costume competition for everyone with great prizes up for grabs. Short of an outfit? Popup costume shop Sadistic Action has you covered (or uncovered) with American brand costumes.
Date: Until Oct 31 • Location: Big Step, America Mura • Access: Shinsaibashi Stn • big-step.co.jp