Food & Drink
Foodspotting
Wondering where to take that someone special on Saturday the 14th? Head hand-in-hand to Fukushima for some delicious culinary delights.
Pancotei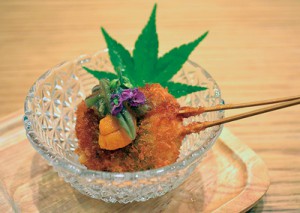 For Valentine's the perfect restaurant should do two things – impress you and your date. Pancotei delivers. It's kappo-style, so you'll be side-by-side with your date (and a stranger).
Pancotei, a kushikatsu restaurant, is the pride and joy of chef and restaurateur Tsukasa Yamashiro, who has spent most of his working life making kushikatsu. Like many things Japanese, kusihkatsu is simple in premise; its complexity comes through adornment and tinkering. The empirical question for Yamashiro seems to be: What can be made into bite-sized morsels and pieced together on a skewer before being lightly fried in breadcrumbs (panko)? At Pancotei the answer is – many things.
On a recent visit, a few stand-out dishes in the 20-course meal included: A delicate slice of chateaubriand and cheese, kuruma ebi (prawn), a wonderful white truffle covered in black 'breadcrumbs', a hulky stick of Italian asparagus, pancetta and mozzarella. Deliciously expensive.
Open: Mon-Sat 5:30pm–10:00pm • Price Range: ¥6,000 and up • pancotei.com • Access: JR Fukushima Stn, 2-min walk
Sobakiri Karani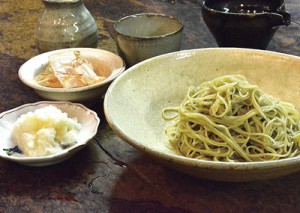 This restaurant has, or had, a Michelin star, but you get the feeling that the master couldn't care less about this. His focus is directed inward. He likes to enforce a Zen-like austerity. Business card-sized signs on the tables tell you to take your phone conversations and your cigarettes outside. Bravo on both counts. There's also no music.
So, what is there? Some of the best hand-made soba in Osaka. I had kamojiru soba, a bowl of sautéed duck served with noodles thin enough to thread through the eye of a needle, all topped with sanshō peppers. The drinks menu is all about sake and constantly changes, as the master selects from local breweries the length and breadth of the country.
This is a one-man show, so there is a wait for each dish, but witness the transformation of a couple of eggs into dashimaki-tamago and you won't particularly care. What may be lacking in atmosphere is made up for with the magnificently delectable cuisine.
Open: 11:00am–2:00pm & 5:00pm–8:30pm • Price Range: ¥800–¥1,200 for soba • Tel: 06-4796-2286 • Access: JR Fukushima Stn, 4-min walk
Hanakujira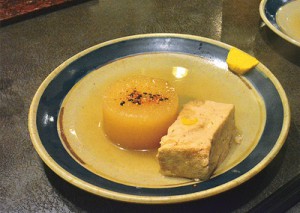 At Hanakujira all of Osaka is on show – office workers, families, college kids, dating couples, pensioners, the list goes on. And as with many worthwhile Kansai food spots, there is usually a lengthy queue waiting outside because Hanakujira is a small institution, with a big reputation.
The food is oden and there is no better time to indulge than in the depths of winter. At Hanakujira, be ready to join in loud salutes of "Otsukaresama desu" as groups of salarymen trickle in and out. Part of the fun of a place like this is basking in the friendly, down-toearth atmosphere while waiting for all the good things to come out of the vat. Oden staples such as daikon, boiled eggs, and tofu are complemented by inventive dishes such as "the UFO". The negibukoro is another winner. It's a dainty little "purse" containing green onion medallions and a soupçon of ginger. Hanakujira has three restaurants all within shouting distance of each other. The original is about as big as walk-in closet.
Open: 4:40pm–11:30pm • Price Range: ¥3,000–¥4,000 • hanakujira.com • Access: JR Shinfukushima Stn, 2-min walk