Food & Drink
Foodspotting
Get yourself to Kyoto and munch on something new this new year!
Malebranche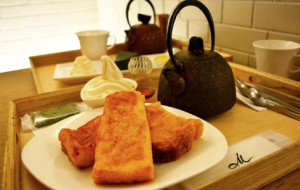 It's kind of hard to avoid Kyoto Station if you're in Kyoto. On the plus side, it's home to Malebranche, a patisserie going from strength to strength. The original shop is located in Kitayama, Kyoto's 'cake shop quarter' in the north of the city. At Kyoto Station they have a few shops dotted around the place, but it's best to head for the café on the Hachijo side of the cavernous station. The bad news is they are always busy.
This being Kyoto they make much ado about maccha (green tea powder). I was there for the French toast: voluminous, coquettish, accompanied by a twirl of creamy ice cream and a drizzle of maple syrup. The green tea tart, despite its bar-of-soap-like appearance, is as delightful as it is subtle. One more reason to visit – the teapots; beautiful and colorful cast iron pots from Morioka city in Iwate prefecture.
Open: 9:00am–8:30pm • Price Range: Cakes around ¥500; Sets ¥1,000; malebranche.co.jp • Access: Short walk from JR Kyoto Stn main gates
Spice Chamber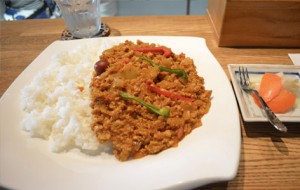 Spice Chamber is actually more like a closet, or a long coffin. At kappō (counter-style) restaurants, you have to let your guard down a little. One of the attractions of this style of dining is immediacy; you can see every movement the cook makes, and when your food is finally ready, it's simply passed over the counter. Voila.
The house special at Spice Chamber is keema curry, a dry mincedmeat- based Southeast Asian dish. Be warned, though; if you've become acclimatized to the sweetness and safety of Japanese curry, the keema curry at Spice Chamber has got a kick to it.
It was accompanied by a side dish of tsukemono (pickles): carrots, daikon (radish) and cabbage, cool and delicious to quench the fire of the curry, but only briefly. The curry was topped with a pickled Japanese plum. The only other curry option is New York chicken curry. Either one is worth stopping in for.
Open: Mon–Sat 11:30am–3pm; Tues & Thurs 6pm–8pm • Price Range ¥1,000– ¥1,500 • spicechamber.com • Access: Short walk from Shijo Karasuma Subway Stn
Nishitomiya Croquette Store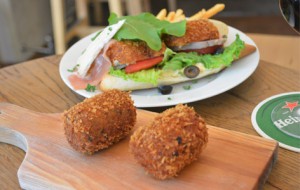 When you think of eating croquettes you don't usually picture yourself doing so over a wine cask with a glass of red, Camembert cheese, thinly sliced salted ham, figs and olives. At Nishitomiya croquettes have been gentrified, but thankfully not in the pejorative sense. Price-wise they're only a little more expensive than their street brethren, but there is a little more imagination at work here in the offerings; smoked salmon and dill, dried fruit and walnut, basil, boiled pork and ginger. And plain – just so you don't entirely lose your croquette bearings. The restaurant/bar is cozy; two casks that double as tables and a few stools at a bar crowded with empty wine bottles.
The croquettes are, as they should be, on display when you walk in, and available for takeout. But if you're not in a rush, pause for lunch, which is generous and reasonable.
Open: 11:30am–8pm • Price Range: croquettes around ¥250; lunch plates around ¥1,000 • facebook.com/nishitomiya • Access: Short walk from Kawarmachi Subway Stn