Food & Drink
Foodspotting
Treat yourself to some of America's favorite foods in Kobe's stylish neighborhood right off Tor Road.
YIS Tacos
In recent years, Mexican food has increased in popularity in Japan and foreigners here have been rejoicing. YIS is one of the newer wave of Mexican restaurants to open that appeals to a younger audience and has a more American vibe with its clean concrete walls and self-serve drink cooler. While they have extras like guacamole and chips, the main affair here is the tacos. For their lunch set, you get a choice of two tacos – chicken, beef, veggie, or pork – home fries, salad, and soup for ¥1,000. The veggie tacos come loaded with roasted vegetables and topped with a pico de gallo and guacamole. The pork tacos are savory and cooked to perfection. The chicken tacos are flavorful and topped with a salty, soft, white cheese that pushes this choice from great to OMG. Don't go in expecting Taco Bell. These are classic tacos more like their native cousins in Mexico. No English available.
Open: Lunch 12pm–11:30pm
Closed: Tues
Price Range: Lunch ¥1,000–¥1,500; Dinner ¥1,000–¥3,000
Access: Hankyu Kobe-Sannomiya Stn, west exit, 5-min walk
• tabelog.com/hyogo/A2801/A280102/28038396
Bo Tambourine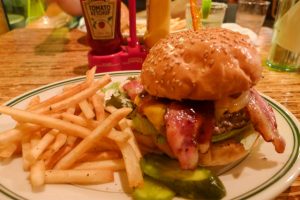 Bo Tambourine manages to accomplish what so many restaurants have failed at in Japan – making great American classics. The vintage décor and oldies rock ooze an Americana vibe. Staples like bacon cheeseburgers, chili cheese dogs, pulled pork sandwiches, and fried okra are served. All sandwich orders come with a side of crispy shoestring fries and creamy macaroni salad. The BBQ bacon cheeseburger is a juicy patty served on a sesame bun with melted cheddar and crispy, American-style bacon. The pulled pork sandwich is filled with melt-in-your-mouth pork, a tangy coleslaw topping, and a sweet BBQ sauce that will have you envisioning the American South. For a truly American meal, try a milkshake and don't forget to save room for dessert. They offer a ¥500 dessert menu which includes bread pudding, apple pie, and brownies. One drink per person is required. English is available.
Open: 12pm–Midnight
Closed: Irregular
Price Range: ¥1,000–¥2,000
Access: Hankyu Kobe-Sannomiya, west exit, 6-min walk
• bo-tambourine.com
Rib Lab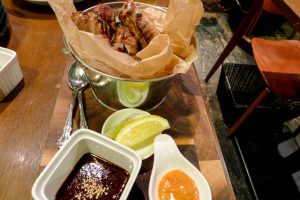 Rib Lab makes a strong first impression. Sports playing on TV, a huge picture of a woman dripping BBQ sauce all over herself; it doesn't seem like a place you'd find in Japan. While Rib Lab has a variety of excellent options like the Jerk Chicken Salad, Seafood Paella, and Grilled Rib Roast, the most popular items on the menu are the rib offerings. With 11 different sauces to choose from, you can order an individual rib with one sauce or a pound of ribs with a choice of two sauces. The ribs are fat and juicy and with such interesting sauces like the spicy Harissa Mustard, you might want to order that second pound. Make sure to try the Rib Ramen. Reminiscent of Vietnamese pho, the broth is light and flavorful, but the rib is so tender it falls off the bone. There is some English available.
Open: 11am–1am
Price Range: Lunch ¥1,000–¥2,000; Dinner ¥2,000–¥3,000
Access:Hankyu Kobe-Sannomiya, west exit, 5-min walk
• riblab-kitchen.com