Feature
¥1,000 costume challenge
These traditional demons should give your Halloween an authentic Japanese chill.
As Halloween draws nearer, it's hard to avoid the plethora of tacky decorations and jack-o-lantern-shaped goods flooding the stores. The horrible holiday is becoming more and more popular in Japan, and sniffing a potential goldmine, party organizers have started putting together Halloween romps, for which costumes are a must. But a trip to your local department store may be a shock, as costumes can be pricy, coming in at ¥5,000-¥10,000. So what to do if you have a tiny budget, but still want to impress your fellow pranksters? Here are two options under ¥1,000: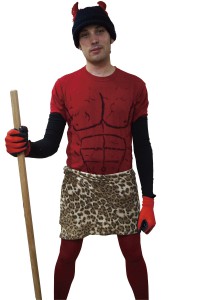 Costume 1: Oni
The quintessential Japanese bad guys, Oni are the blue or red demons that plague Japanese fables.
The head
The distinctive curly hair of the Oni is a look normally reserved for 1980s Yakuza movies. I grabbed a second-hand woolly hat for a mere ¥200. The horns I came from a ¥100 store and show how child-friendly Halloween is in Japan. Picking off the glitter and fluff is optional.
The body
The red body is difficult, especially one that's ripped with muscles. But a ¥100 T-shirt with abs scribbled all over it gives the right idea. The black arms were the sun-protectors that old ladies wear in the summer, and they are tight! Expect circulation to be cut off, which could turn your arms an indigo-hue, giving you the option to transform into a blue Oni halfway through the night. The black and red gloves are also from the ¥100 store and thankfully cover up the frilly ends of the sun-sleeves.
The lower half is when things get a little bit strange, as you squeeze into a pair of red tights (¥200) and a mutilated leopard-skin skirt (¥200). I'd suggest dressing from the head down, as if you got caught in the act of putting on such garish lady's clothing, you may be mistaken for a cross-dresser with no sense of coordination.
The verdict
At the end of all of your tribulations, you may look like an Oni who has finally accepted who he really is and wants the world to know. Maybe you'll look scarier than I did. If you want to splurge a bit more, finishing the look off with a stick, club or feather duster really adds a lot, as would a lick of face-paint or a mask.
Costume 2: Kappa
The creepy Kappa are misrepresented in modern Japan. They're depicted as friendly tykes who love cucumbers and endorse everything from sushi to ramen.  But the critters of old would drag unsuspecting victims to the bottom of the river, and make the subway chikan look like saints.
The head
Kappa have a bowl of water on their head, and if you have them bow to you they will lose that water and freeze on the spot, reanimating only if someone refills the bowl with water from their river, after which you will have a Kappa-servant for life.  This headware was made from a green felt basket and a fisherman's hat cut into pointy sections.
The body
The green T-shirt was a no-brainer, but the shell proved a little trickier. The front is a tasteful, lemon-yellow toilet seat cover, held in place with a few precarious stitches. The back is a bamboo strainer normally used for rinsing noodles. I tied it to the label of the T-shirt with a little string.
I was wondering how I could get green legs. Then I saw a pair of green jeans for ¥300 at a local secondhand store. They were so tight, Mick Jagger would refuse to put them on, and a crouching position could only be achieved after a severe reordering of the family jewels – but they are green and that's what counts. The feet were plastic shoes usually used when cleaning bathrooms.
To really set everything off, I got a fishing rod from the ¥100 store.
The verdict
Trying not to look like a Chinese rip-off of TMNT was tough, but I think I managed it. A little more authentic than the Oni, but still as scary as a kitten rolling around in dove feathers.  If you could squeeze a rotting fish between the shell and the T-shirt, you may have a more convincing aroma and cause wild panic at parties.