Kids & Family
A world away from the city
Relaxation is available just a hop, skip and jump away from Osaka's everyday hustle and bustle at Spa World.
Combine Japan's love of convenience and novelty, throw in some water and out comes Spa World, a giant hot spring theme park slap bang in the heart of Osaka.
Okay, so it's not quite the meditative experience that misty mountain-view hot springs might offer, but it's a darn sight closer to the shops, schools and the office. And it's colossal. You don't come here to quickly dip in and out of some hot water, you come here to relax, and relax seriously. The prices encourage you to play all day – there's only 300 yen difference between a three-hour ticket and an all-day ticket.
Aside from the hot springs, which we'll come to in a moment, there's a hair and beauty salon, sports gym, TV lounge, massages and a tanning salon. But it's the baths that most people rave about. And why they return. The hot springs are divided into two floors, European and Asian. Women use one floor for a month, Men use the other. Then every month, they switch. Enticing you to visit at least twice to get the full experience. Clever.
The European Onsen – which was Women-only at the time of our visit, features six different kinds of baths, each inspired by the history and beauty of European cities. Ancient Rome is a brightly-lit tribute to the Trevi fountain, while Greece's medicinal bath mixes herbs and mood lighting to unveil your inner god or goddess. Spain is an openair bath with a fantastic waterfall feature, and separate footbath. In Atlantis, you can see fish swimming underneath you, but one of the best parts of this zone has to be Finland, where a wooden sauna house sits invitingly on a lake.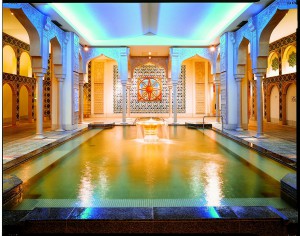 The Asian Onsen looks just as luxurious and detailed. Golden architecture from the mosques of Islam and the rich palaces of Persia surround you here. Japan of course dominate this side, with an All-Cypress bath, and two outdoor baths, inspired by mountain and river hot springs. There's also a vision of baths in the future with Dr. SPA, where oxygen, hydrogen and carbon dioxide zap your body into shape.
The top floors of Spa World are a swimsuit-on environment, where families can bathe and play together. The amusingly-named Spapoo has a one hundred meter long waterslide, and a kid's play area that's like an aquatic jungle gym. Sneakily, there's also two paid-for thrill rides: ZokuZoku Bam, a 70-degree reverse drop waterslide and UzuUzu Bam! A wheeling spinning thing that KS wasn't feeling brave enough to try today.
I say sneaky because in Spa World you don't have to carry your wallet around, as you get a wristband on entry that acts as a virtual wallet. The wristband keeps tabs of what you buy and you pay the total when you leave. The agony is that between the food zone, some water rides, beauty spa treatments and the wellstocked souvenir shop, you might spend a lot more than you intended. Don't worry, you can just sleep it off in the hotel. Did I mention the hotel?
With this much going on in one building, it's got to be worth at least one trip. Just try and avoid the weekends, national holidays, and the Obon summer holiday season, as Japanese families flock there. While it's big, it can still get crowded, and nothing ruins relaxation more than having to share it with a metric ton of people also trying to relax with you. Naked.
[box]
Spa World
• Where: 3-4-24 Ebisu-higashi Naniwa-ku, Osaka-shi 556-0002
• Tel: 06-6631-0001
• Opening hours: 24 hours
• Access: Osaka subway Midosuji line, Doubutsuenmae station exit 5/JR Loop Line, Shinimamiya station east exit/Nankai Dentetsu, Shinimamiya stn, 5mins walk

www.spaworld.co.jp/english
[/box]