Feature
Quirky Kansai Valentine's Date Ideas
Instead of suffering through a bunch of predictable clichés, show your love by surprising your date with something unique!
Cupid's bow string is taut and his arrow pointed right at Osaka – in other words, everyone's favorite contentious holiday is coming! If you're like me, you find Valentine's Day silly, but you also want to show someone you care about a good time. You're also probably from a country where – unlike in Japan – it's expected of both (or more, if you're into that) members of your relationship party to contribute to the romantic festivities, but you're unsatisfied with the typical options. Dinner and a movie is so cliché and spots like the Umeda Sky Building a bit too cheesy and crowded. Plus you're trying to maintain your New Year's resolution, so buying chocolate is out of the question (but if you cave at least you can blame it on tradition). So, what can you do to prevent Valentine's Day from unfolding so predictably your partner can barely stay awake? Let this jaded but secret romantic help!
♡ Have a Sensuous Soak
Osaka has plenty of public baths and spas that will leave you and your partner so refreshed and relaxed that a lover's spat will be last thing on the brain. Spa World is the local favorite, a behemoth that features everything you need under one roof – baths, saunas, a spa, a food court, a gym and even a game center. A couple could easily spend their whole date here! If you're not in a same-sex relationship, you can still do everything together except enter the baths themselves. If that's a deal breaker, head to Nobeha no yu in Tsuruhashi instead. You can rent private baths by the hour for up to four people, so you can even double date! Rooms start at ¥3,800 per hour. Grab dinner beforehand at one of the great yakiniku restaurants in the surrounding Koreatown and you're all set!
Spa World
• spaworld.co.jp • Access: Next to Shin Imamiya and Doubutsuenmae Stations
Nobeha no Yu
• nobuta123.co.jp/nobehatsuruhashi • Access: 5-min walk from Tsuruhashi Station
♡ Get Kinky in Kinki
Want to spice up your relationship? Osaka is a treasure trove of sleazy spots that will help, and I mean that in the most loving of ways. Start your date in Den Den Town, known as a hub of anime and arcades, but also bursting with kinky attractions. Local sex shops pepper the main drag, so pop into one of these or check out Tenga Shop Namba, an enormous, erogenous cavern filled with DVDs and toys for both sexes. Then, stop by a maid cafe like Maidreamin where you can revel in (or make fun of) the over-the-top frilly and pastel glory of the decor and excessive doting of the waitstaff. Entry is only ¥500 per hour and worth it; the food and desserts are decorated to look like cute animals and there are periodic live performances by the staff. Afterwards, check out one of Osaka's kinky bars like Rainbow Kitchen or Farplane (the latter of which is closed Wednesdays, no good if you're going out on V-Day itself). By then you'll be exhausted from all the walking and drinking, so treat yourselves at one of of the many love hotels in the Namba area.
Tenga Shop Namba
• kaitorimax.com/tenpo/namba/namba.html • Access: 5 mins from Namba Station on the Midousuji Line
Maidreamin Nipponbashi
• maidreamin.com • Access: 5-min walk from Nankai Namba Station

♡ Feel the Burn(ing Love)
What better way to get sweaty with your partner than with a little exercise? This time of year it's too cold for outdoor activities, which is why Japan invented its greatest creation since karaoke – the "sports challenge" aka spocha. The go-to spocha spot in Osaka is Round 1. Round 1 has multiple floors of amusements that include an arcade, roller skating, batting cages, mechanical bull riding, basketball, and even karaoke rooms! Challenge your date to a game of darts and let her win because chivalry isn't dead, dammit. Ladies, show off your secret archery skills and make him feel both emasculated and impressed. Or, take all those deeply buried frustrations out on each other in game of bubble soccer. The prices vary based on the time and day of the week, but start at about ¥1,300 per person per hour for all of the above.
Round 1 Sennichimae
• round1.co.jp/shop/facility/osaka-sennichimae-eng.html • Access: 3-min walk from Exit 15 of Namba Station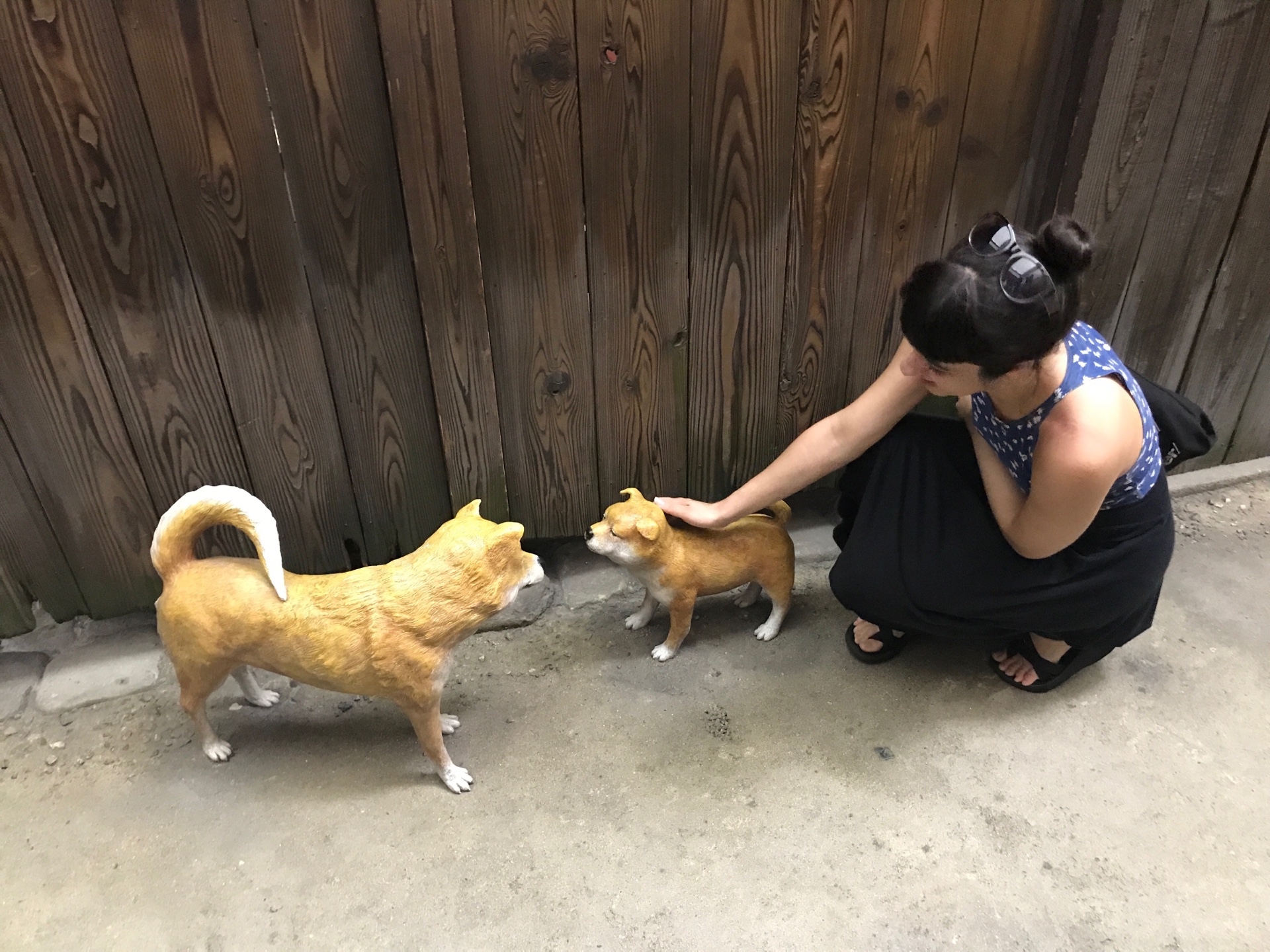 ♡ A Leisurely Lovers' Stroll
Finally, a sightseeing stroll followed by a jaunt to a museum. Start off your date by paying your respects (or praying for lasting love) at the famous Osaka Tenmangu Shrine before strolling down the longest shotengai (shopping arcade) in Japan, Tenjinbashisuji. Tenjinbashisuji is over two-and-a-half kilometers of bakeries, bookstores, cafes, cutlery shops, restaurants, and a little bit of everything else. Pop into Tengyu Bookstore and marvel at the selection of new and used tomes, some of which are one-of-a-kind! Then, check out the Osaka Museum of Housing and Living. This museum depicts everyday life as it was in the past, complete with a life sized, interactive recreation of an Edo era neighborhood you can explore! After, head back into the shopping arcade for dinner. Just about any restaurant you chance into is likely to be delicious, but if you want something affordable and special try Harukoma sushi restaurant. There will likely be a line to get in, but the fresh food is worth the wait and the menu is English friendly. Happy Valentine's Day!
Osaka Tenmangu Shrine
• tenjinsan.com • Access: 3-min walk from subway Minamimorimachi and JR Osakatenmangu Stations
Tenjinbashisuji Shotengai
• osaka-info.jp/en/ofc/201101 • Access: The shotengai is so long it can be accessed from many stations including Minamimorimachi and Tanimachi-6-Chome subway stations and JR Osakatenmangu and Temma stations
Tengyu Bookstore
Harukoma
• osietesite.com/gourmet/osaka/osakawasyoku/harukoma
Osaka Museum of Housing and Living
• konjyakukan.com • Access: 3-min walk from Tenjimbashsujii-6-Chome subway station • Admission: ¥600