Made in Kansai
Fretboard wizard
With long-forgotten guitar in hand, KS caught up with Josh Parkin at his custom guitar workshop in Nakatsu.
My guitar is scrutinised for a few moments and then given a cursory strum.
"Given it hasn't been played for 10 years, it's in pretty good condition," says Josh, a 30-something Brit with an easygoing demeanour.
"What I'd recommend for this is simply a standard clean and set-up. We'd take the strings off to start with, clean and polish the frets to remove oxidization, oil the fingerboard so it's nice and slick, and then string it back up, taking care to get the exact curve of the neck right. Too straight and you'll get a lot of buzzing down at the nut. Too curved and you'll get buzzing up the neck. Then we set up the trem using the springs at the back, adjust the height using the bolts and intonate the saddles. Once that's all done we adjust the height of all the pick-ups, check your electrics and give them a good clean-up… a little polish and you're there."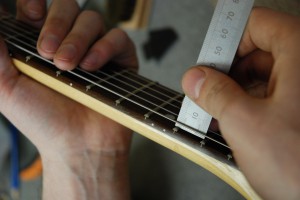 He says he can have all that done in 45 minutes and immediately sets to work. Back in London's West End, while working in a busy repair shop, it wasn't uncommon for him to complete 20 such set-ups a day. The experience helped him hone his trade and before long he was ready to go it alone. Rather than attempt to set up shop in the same vicinity as many of his peers, he decided to take his chances here in Japan.
"Japan has the biggest market in the world for expensive, high-end guitars," he says. "While American and European guitarists tend to go with high quality factory-made stuff around the £1,000 bracket (around ¥150,000), Japanese players want the best stuff available."
It's with such discerning customers in mind that Josh opened Josh Parkin Guitars in Nakatsu earlier this year. The first floor location is small but perfectly formed. The front houses a counter for walk-ins and work benches covered in guitar parts and specialist tools. At the back is a room for heavy-duty band saws, planes and a spray booth.
With prices ranging from ¥300,000 to ¥500,000, one of his original made-to-order guitars is the ultimate self-indulgence for any guitar pro. For those with smaller budgets, Josh also offers semi-custom builds, modifications and set-up and repair work.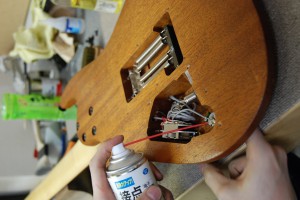 "Rather than spend ¥200,000 on a high-end, off-the-shelf guitar, a serious player might want to get themselves a decent ¥60,000 instrument and bring it here to be modified for an extra ¥40,000 or so," he says. "We can replace the pickups with top-end ones and you'll end up with a guitar that sounds just as good as the top of the range models, yet at nearly half the price. We recommend the super high-quality Bare Knuckle brand pickups from the UK."
Josh is keen to point out he is not interested in making money from imported parts. Instead, he offers them as close to their overseas retail price as possible. He is far more interested in devoting his energies to producing beautiful guitars that are set up to suit the style and technique of their owner.
My guitar is handed back to me. It looks as good as the day it was bought. A few minutes of slightly self-conscious strumming later and it's clear it plays far better than it ever did. If only the same could be said for the player.
[box]
Josh Parkin Guitars
• Where: Osaka, Toyosaki 3-17-10
• Open: Mon–Sat 10am–6pm
• Tel: 06-4256-8079
www.josh-parkin-guitars.com
[/box]