Made in Kansai
Stick it to 'em
Osaka is home to one of Japan's biggest confectionery companies, Ezaki Glico – you know, the people behind Pocky. KS gets the story of their sweetest success.
Next to anime, Japan's most popular export might just be Pocky. Coveted by Japanophiles the world over, the stick-like snacks are as much a part of Japanese culture as AKB48 or the Hello Kitty. Every year, some 300 million boxes of Pocky are sold overseas, with another 200 million sold in Japan. But where did the product come from? And what's so special about it?
Mad about Pocky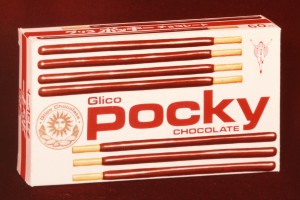 Pocky started out savoury, evolving from the much-eaten Pretz ("Purittsu" in Japanese). Ezaki Glico basically took their best-selling, pretzel-esque product, coated it with chocolate, and put it on the market as "Chocotek". This cool, but not-so-catchy name was soon dropped in favour of "Pocky", based on the "pokkin" sound (Japanese pronunciation) that it makes when snapped. The actual English pronunciation, which is like "rocky" with a p, doesn't quite reflect this – but as long as you don't say "Pokey", it's ok.
Pocky was officially registered in 1966, with the first box retailing for ¥60. The chocolate sticks were a big hit, and Ezaki Glico reportedly raked in around ¥30 billion in sales in the first two years following the product launch.
A world of flavour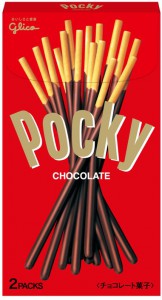 Plain chocolate Pocky continues to be the most popular flavour worldwide, though more than 100 other options have been introduced over the years. Some of the more interesting ones include: Custard Pudding Pocky, Mousse Pocky, Rainbow Pocky and even Salty Pocky. Some flavours are found in certain regions only, for example Grape Pocky (Nagano) and Yubari Melon Pocky (Hokkaido). Hardcore fans have been known to travel great distances to get their hands on uncommon varieties.
Around six to eight new flavours are released every year – in fact, two new ones are coming to Kansai next month. Pocky Midi (the short, chubby version of Pocky) will be out in chocolate and strawberry flavours on March 19. Hardcore fans might like to know that these two flavours are already on sale in Tokyo and Hokkaido.
Pocky's forerunner, Pretz, comes in heaps of unusual flavours itself, notably: Salad Pretz, Asparagus Pretz, Kona Coffee Pretz, Mozzarella-meets-Wine Pretz, Hairy Crab Pretz (Shanghai only) and the dubious-sounding Shark's Fin Pretz (limited to Hong Kong).
Before there was Pocky
Pocky and Pretz might be two of the company's biggest brands, but Glico's flagship product, and the Glico name itself, is a whole other interesting tale.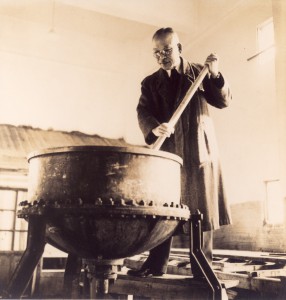 In 1911, founder Riichi Ezaki realised the power of a natural substance called glycogen after nursing his own son back to health with it. Oysters are rich in glycogen, and Ezaki realised that after boiling oysters, the water left behind was also rich in this good stuff. Instead of chucking out this water, he dreamed up many food ideas using it. The company's first product, a fortified caramel candy boxed up with a toy, was born. As was the company name, short for glycogen – 'Glico'. These sweets were officially launched at Mitsukoshi Department store in Osaka on February 11, 1922.
Osaka's main man
The Glico packaging has always featured a chap running 300 metres – bit of an arbitrary distance, you might say, but, according to the company, one caramel provides just enough energy for a person 165 cm tall to run 300 metres. That big neon sign of "the running man" (which is in fact correctly called "The Glico Runner") in Dotonbori should make sense now – it's the same idea. The 33 metre Glico billboard has been there since 1935, and has become one of Osaka's most iconic landmarks.
Get hands on with Glico
If you can't get enough of Glico's confectionery, why not get the full body experience at one of their two interactive centres? For serious older fans there's the Ezaki Memorial Museum while kids (and their parents) will love Glicopia Kobe.
www.glico.co.jp
[box]
Fun Pocky Facts
• Pocky is currently sold in 30 countries.
• The first foreign country in which Pocky was sold was Hong Kong, in the late 1960s.
• Pocky is sold as "Mikado" in Europe, taking the name of the popular game where you pick up sticks.
• November 11 is known as Pocky and Pretz Day.
• In South Korea, it is known as Pepero Day – for Lotte's similar product.
• On Pocky and Pretz Day last year, a new Guinness World Record was set for "The Brand Name Most Tweeted in 24 Hours". Pocky beat the iPhone 5's previous record, getting 1,843,733 tweets.
• An app called Furu Furu Pocky, used when someone needs to be selected from a group, is available on the iTunes store. Put in the number of people, shake your device, then "pull a Pocky". The person who gets the sole Strawberry Pocky is selected.
• A fancy, high-class Pocky-like product (by Glico) called "Baton D'or" can be acquired at selected Osaka Hankyu and Takashimaya department stores.
• A bitter, dark chocolate version of Pocky, "Pocky Men's", was targeted at, well, men, for several years. This has subsequently been replaced with a milder "Pocky Choco Bran" – also aimed at men.
[/box]